Snowshoeing is easy and fun -- and it's one of the best ways to enjoy the beauty of the Traverse City area in winter. To come around a corner on the trail and see a herd of deer raise their heads, steam snorting from their noses as they look at you and silently bound off into the trees. To stand in the moonlight in a forest clearing as a fine dusting of diamond-bright powder sifts through the branches around you. To emerge from the woods onto a high bluff at Sleeping Bear Dunes, the broad blue sweep of Lake Michigan below you like a giant polished turquoise, and feel as though you're the first (or last) person on Earth.
Traverse City is a mecca for snowshoeing, thanks to its vast acreage of forest and parkland. Here's a listing of some of the area's best-known snowshoe trails:
In Town
Boardman Valley Trails
The Grand Traverse County Natural Education Reserve is a 420-acre tract that includes excellent habitat for beaver, otter, mink, fox, deer, and many other animals and birds. Created as a "natural environmental classroom for area youth," it has nearly 7 miles of improved trails along the Boardman River with boardwalks, bridges and scenic overlooks. Four trails can be accessed from Cass Road, while another three can be reached from Keystone Road. Just north of the reserve (and connected to it) is a small trail system operated by the Grand Traverse Bay YMCA on South Airport Road. 
Grand Traverse Commons Natural Area
The 19th century designers of the former Northern Michigan Asylum set aside hundreds of acres of meadow, forest and steep bluffs where hospital patients could refresh their spirits and restore their peace of mind. Today the former asylum with its castle-like buildings is the Grand Traverse Commons, a mixed use development on the city's West Side, with over 300 acres of trails that can easily be accessed from six different trailheads. 
Timber Ridge (fee)
The Timber Ridge RV Resort & Campground maintains its own 5K groomed trail system (lighted at night). What's more, its trails link up to the 60 kilometers of Vasa trails in the nearby Pere Marquette State Forest. Cost to use the trails is $3-$7, and snowshoes can be rented from the Resort ($10 for child sizes and $15 for adult sizes, including free trail access). Timber Ridge is located at 4050 Hammond Rd. For information call 231-947-2770.
Hickory Hills (fee) and Hickory Meadows
Hickory Hills is a charming 125-acre day ski area operated by the City of Traverse City in the hills west of town, with 5 kilometers of ski and snowshoe trails. Cost for their use is $4 per person.
Just downhill and adjoining the ski area is Hickory Meadows, a 112.5-acre site with several miles of free trails that meander through meadows and upland forests.  Both areas can be accessed from the parking lot at the end of Randolph Street.
North of Town
Old Mission Point
At the tip of the narrow Old Mission Peninsula, about 18 miles from Traverse City, the charming little Old Mission Lighthouse stands above a vast rocky shoal, surrounded by a 513-acre park crisscrossed by 7.5 miles of trails through forests and upland meadows. The trails can be accessed at several points, but the most scenic trailhead is at the lighthouse itself. Take Center Road (M-37) to the very end of the peninsula.
Pyatt Lake Nature Preserve
This 140-acre nature area near Bowers Harbor (a 20-minute drive from Traverse City) features a mile-long loop of trail through a unique wooded dune ridge area that's home to winter wrens, woodpeckers, and owls. The trailhead is on Pyatt Road, just off Neahtawanta Road. Click here for maps and information. 
Pelizzari Natural Area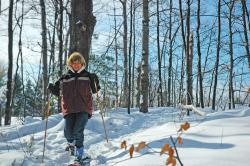 Just north of the city at the base of the Old Mission Peninsula, is a 62-acre preserve of upland meadows and mature forest that is popular with hikers and snowshoers. It includes several cathedral-like stands of tall pines as well as a densely shaded hemlock forest where barred owls are regularly seen.
East of Town
Sand Lakes Quiet Area
A 2,800-acre nature area that's off-limits to motorized vehicles of any kind, the Sand Lakes Quiet Area includes 11 miles of trails that meander through beautiful oak-pine forest and around five small jewel-like lakes. The trails range from easy to moderate, and can provide a great opportunity for viewing deer, turkeys, squirrels, woodland songbirds and other wildlife. About five miles east of Traverse City on M-72, turn right onto Broomhead Road and continue for 3.5 miles to the Sand Lakes parking area on the left (east) side of the road.
Grass River Natural Area
Located between Alden and Bellaire on Antrim County's Chain of Lakes, the Grass River Natural Area comprises 1,325 acres along the pristine Grass River, with 7.5 miles of trails that winding through upland forests and along raised boardwalks above floating sedges. It's a favorite haunt for winter birds and mammals, and snowshoes are one of the best ways to see it. The Natural Area entrance is on Alden Highway (Co. Road 618), 4 miles northeast of Alden. Click here for maps and information. 
Shanty Creek Resorts (fee)
This 4,500-acre ski and golf resort has a 5K snowshoe trail, and snowshoers are encouraged to forge their own trails around the picturesque forests of snow-laden hardwoods and pines that connect its two ski villages, Schuss Mountain and Summit Mountain.  Snowshoes may be rented for $15. 
South of Town
Brown Bridge Quiet Area
This city-owned 1,310-acre nature study area is perched on bluffs above the Boardman River, 11 miles southeast of town. There are trails to the north and south of the river, where it's common to spot bald eagles, osprey and red-shouldered hawks in winter. Boardwalks and wildlife overlooks are scattered throughout the area. To reach the trails, take Garfield Road south, turn left at Hobbs Highway and right on Ranch Rudolf Road. There are two parking lots on the right. Click here for maps and information.
West of Town
Lake Ann Pathway
This popular trail system near the village of Lake Ann is divided into two distinctly different loops. The 3.5 mile western loop is a roller-coaster trail that passes two small inland lakes and a short section of the Platte River. The 1.8-mile eastern portion meanders gently along the Platte and the shoreline of Lake Ann. To reach it, take North Long Lake Road to Almira Road, turn right and follow the road through the village to Reynolds Road and head south (left) for about a mile. For information and maps contact the Traverse City Michigan DNR office at 231-922-5280.
Lost Lake Pathway
This gentle 6.3-mile trail in the Pere Marquette State Forest near Interlochen  follows the bed of an old timber-era railroad, passing a small forest lake and scenic blueberry bogs and traversing a rare stand of old-growth red pine. The trailhead is located within the Lake Dubonnet State Forest Campground, which can be reached by following US 31 west from Interlochen and turning right on Wildwood Road. For information and maps contact the Traverse City Michigan DNR office at 231-922-5280.
Sleeping Bear Dunes National Lakeshore
One of the area's most beautiful landscapes becomes even lovelier in winter, when the Sleeping Bear Dunes National Lakeshore becomes the haunt of snowshoers and cross-country skiers. The park's 13 trails range from 1.5 miles to 14.7 miles in length, and offer opportunities for hikers of all ability levels. On Saturdays during January and February, snowshoers can also explore the trails with a National Park ranger.  Guided hikes begin at 1 p.m. at the Philip A. Hart Visitor Center in Empire. For information and maps, or to make a reservation for a guided hike, call the Visitor Center at 231-326-5134, ext. 328.