Outdoor Adventure
We all love a little relaxation, but there's more to a great vacation than moments of rest. Between naps and long meals, there's this thing called action, and to truly appreciate Traverse City to the fullest, you have to get out there and engage it. So, load the bike and pack the hiking boots. You're going to need them for this itinerary!  
Surrounded by thousands of acres of trails and endless miles of shoreline, Traverse City is blessed with an abundance of opportunities for year-round outdoor adventure. Seasonal temperatures create ideal conditions and our northern Michigan fresh air -- and water -- are pretty hard to beat!  
Here's where to start.
Begin your day on a high note by kayaking on the Boardman River. Wind your way into downtown Traverse City by following the river or choose to paddle into Grand Traverse Bay. Let yourself float for a while, then take the plunge into the warm river or the refreshingly cool water of the Bay. There are many options in the area for renting, so don't sweat bringing your own.
Dry off, hop in the car and make your way up to the Sleeping Bear Dunes National Lakeshore. For a short visit, try biking along one of the sections of the Sleeping Bear Heritage Trail or climbing our mountains of sand at the Dune Climb. For a longer visit, spend the day exploring different sections of the park. And if you're tracking your steps, you're in luck because the 1.5 to 2-mile hikes at the Empire Bluff Trail or Pyramid Point will add up. A little uphill action is also to be expected, but the view at the top is on point! You'll feel like you're on top of the world, or in a pretty great place.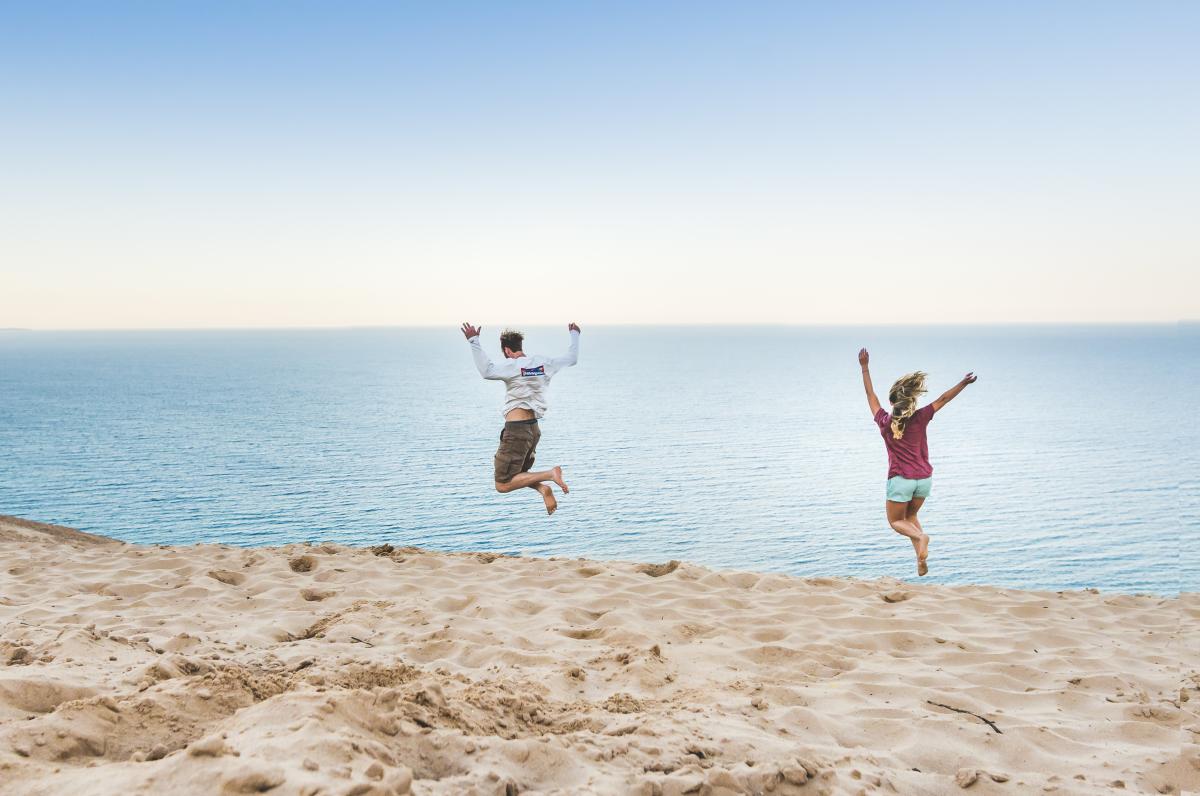 Now that your metabolism has had a jump-start, it's time for a little refueling. Snag a bite to eat from downtown Glen Arbor or Empire. In Glen Arbor, Art's Tavern for a classic burger and tater tots is a must. Be sure to stop at the ATM machine before arriving, as they only take cash.  If you're in Empire, Joe's Friendly tavern is a local favorite.
You hiked, you biked and now you get to play in the lake. If you're in Empire, take a short walk down to the Empire Beach Village Park. Or make your way to the scenic -- and famous -- M22 highway that will lead you to a variety of beaches within the Sleeping Bear Dunes. Local favorites include, Good Harbor Beach and Esch Road Beach.
Make your way back into Traverse City, grab the bike and get pedaling. The paved TART Trail runs throughout the city. Bike-racks are conveniently placed along the entire route making it easy for quick or long stops to enjoy the views of Grand Traverse Bay.
Complete those step goals and take a walk along the pier at Clinch Park Marina to finish off the day. The city is pedestrian friendly with plenty of sidewalks and trails that follow the shoreline making it easy to watch the sunset on an evening stroll.
This itinerary is best suited for spring, summer and fall, but can be adapted for winter. Think snowshoes or cross-country skis on the trails, fat bikes for riding and warm weather gear for exploring. Additional winter outdoor recreation ideas can be found here.