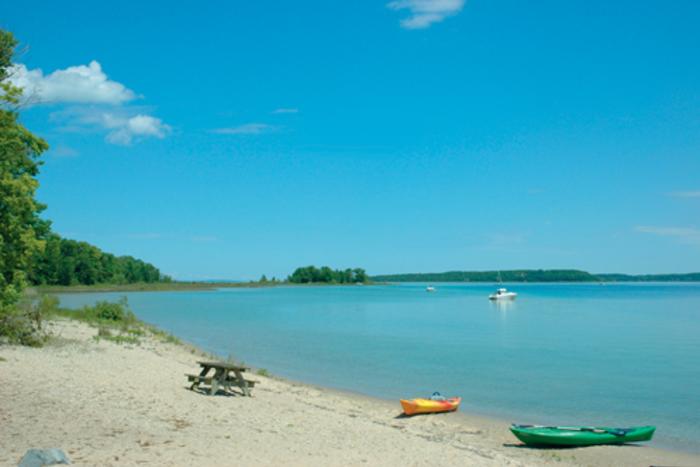 By MIKE NORTON
I like having places that I can keep "all to myself." But I have to admit that I'm really glad about Grand Traverse County's decision to start running a ferry service to Power Island.
For the first time in over a century, members of the public can visit one of the most beautiful parks in our community, without having to buy or rent a boat of their own. This month the county decided to provide ferry service to Power Island, a 204-acre preserve of forests, wetlands, bluffs and beaches on West Grand Traverse Bay, from the nearby boat launch site in Bower's Harbor.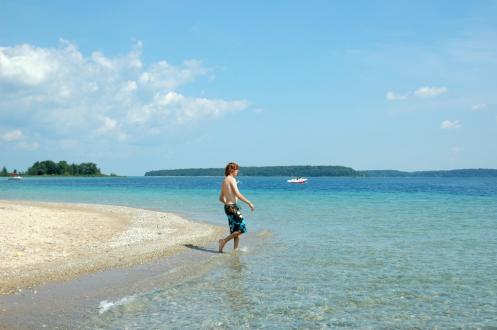 As far as I'm concerned, that's just a matter of simple fairness. It's their park, too. And apparently the folks at the county felt the same way.
"This is really a special place, and it's right smack-dab in the middle of our county," said Alisa Kroupa, president of the Grand Traverse County parks commission. "The citizens pay for this park, yet until now we haven't been able to provide them with access to it."
I've been going out to the island for years, paddling my kayak over from Bower's Harbor a couple of times every summer. And I like the fact that it's difficult enough to reach that it's been kept relatively unspoiled -- but I don't buy the idea that places like this should be protected from the people, kept for the exclusive use of those wealthy enough to have their own watercraft. It belongs to the People.
Besides, it's not really the kind of place that's going to attract your average yahoo -- except the kind who already have boats. Three miles from shore at the entrance to Bowers Harbor, within sight of downtown Traverse City, it has a dock, a swimming beach, and a network of hiking trails through a dense maple-beech forest. That's about it.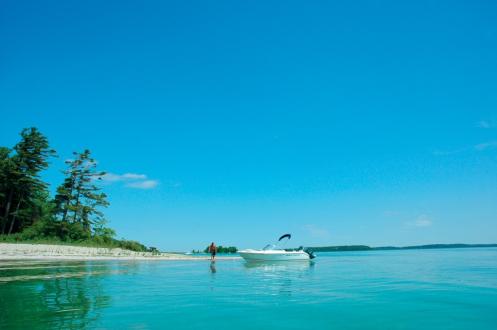 At its northeast tip is a smaller islet called Basset Island, sometimes connected to the main island during low-water periods, which includes four rustic campsites – but at the turn of the century it was the site of a dance hall that brought boatloads of couples out from Traverse City.
Originally known as Marion Island (a name many local residents still use) the main island was owned from 1917 to 1944 by automotive pioneer Henry Ford, who used it as a rustic retreat where he entertained friends like Thomas Edison, Harvey Firestone and as many as three U.S. presidents. Ann Arbor philanthropist Eugene Power donated it to The Nature Conservancy, which turned it over to the county parks department in 1975.
Since then, it's been managed as a near-wilderness whose only human residents are ranger Fred Tank and his delightful family, who stay in the summers to keep an eye on things. Thanks to its sheltered location, it's one of the most popular boating and kayaking destinations on the bay. On summer weekends its tiny harbor regularly fills with boats and frolicking boaters who congregate around the dock and swimming beach, or cluster in the shallows off its southern edge to enjoy the limpid Caribbean-clear waters and picnic on the tree-shaded beaches.
Solitary souls can find tranquility here even on the busiest days, since most visitors never venture more than a few yards from the water's edge. The interior is a treat for hikers: five miles of well-maintained trails lead through the dense forest  to a high ridge known as the Eagle's Nest and along the wild western shore with its steep bluffs and rocky shoals.
The ferry – actually the boat used by the county park ranger -- can take up to six passengers at a time. The county folks say it's not intended to be a money-making enterprise; the charge is simply to cover the cost of fuel, labor and other expenses. Interested travelers can contact the Grand Traverse County Parks and Recreation Department at (231)922-4818 to make reservations.