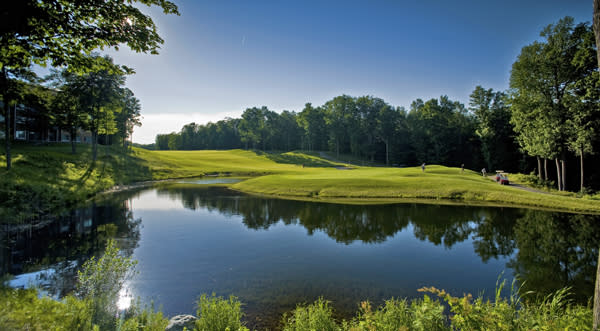 By MIKE NORTON
I'm not a golfer. Just never could figure out the appeal of the game. On the other hand, I've always loved golf courses.
Ever since I was a kid, I've enjoyed wandering around on them (no doubt to the disgust of people who are trying to play) and I've learned to appreciate the different schools of course design. I think it's because a well-planned golf course they represent a sort of Arcadian ideal: a quiet, ordered and rational partnership between Nature and Humanity. More civilized than Yosemite, but less artificial than Versailles.
Unfortunately, the game of golf is in a demographic danger zone these days. It's not nearly as popular among young adults as it was with their parents' generation, partly because of the high cost, partly because it's a demanding pastime, and partly because it's seen as "grandpa's game." And after years of hand-wringing, the industry is beginning to respond to the crisis. That includes many of the resorts and courses here on Michigan's "Golf Coast."
One leader in this effort is Shanty Creek Resorts over in Bellaire, which has taken several steps to make the game easier and more approachable for beginners, youngsters and less experienced players. This year, for example, the resort has added 8-inch cups to each hole on the Schuss Mountain course (normal cups are 4.25 inches across) and a new set of forward tees (ranging from 95 yards to 125 yards) at the Summit Golf Club to make the game easier and faster.
"Our goal is to grow the game's appeal and make playing more enjoyable for everyone," said PGA Pro Brian Kautz, Shanty's director of golf.
The inspiration for changes like these is a campaign called Golf 2.0, which golf legend Jack Nicklaus has been urging fellow PGA members to adopt as a way to make the game more fun (particularly for women and junior players) and bring more players into the game.
"With so many sports and activities fighting for the time and attention of families, we need to think of ways to make our game more attractive and thus more inviting, especially to children and young adults," Nicklaus said. "The time has come for the golf community to make a fresh start for the benefit of the future of the game, and show new people that the game of golf can be about makeable putts, camaraderie and enjoyable competition played out in a timely manner."
Another new initiative from the PGA and the US Golf Association, called Tee It Forward, encourages golfers to use the tees best suited to their average driving distance. According to Nicklaus, it's a campaign to persuade players that they'll enjoy the game a lot more if they don't "bite off more than they can chew."
At Shanty Creek, Kautz and his crew are hoping that the new 8-inch cup option, new forward tees, and the Tee it Forward initiative will help the resort persuade more of its guests to try the game and recognize it's something that women, kids, families, and beginner players can enjoy. And just to add some extra inducement, children under the age of 17 will be able to play for free on their Schuss Mountain and Summit Golf Club courses as long as they're with a paying adult. (On Sundays after 2 p.m., kids can even play a free round on the high-end courses at The Legend and Cedar River.)
"Our goal is to grow the game's appeal and make playing more enjoyable for everyone," said Kautz.
Who knows? Maybe they'll persuade me to take up golf, too.