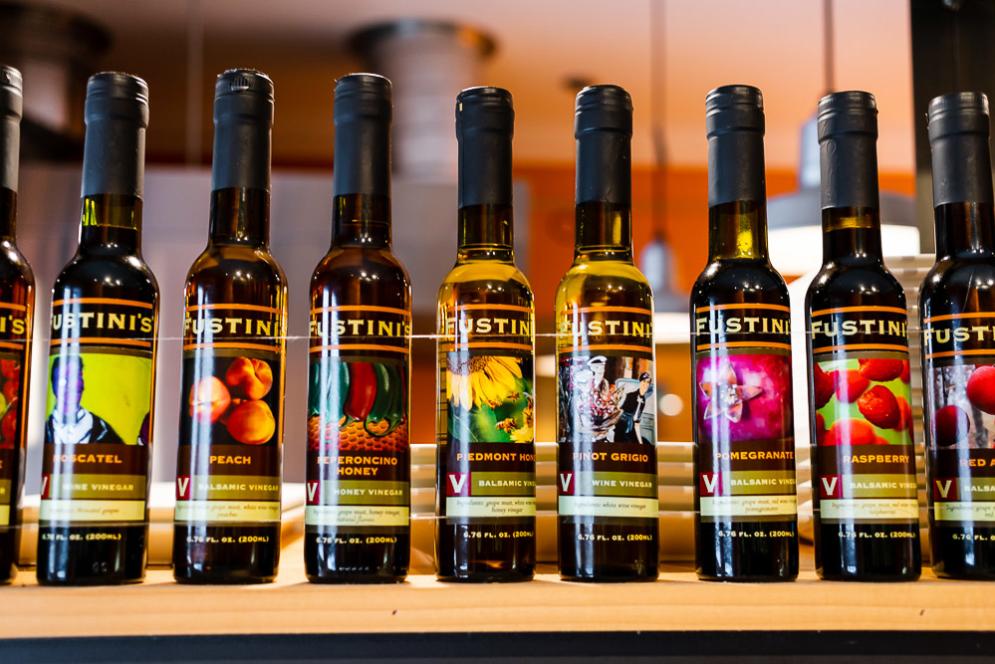 Do you love to cook? If you're looking for unique foodie activities to do in Traverse City, sign up for a cooking class at Fustini's Oils and Vinegars! Fustini's School of Cooking is designed for anyone who loves to cook -- and eat. All skill levels are welcome, and there are a variety of different classes to choose from nearly every day of the week. You can choose between a hands-on class, or just a demonstration. Either way, you will learn some new kitchen skills, utilize some locally sourced ingredients, and delicious Fustini's infused olive oils and vinegars, and no matter what you decide, you will always get to eat the final product. 
This was our very first time taking a cooking class ever, and we can't recommend it enough! We can guarantee that you will leave full -- and very happy! Here's a rundown of our first time experience, and some tips on what to expect if you sign up for a cooking class at Fustini's Oils and Vinegars in Traverse City. 
Reserve Your Space Well in Advance, Then Show Up Hungry! 

We took a class during Traverse City Restaurant Week, which falls during the last week of February every year, and we're really glad that we reserved a spot well in advance. Classes are small and pretty intimate, and they fill up fast. Classes are non-refundable, so make sure you're picking a time and date that you'll be able to attend. 
It's a good idea to show up 5-10 minutes before the class starts, so you can sign in, grab a seat, and even wander the store. There are tons of unique infused oils and vinegars that you can sample while you're waiting, and you get a 10% discount to use at the store for the day of the class. You can bring your own adult beverage, as long as you can be responsible, limiting yourself to two drinks. Alcohol will not be served on the premises due to the store's liquor license, but you are allowed to bring your own. 
We ended up taking a demonstration class, mostly because we were in love with the menu that Chef Laura Cavender put out, but there are plenty of hands-on demos as well. For our particular class, we were told we would learn how to make a cucumber mint grapefruit shrub mocktail, a goat cheese and onion galette with butternut squash, balsamic steak with chimichurri, and blood orange pots de creme. Not only did we make (and eat!) all of those things, but Chef Laura also included a couple of extra special sides that weren't listed on the menu. Let's just say we are glad we had a light breakfast and lunch that day before attending!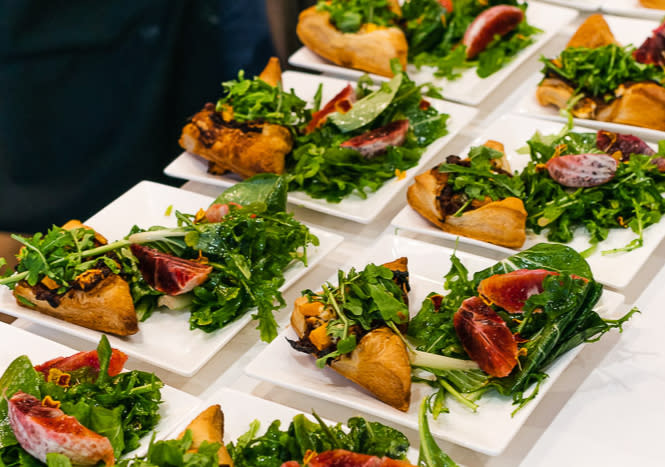 Be Willing to Try Things You (Maybe) Normally Wouldn't & Know There's Always Tips and Tricks to Learn!

We are definitely not picky when it comes to food, but we might have some friends and family members that are. We would encourage them to place their faith in the decisions the chef makes for the menu, because the end product is designed to delight. Of course, if you have a food allergy, this is a different scenario. Just make sure to let the Fustini's team know ahead of time. 
Each ingredient used is intentional, and you might be surprised by some of the flavors that come together. For example, Chef Laura put together a snack for us that included some Humboldt Fog cheese, complete with a Fustini's aged balsamic vinegar and olive oil, with a sweet berry compote on a toasted crostini. You might be instantly turned off by the idea of a "stinky" type of cheese, but we must say, you should not pass up on this unique combo of salty, pungent, umami, acidic, and sweet. It was honestly one of our favorite bites of the night. 
Also, whether you're someone who loves to cook like Bri, or a total novice, be open to learning new techniques. We are firm believers that we are basically like sponges, absorbing new ideas and skills whenever we are open and willing to learn, so keep an open mind. We came out of that class inspired to cook in our kitchen and put our newly learned skills to the test. 

Take Notes So You Can Recreate Things at Home

We learned a ton of new techniques and recipes in Chef Laura's class, and we were super thankful that she has typed up recipes for all of the dishes (except for the extras she added in on the fly). Thankfully, Laura was able to lend us a couple of pens so we could jot down notes and reminders, especially about substitutions, and the extra bites she made for us.  
Cooking can be intimidating at times, Chamere often feels this way in the kitchen. He found this class to be very approachable, fun, and insightful. It made dishes like pots de creme, and homemade compound butter look easy. In fact, we've already recreated pots de creme at home! We improvised a little, since we didn't have any citrus or fresh fruit, and it turned out great. We ended up topping our pots de creme with homemade whipped cream and a blueberry syrup made from blueberries that we picked at Buchan's Blueberry Hill over the summer. Chef Laura taught us that amazing cooking doesn't come from super fancy ingredients, just quality ones, and some solid (and fairly simple) techniques. It also inspired us to be creative and use things we had on hand, and we will continue to do so in our cooking adventures. 
If you were on the fence about taking this class, we hope this made your decision easy. Go ahead, indulge your inner chef. You can follow along with more behind the scenes footage of our experience and more of our foodie adventures on our Instagram.