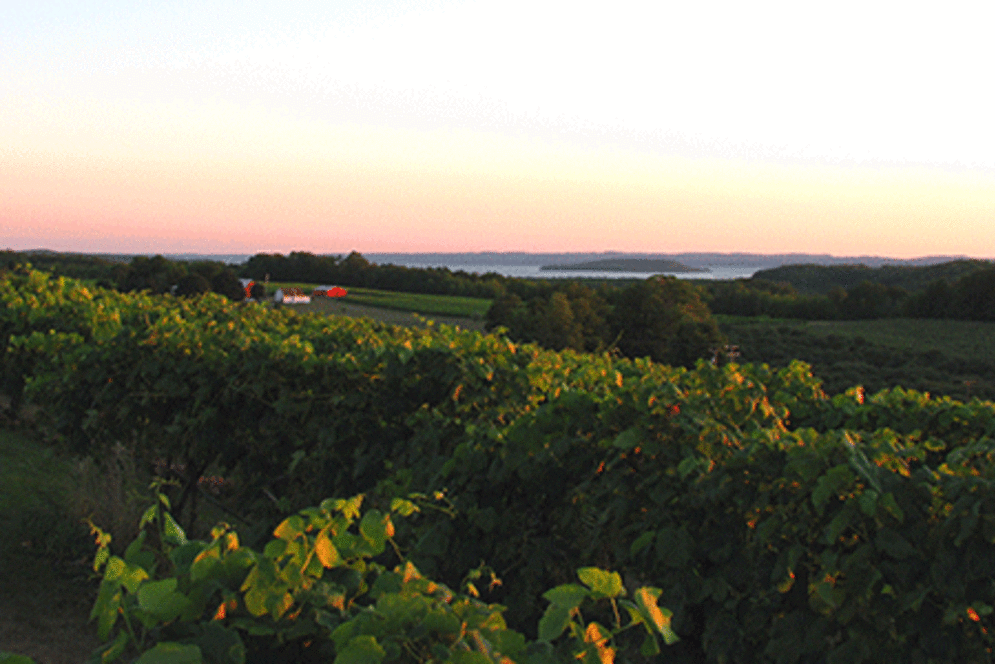 The Old Mission Peninsula Wine Trail®, north of Traverse City, feature some of the best wines in Michigan. As we get ready to celebrate Michigan Wine Month in April, here's a look at what makes the eight distinct Old Mission Peninsula Wine Trail® stand out from the crowd of more than 100 Michigan wineries.
Unique Area
Location, location, location! Michigan's Old Mission Peninsula sits at the 45th parallel, exactly halfway between the equator and the North Pole, the same parallel where internationally recognized wine regions of Bordeaux, France, Piedmont, Italy, and the Willamette Valley in Oregon are located.
The peninsula, recognized as an American Viticultural Area (AVA), is also home to a unique maritime climate. At 18 miles long and three miles across its widest point, the vinifera vines are surrounded by Grand Traverse Bay. The lake offers protection from frost during the growing season and helps the area stay cool longer into the spring to avoid early bud break. This interesting climate makes for some of the most exciting aromatic white wines -- Riesling, Pinot Grigio and Chardonnay; and reds that are balanced, delicate and very sexy -- Pinot Noir, Cabernet Franc, and Merlot.
Unique Wineries
So you've been to one Michigan winery, they must all be the same…right? Wrong! Let's take a tour of the Old Mission Peninsula Wine Trail to see what's different at each. We'll start at the northern end of Old Mission Peninsula and work our way back toward Traverse City.
In this typically cool and very white wine driven growing area, 2Lads Winery specializes in red winemaking, pushing the depths of red grape growing to make red wines like you've never experienced in Michigan before. Reds take a lot more work in the fields in Northern Michigan to achieve ultimate ripeness and flavor development. It's no small challenge, but the folks at this winery are up to the task! 
2Lads' most unique wine to try:
2Lads Reserve Cabernet Franc: This wine has only been made twice in the brief nine years of 2Lads, only made when a vineyard block has truly produced the highest example of what the soils of the Old Mission can offer in a Cab Franc. If you are lucky enough to get your hands on a bottle of this, the depth of character, balance of fruit, and savory flavors, as well as oak and tannins in this glass, will change the way you view Michigan wines forever.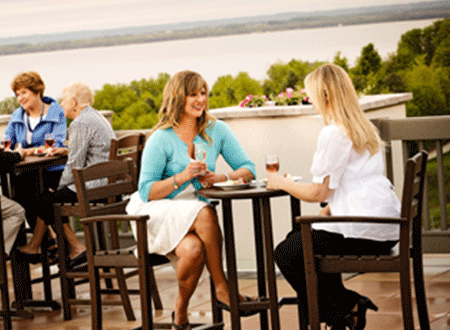 Continuing along the wine trail, we stop at Chateau Chantal. Situated on one of the highest areas of Old Mission Peninsula, this winery's location offers visitors spectacular views, but also provides the estate vineyards excellent air drainage, preventing from frost and freeze. This coupled with the steady wind blowing through the vineyards provide excellent growing conditions. 
Chateau Chantal's must-try wine:
Semi-dry Riesling: Riesling is the quintessential cool climate grape variety and Northwest Michigan does Riesling better than anywhere else in the United States. Riesling grapes are naturally high in acidity, and this characteristic is heightened when the grapes are grown in a cool climate. This creates a balanced white wine that has a structure that you are unlikely to find in any other white wines. This structure allows the wine to stand up to many different food pairings and also allows it to carry some residual sugar, making it even more attractive to most wine drinkers.
Our next stop on the wine trail takes us into the tasting room at Bowers Harbor Vineyards, a welcoming, friendly, and fun winery. With more than 20 wines, as well as hard cider and non-alcoholic sparkling juice, everyone will find something to enjoy. In addition to the tasting room, there is a spacious patio where visitors can enjoy a glass of wine amongst the vines.
Bowers Harbor Vineyards' must-try wine:
2896 Langley Meritage: This wine is a Bordeaux blend of Cabernet Franc, Merlot, and Cabernet Sauvignon. Cabernet Sauvignon is very challenging to grow in Northern Michigan's climate. Bowers Harbor Vineyards planted only 100 vines and put them in the hottest part of their Langley Vineyard. They don't yield many grapes from these warm climate vines, but the grapes they do produce are dark, spicy, and delicious. When there are warm growing seasons, they utilize the Cabernet Sauvignon in the 2896 blend. Since this wine isn't produced every year, the very limited production that Mother Nature allows is highly cherished. 2896 is the winery address and represents that all the grapes were grown right there on the farm. 
At 91 acres, Brys Estate is one of the largest contiguous winery estates on Old Mission Peninsula, and the next stop on our wine tour. They are a family-run business, crafting wines from 46 acres of vines planted less than a mile from the shores of Lake Michigan. The old-world tasting room, and one-of-a-kind Upper Deck and Bridge Above the Vines allows visitors to experience the beauty and bounty of Old Mission Peninsula. 
Brys Estate Vineyard & Winery's most popular wines to try: 
Two of the most popular wines are Brys Estate Naked Chardonnay and Brys Estate Pinot Noir. The Naked Chardonnay is crisp and clean, with no oak influence.  The Pinot Noir has dark cherry notes and a creamy finish. Paired with the vineyard and bay views from the Upper Deck and Bridge Above the Vines, it's a singular wine-tasting experience.
The next stop on the Old Mission Peninsula Wine Trail takes us to the oldest winery on the peninsula, and often considered the pioneers of Northern Michigan's wine country, Chateau Grand Traverse. During peak season, Chateau Grand Traverse offers daily complimentary winery tours that emphasize their dedication to giving each visitor a fun and educational experience.
Chateau Grand Traverse's must-try wine:
Chateau Grand Traverse Gamay Noir - A relatively uncommon wine for this area, Gamay Noir has adapted well to the climate of Northern Michigan, producing a light bodied, yet full flavored wine. It is an aromatic and fruity red wine with distinct tart cherry, red plum, and black pepper flavors. With four months of barrel aging, it is lighter than traditional red wines making a versatile wine for cheese and breads, grilled salmon, roasted duckling, or wild mushroom pizza.
Peninsula Cellars' unique historic ties to Old Mission Peninsula sets them apart from the other wineries in the region. Owned and operated by the Kroupa Family, who is in its sixth generation on Old Mission Peninsula, have been farming fruit here for over 120 years. Peninsula Cellars prides itself on the stewardship it feels towards showcasing the unique growing climate that surrounds their centennial farm, where a majority of the grapes and fruit used in their wine are grown. To further their historic ties to Old Mission Peninsula, the tasting room is located in the Maple Grove Schoolhouse built in 1896. The charming and historic nature of the tasting room makes visiting Peninsula Cellars a must on any Northern Michigan wine tour. 
Peninsula Cellars wines to try:
Peninsula Cellars location is the inspiration for their uniquely school themed wines, including Detention, Homework, Summer Vacation, and Exchange Student -- just to name a few. Which ones will you try?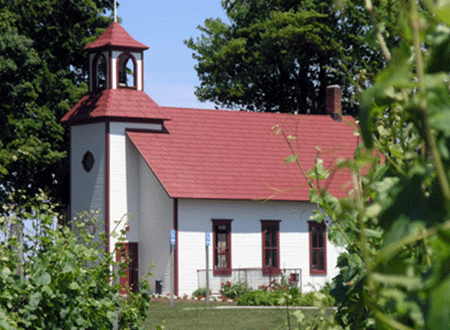 Continuing on the wine trail, the next stop is at one of the newest Old Mission Peninsula Wine Trail, Hawthorne Vineyards. This boutique winery sits high on a ridge, offering breathtaking views of both the East and West Grand Traverse Bays. 
Hawthorne Vineyards' one-of-a-kind wine:
2014 Barrel Reserve Auxerrois: This wine is an exceptional European varietal and sibling to Chardonnay with similarities to Pinot Blanc. Hawthorne Vineyards is the first winery on Old Mission Peninsula to produce this unique varietal that expresses a bright tropical fruit nose with pineapple, apricot, and guava. Neutral oak aging provides a soft mouth feel with notes of pear and honey. 
Our final stop on Old Mission Peninsula is Black Star Farms Winery. While some might think this is just a tasting room or satellite to their Leelanau Peninsula location, it is much more. Black Star Farms operates two wine processing facilities, with adjacent tasting rooms. The Old Mission facility not only produces many award-winning white wines, but is also home to their distillation program that produces European-style fruit brandies and dessert wines. 
Black Star Farms' most unique wine to try:
Black Star Farms Sirius Maple Dessert Wine: This wine starts with Black Star Farms' hard apple cider, fortified with their apple brandy and finished with maple syrup. It is Pure Northern Michigan!
To plan a wine trail adventure, visit the Old Mission Peninsula Wine Trail website. Make sure to check out the calendar of events, including Blossom Day - May 14, for upcoming fun along the trail.