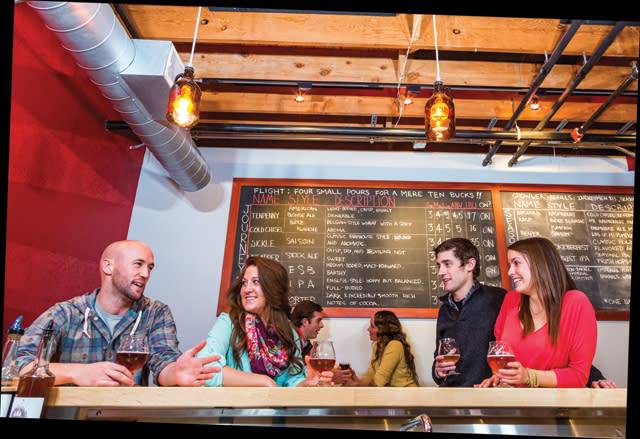 By MIKE NORTON For a community with slightly more than 15,000 residents, Traverse City certainly makes a lot of beer! At last count, this area had 12 craft breweries and brewpubs – with number 13 due to come on line any day now – and has suddenly emerged as a major center of craft brewing. (Draft magazine named it one of Americas' three "emerging beer towns" -- along with St. Louis and Oklahoma City – and The Travel Channel  listed it among the Top Seven  Beer Destinations in North America. Here's our most up-to-date listing of the area's craft brewing scene: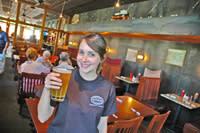 Mackinaw Brewing Company 161 East Front St. (231) 933-1100 www.mackinawbrewing.com At the corner of Cass and Front streets, in an elegant 19th century brick building, this is Traverse City's original brewpub – dating all the way back to 1996 – with an extensive menu of smoked meats and fresh seafood to complement their beers. Their best seller is a malty brew called Red 8 Ale, but they also brew two fine pale ales  (West Bay IPA  and Peninsula Pale Ale), and a Belgian-style wheat ale called Whitecap – and are one of the reliable places to find a Traverse City seasonal favorite: a cold-brewed lager flavored with local tart cherries. Short's Brewing Company 121 N. Bridge St. Bellaire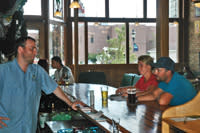 (231) 498-2300 www.shortsbrewing.com At the foot of the Shanty Creek resort, in the village of Bellaire, Short's has some of the most imaginative and adventurous brews on the market. Some of the brewery's more down-to-earth beers include Locals Light, Pontius Road Pilsner, Bellaire Brown and an intensely hopped brew called Huma Lupa Licious. Beer lovers who can't make the trip out to Bellaire will be happy to know that several Short's brews can be purchased in bottled form throughout the Traverse City area.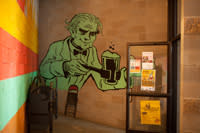 Right Brain Brewery 225 E. 16th St. (231) 942-1239 www.rightbrainbrewery.com Tucked into a sprawling warehouse in the city's SoFo (South of 14th) District, this innovative microbrewery is paired with a hair salon next door. (Their motto is, You sip, we snip.) The huge industrial-style space at Right Brain features at least a dozen handcrafted ales, beers, stouts and porters at a time – the selection changes regularly -- and they're famous for putting all manner of things into their recipes: from chocolate and heather to coffee and raspberries. Jolly Pumpkin Restaurant, Brewery & Distillery 13512 Peninsula Drive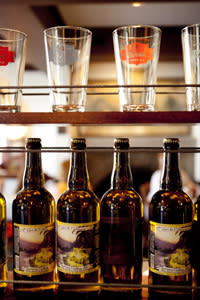 (231) 223-4333 www.jollypumpkin.com This laid-back brewpub (known for years as The Bowery) is located behind the venerable Bowers Harbor Inn on the Old Mission Peninsula. Featuring traditional rustic country style beers (open fermented, oak barrel conditioned) created by the famous Jolly Pumpkin brewery of Dexter, the restaurant also stocks beers and ales from the North Peak Brewing Company.  Favorites here are Bam Bière, Oro de Calabaza, and La Roja. North Peak Brewing Company 400 W Front St. (231) 941-7325 www.northpeak.net Located in a century-old brick building that was once home to a candy factory, NorthPeak is one of Traverse City's three brew pubs, where beer is brewed on the premises and served up fresh with the food. Steelhead Red and Northern Light are popular options, but NorthPeak also puts together a regular menu of imaginative seasonal brews and cask-conditioned ales that change from month to month. NorthPeak also markets a series of bottled beers – available here and elsewhere – with names like Siren Amber Ale, Diabolical IPA, Majestic American Wheat, and Vicious IPA.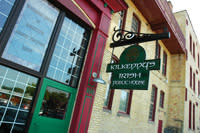 Kilkenny's Irish Public House 400 1/2 W Front St. (231) 941-7527 www.kilkennyspub.com Just downstairs from NorthPeak this basement pub specializes in handcrafted Irish ales, porters and stouts (try the St. Canice Pale Ale, the Leinster Irish Lager, the malty nitrogenized Marble City Red, or the refreshingly bitter River Nore Porter). The venue is spacious and private, with lots of nooks and crannies for conversation. The Filling Station 642 Railroad Place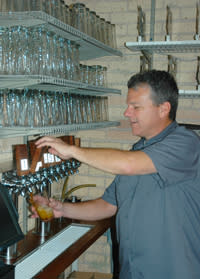 231) 946-8168 www.thefillingstationmicrobrewery.com Traverse City's elegant Italianate railroad station is the home for this brand new microbrewery and pub, operated by former Vermont baker David Cannizzaro and his family. The Filling Station features 10 microbrews on tap, ranging from a Scotch Ale and several IPAs to a mellow/mild brown ale. The former station and its outdoor railway platform (with a view of Boardman Lake) also feature salads and wood-fired pizzas.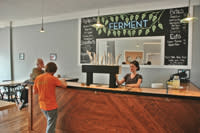 Brewery Ferment 511 S. Union St. (231) 735-8113 www.breweryferment.com This artsy little microbrewery just south of 8th Street is in a former bookstore, and its bright, clean design makes it feel more like a neighborhood café than a tavern. That's exactly what the five young owners of Ferment were aiming at: a light-filled quiet space where people could enjoy a good beer and some conversation. Their beer menu includes a cream ale called Worker's Daily, an Old Town Brown and a Bookstore Bitter. Brewery Terra Firma 2959 Hartman Rd.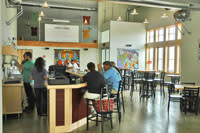 (231) 929-1600 www.breweryterrafirma.com Traverse City's first "farm-to-mug" brewery is located on the historic 10-acre Dracka Farm just south of the Grand Traverse Mall, offering a variety of well balanced styles with such names as Wicked Garden Honey Rye Beet Wheat, Tai Chi Seven Spice Stout, Copper Grasshopper ESB,  One Upon Tyne Brown Ale and Ancho Chili Dutch Double Porter and the classic Manitou Amber Ale. Brewmaster John Niedermaier plans to grow most of the hops, herbs, fruits, vegetables and honey that will flavor his beers and ales. Workshop Brewing Company 221 Garland St. (231) 421-8977 www.traversecityworkshop.com Brewer Pete Kirkwood started a successful craft brewery in Pennsylvania before moving to Traverse City to open Workshop Brewing Company in the Warehouse District storefront where Right Brain Brewery got its start. Decorated in a sort of "proletarian chic" motif, Workshop's lineup includes seven "journeyman beers" like American Blonde Ale and Session IPA. a rotating menu of seasonal and specialty brews, and a menu of deli-style "one hander" sandwiches and snacks. Big Toe Brewery 205 Lake Ave. (231) 941-4422 www.bigtoebrewery.com Located inside the Om Café in Traverse City's Midtown District, Big Toe specializes in small batch, hand crafted, bottle conditioned beers including  Lyght Ale,  a quinoa-based beer called Q, a dandelion-infused brew called 3D and an overhopped high-gravity IPA called Big TIPA.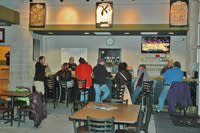 Bravo Zulu Brewing 6060 US-31 North, Acme (231)943-1459 www.bravozulubrewing.com In military parlance Bravo Zulu means "job well done," and brewmaster Jeff Brooks, a veteran of both the Army and the Navy, opened this craft brewery at the end of 2013 to pay tribute to military veterans, police officers, firefighters and first responders. His beers, all displayed with labels crafted in the style of WWII bomber nose artwork, have names like Dirty Blonde, Law Dog IPA, Ember Amber and Blue Collar Porter. And here's that  "Lucky 13,"  scheduled to open in the next week or two: Rare Bird Brew Pub 229 Lake Ave. (231) 943-2053  www.rarebirdbrewpub.com Former insurance man and passionate birder Nate Crane teamed up with brewer Tina Schuett to create this pub/taproom/microbrewery in a former fruit cannery in the city's Midtown District. Rare Bird plans to offer several dozen beers, including 6-10 brewed on-site with names like Afternoon Delight Cream Ale, Beard of Zeus IPA and Schadenfreude Chocolate Milk Stout, as well as imaginative fusion-style food.