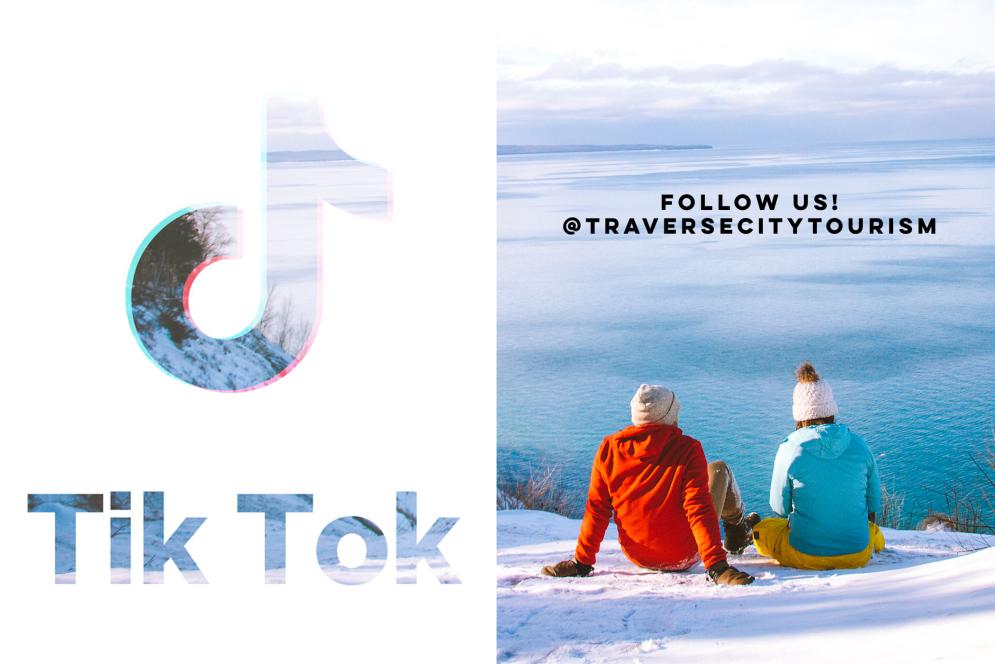 Traverse City Tourism is now on Tik Tok! We are excited to spread our love for our region across this new platform. We love highlighting the hidden gems, historic landmarks, and favorite adventures of Traverse City in new ways and we can't wait to bring you along for the ride. Take a look below for a Q/A of what to expect with our new platform presence! 
We are joined by Traverse City Tourism's social media specialist, Ethan Wentland, for a Q/A of what we can look forward to with our new presence on Tik Tok.
Q1: For those of us who aren't (yet) avid TikTok users, what makes the platform unique?
A: What isn't there to love about Tik Tok as a social media platform? Known for quick viral growth, the platform has opened the door for users to connect with their audience in a much more authentic ways. This is demonstrated by TikTok's 800 million active users worldwide with over 2 billion downloads on the App Store and Google Play. Within the last year, there was an average number of more than 1 million videos viewed every day in a year, that's a lot!
Q2: What kind of content will TC Tourism have on TikTok?
A: We are hoping to bring fun, excitement, and our love of Traverse City in the content we share! Expect virtual tours, itineraries, cool/weird stuff and much more. Tik Tok is a fun and different platform which we are looking to embrace every part of!
Q3: That sounds great but…will there be dancing? 
A: Dancing isn't always our forte when it comes to the content we share, but we will be embracing the trends as best we can! Stop in @TraverseCityTourism on Tik Tok to see for yourself.
Q4: What are you most excited to showcase about the area?
A: There is so much to share and love about Traverse City! Showing off our views of the lake, our favorite trails, the best places to grab a glass of wine, and our most memorable moments. You'll have to tune in on Tik Tok to see what else we share with our audience!
Q5: How often should followers tune in for content?
A: As we build out our presence on Tik Tok check in with us a couple times during the week! Over time, we will have daily content to share regularly with our viewers. It's a new place for our content to live and grow, we want it to be valuable for you!
Follow us and stay up to date with @TraverseCityTourism on Tik Tok by clicking here.