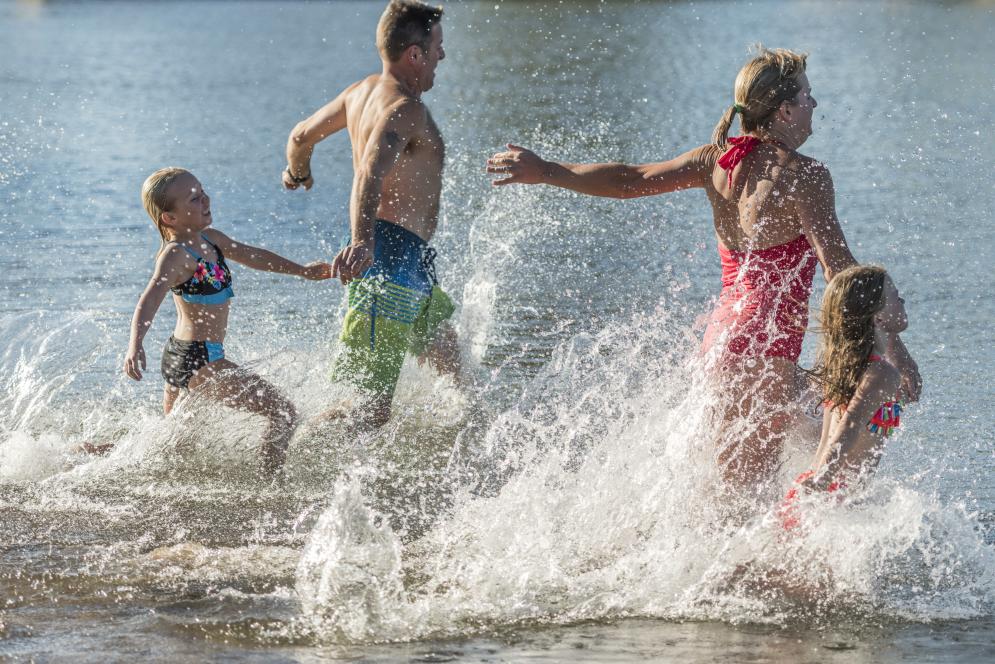 It's sunny! It's hot! It's time to go to the beach! Dip your toes in the water, spend an afternoon swimming, or build sandcastles with the kids. Speaking of kids...while all beaches are family-friendly, there are a few that seem as though they were made solely for entertaining the kids and relaxing their parents. For a family beach day, here are the top choices for beaches in Traverse City. 
1. Bryant Park. With a picnic area, playground, charcoal grills, and public restrooms, Bryant Park Beach easily makes the list of great places to go with kids in tow. It also has a beautiful view of West Grand Traverse Bay and a mix of sandy beach and grass for you to set up camp. Space in the parking lot can be limited on weekend days, but weekdays are a perfect time to visit.
2. Good Harbor. Listed as one of CNN's "10 Secret Beaches Worth Discovering," Good Harbor Bay Beach is definitely worth a stop. Not only does it have beautifully clear views to the Manitou islands, but it's only a short walk away from a small stream running from the woods into Lake Michigan, which is perfect for kids to play in. It's also quiet and secluded, so you'll be able to keep track of the little ones running around without worry.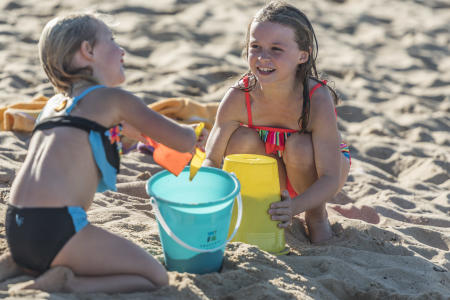 3. Clinch Park. A local and visitor favorite, this spacious park offers snacks and family restrooms as well as a small water playground right next to the beach where kids can run in and out of sprinklers. Best of all, you're just a block away from downtown Traverse City, so trips for a picnic lunch, ice cream, or a dry T-shirt can be accomplished in minutes.
4. Frankfort Beach. Just steps away from charming downtown Frankfort is a beach worth the drive. (Plus, who doesn't love a day spent in Frankfort?) From sand volleyball courts to ADA walkways providing all-abilities access to the beach, it's the perfect family spot. From the park, you can see the twin piers and lighthouse that extend into Lake Michigan and create Frankfort Harbor.
5. North Bar. A short walk through the forest takes you to one a peaceful, picturesque beach surrounded by little dunes you can climb to the top of to get a good view of Lake Michigan. The lake is just barely attached to Lake Michigan through a tiny channel, where a small strip of beach separates the two bodies of water. Since the channel is so shallow, the water on North Bar Lake's side is often warm, which is a stark (and welcome) contrast to the cooler water of Lake Michigan. It's the perfect place to safely entertain kids for hours, and I've heard it's also a popular skimboarding area. 
Of course, this list is not all-inclusive, and there's plenty of other beaches that would be great for a family outing. You can also try Van's Beach in Leland, Esch Road Beach (aka Otter Creek), Northport Beach, and the Traverse City State Park, to name a few. Just don't forget to bring the sunscreen!