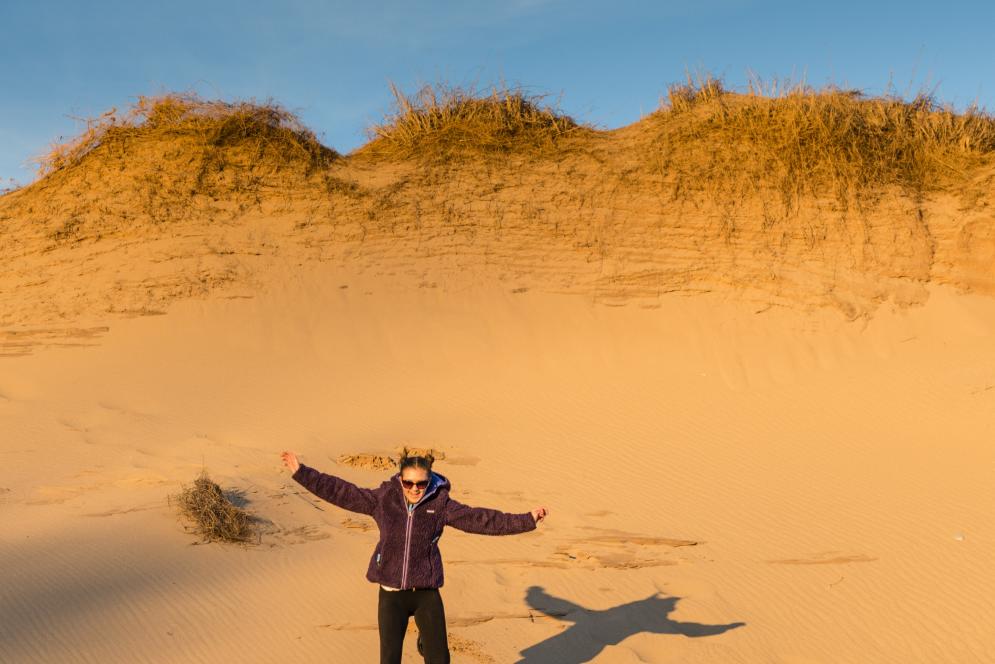 If you're a Sleeping Bear Dunes veteran, chances are you've run up and down the Dune Climb or biked along the Heritage Trail. You've probably hiked to the top of the Empire Bluffs or visited the Good Harbor Bay Beach, looking to find that famous beauty and stunning serenity that the National Lakeshore holds for anyone who needs it. However, it may be just a bit harder to find that serenity when you're surrounded by people sprinting down a giant sand dune, flailing their arms and yelling like maniacs. But hey – we've all been there. We know how much fun it is!  

While the most popular attractions at the Sleeping Bear Dunes National Lakeshore are definitely popular for a reason, stumbling across an area that no one else seems to have found yet and enjoying the beauty without another human in sight is a pretty unforgettable experience. Here are a couple ideas for finding the right place for hiking, painting, reading, cuddling, or just taking in a calming breath of fresh air.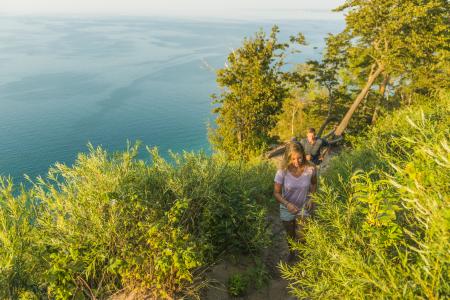 Sleeping Bear Point. This really sounds like it would be a hugely popular destination, but I've never seen more than one other person there at a time. Which is almost a shame – this is without a doubt my favorite lookout on the Sleeping Bear Dunes National Lakeshore. Its beauty is almost impossible to describe, but the rolling sand and dune grass provide a perfect foreground to the view of Lake Michigan, and it is perfectly situated for you to see the both the North and South Manitou Islands and two of the most iconic sand dunes. Perhaps this place isn't as well-known due to the fact that it is a little hard to find; to get to the trailhead, you need to take a small road branching off of the historic town of Glen Haven, drive down along the beach and to a little hidden forest. It also requires a bit of a walk or hike to reach the peaks, but that hike is completely worth it, and I would highly recommend taking some time to explore the area as every new dune you climb has a new view.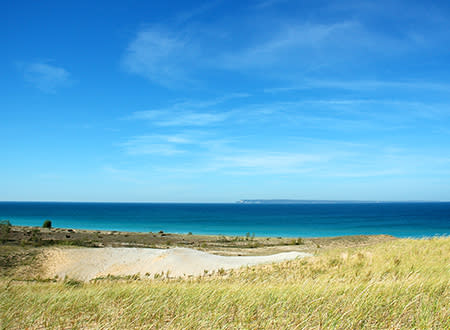 North Bar Lake. While this area has become "lesser-known," North Bar Lake is still terribly underrated for all its beauty. It's an inland lake surrounded by forest and a small dune right on the coast of Lake Michigan. The lake is so tiny that the water is almost always warm, and it has a shallow sandbar right next to Lake Michigan's beach that is perfect for kids to play in. If you walk up the small sand dune, you can see one of the most beautiful and unique views there is to see in Northern Michigan – the small sparkling lake surrounded by trees, the tiny channel that opens up into a gorgeous expanse of the blue waters of Lake Michigan, the famously towering sand dunes providing a beautiful backdrop to both. And, while it can admittedly be crowded during peak times, North Bar is still a gorgeous place to go during the evenings or – my favorite – at night. There's practically no light pollution, so the stars are limitless, and on calm nights they are even reflected in the water of North Bar Lake. Honestly, there's not much more you could ask for.
Treat Farm. This one's probably the most underrated attraction in the entire park (in my opinion, anyway). While it takes a bit of a hike to get there, the old farmhouse and related buildings are fascinating, and they provide an interesting set-up for the remainder of the hike through some of the most unique foliage you'll ever see. My favorite part is the end – all of the hiking pays off as you are unexpectedly struck by an incredible view of Lake Michigan and the surrounding beach and dunes. And even though virtually no one goes there during the daytime, this is another one of my favorite places to go at night. The farm and trail can become a little creepy (if you're as jumpy as I am) after the sun goes down, so you have to earn the view – the preface of scariness and the reward of shining stars make it even more beautiful than during the day.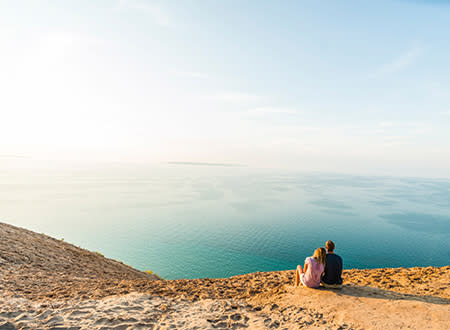 Pyramid Point. Perhaps you already know of this one, but it's simply too gorgeous to keep off the list in case you haven't been there! It's a little harder to find, somewhat like Sleeping Bear Point, and requires more of a hike to get to the top than others. However, the view at the top is worth three times the hike you take – it's an absolutely stunning expanse of water and island, all framed by the pyramid-like shape of the dunes surrounding it. You can hike to either side and see slightly different but equally breathtaking angles, all of which seem more magnificent than the last. Be careful, though; the dunes go almost straight down into Lake Michigan, and while it looks very pretty and fun to run down, it's almost impossible to get back up. Only try it if you're in peak physical condition and have a lot of water on hand!
Of course, this list isn't all-inclusive, and I'm sure there are many more hidden places just waiting to be found by an unsuspecting explorer. And even the most popular destinations can be visited with almost complete solitude, as long as you time it right – most people arrive around 10 a.m. and leave after sunset, which leaves the morning and night to appreciate the beauty of a sunrise or a sky full of stars. For more places, trails, and tricks, you can visit the Sleeping Bear Dunes' official website.