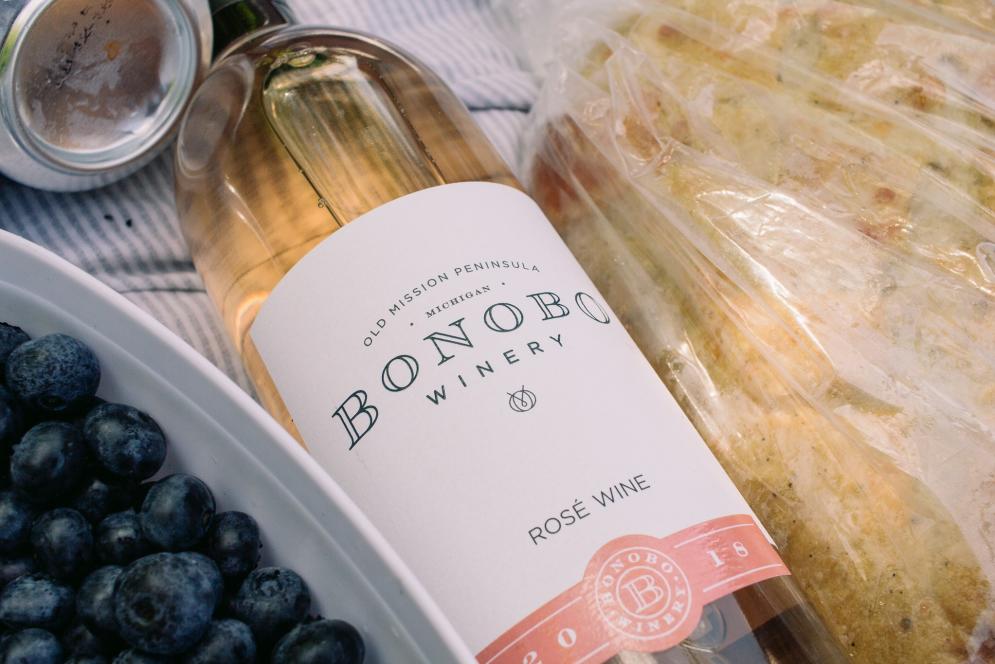 Looking for a way to spend the afternoon? Here's how to create a locally sourced picnic in Traverse City.  Collecting the ingredients is half the fun when you can do your shopping at the Sara Hardy Farmer's Market, local vineyards and wine shops, roadside food stands and u-pick berry farms. Grab everything you need for your ideal day, all produced and harvested in the area. 
First Stop: The Sara Hardy Downtown Farmer's Market 

Start your picnic planning off strong with a trip to the Sara Hardy Downtown Farmer's Market, that takes place every Wednesday and Saturday through October. The Wednesday market (8:00 am - noon) begins the first Wednesday in June. The Saturday market (7:30 am - noon) begins the first Saturday in May. 
Here you can find produce and tons of other goodies like Bay Bread Company bread, bouquets of flowers, artisan salts, dressings, spreads, dips, oils, homemade cheese, baked goods and jams, cold brew coffee, kombucha and much more. We think you will be pleased with the selection. We even stumbled upon Rad.ish Street Food, a lovely vegan street food stall run by an awesome couple. Ryan and Lisa utilize local ingredients in all of their dishes and let's just say as meat lovers, we were thoroughly impressed with their offerings! It was also nice to be able to eat something hot while browsing the market.
For our picnic we picked up the following: a loaf of Pepper Asiago Sourdough from the Bay Bread Company, Peach Habanero Kombucha by Cultured Kombucha, Smoked Cheddar, Mozzarella & Jalapeño Pub Dip by Boss Mouse Cheese, Strongbrew Nitro Cold Brew Coffee, Leelanau Gourmet Roasted Maple Ginger Walnuts, Peppadew Pimento Cheese Dip from Lucy's Kitchen, Italian Sea Salt from Silver Star Goods, Fresh Basil, Cherry Tomatoes, Purple Peppers and a Cucumber from Second Spring Farm, Heirloom Carrots and a Bouquet of Fresh Flowers from Providence Organic Farm, and of course some Sweet Cherries from Interwater Farms. Our picnic was starting to look pretty sweet!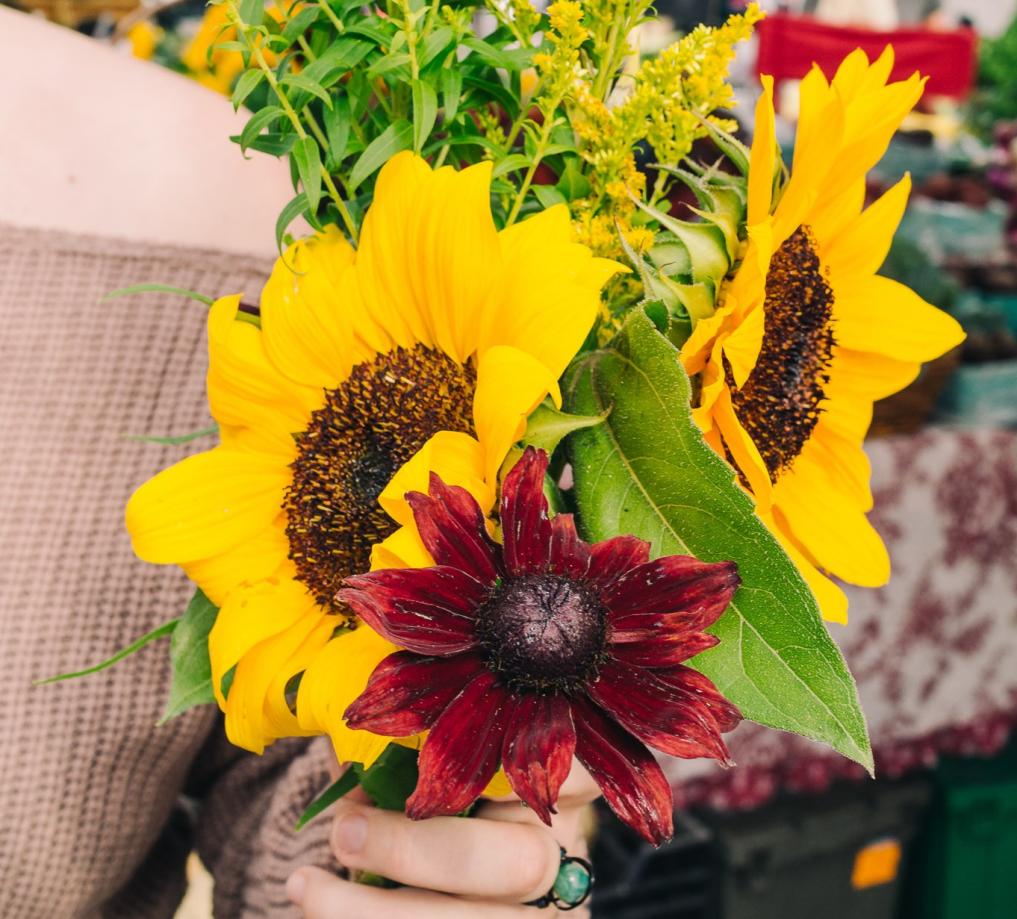 Enjoy U-Pick Berry Picking & Roadside Stands 

The next task on our list was to pick fruit. You can expect a variety of different fruits to be available at u-pick farms in the area. It's a great idea to call your preferred farm ahead of time to be sure the fruit you intend on picking is in season -- and available. From June to September, flowers and fresh fruits like raspberries, blueberries, plums, strawberries, and cherries are in season. In late summer, look for peaches, nectarines, plums, and grapes. Fall brings pears, apples and pumpkins.  
We visited Buchan's Blueberry Hill, and picked around 20 pounds of fresh blueberries! After about an hour and a half of plucking the ripe and vibrant blueberries, we grabbed some of their homemade salted caramel ice cream to finish the day off. We couldn't resist snacking on the blueberries on the way home, they were so sweet and fresh! We also froze many of the berries when we got back to Chicago, so we can enjoy the flavors of northern Michigan all year long. 
Driving back through town -- and especially on the Old Mission Peninsula -- there are tons of roadside stands to pick up extra fruit and veggies. We gathered all of our produce between blueberry picking and the farmer's market, but roadside stands are plentiful. Don't miss the views on the Old Mission Peninsula as well! 

Sample Local Wine & Get Help From Wine Experts

The secret is out, Traverse City is one of the nation's best wine regions. There are loads of wineries to choose from, as well as wine shops -- like a town staple, The Blue Goat.  
First, we dropped by Bonobo Winery, a short drive from town on the Old Mission Peninsula. We wanted to sample the wine before buying a couple bottles, as well as enjoy the stunning view of the vineyards on their patio. We ordered delicious crab cakes, fried goat cheese, and poached shrimp to enjoy alongside our wine. 
For those who may not be a wine connoisseur (we certainly aren't), The Blue Goat takes a different approach to selling wine. They organize their selections by flavor profiles, instead of by region. This system, plus their helpful and sociable staff, makes the intimidation that comes with trying new wine minimal. We dropped by The Blue Goat for a bottle of something local, dry and fruity and ended up leaving with a 2017 Pinot Noir Rose from Shady Lane Cellars. Our taste buds were delighted, and now we know which winery to visit during a future visit.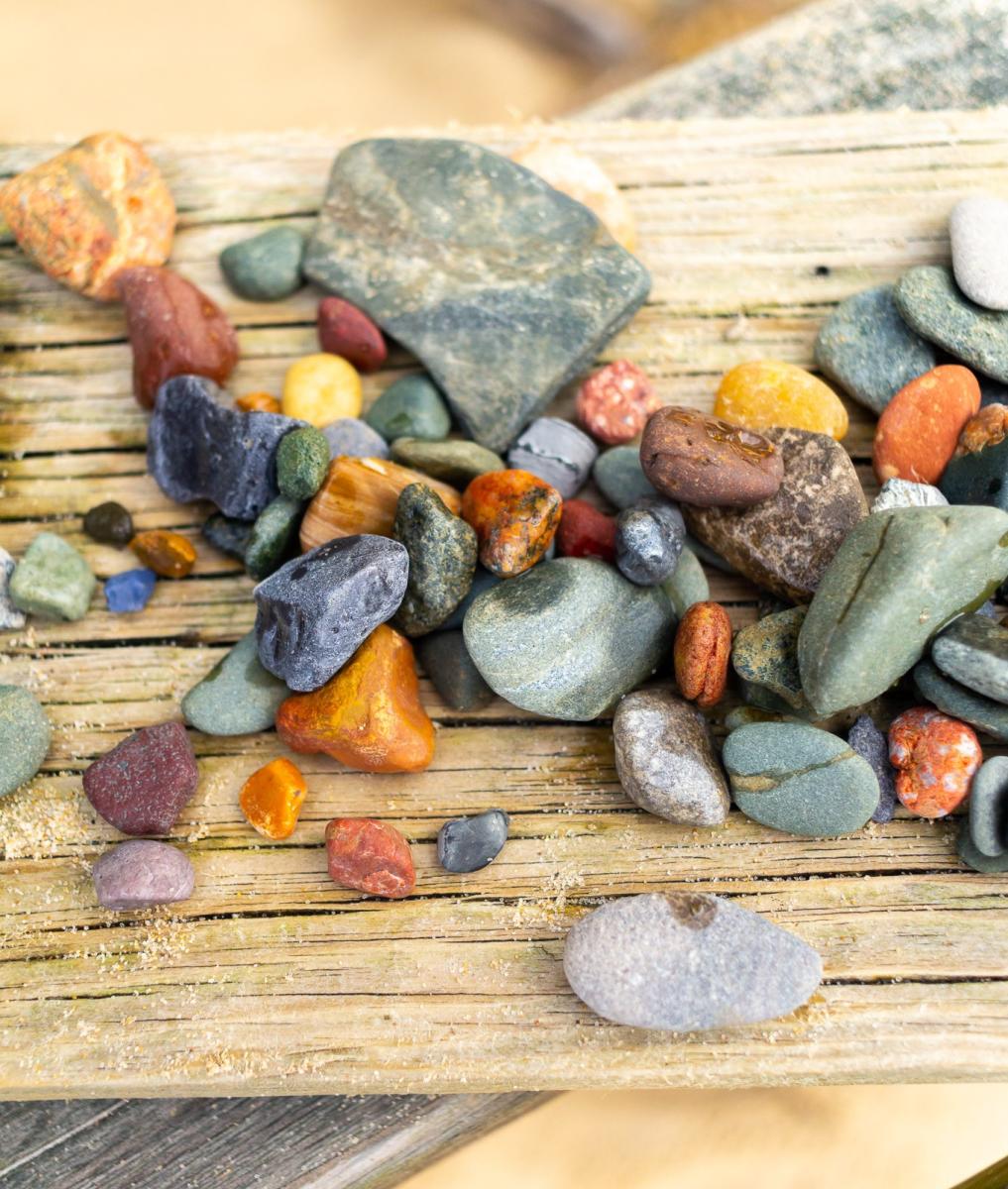 Find a Beach & Create Your Perfect Picnic! 

There are plenty of beaches in the area to choose from, including pet friendly ones. Caribbean blue water, colorful local rocks and beautiful sunsets are there to accompany your picture perfect day of leisure. Some of our family members are avid rock collectors and along the lake shore we found beautiful surprises right at our feet!
Whatever beach you decide to go to, you will be thrilled that you chose to spend the day outside while enjoying Traverse City's food and wine.