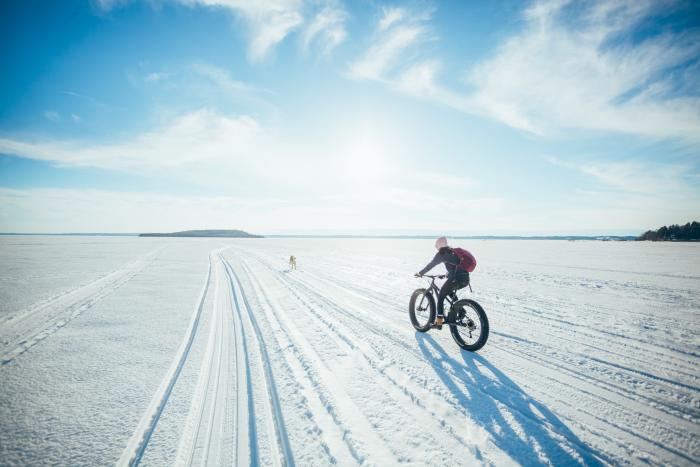 Simply put, the real attraction in Traverse City is outside. No matter when you decide to visit, you'll feel the positive energy from the treetops to the crashing waves. It fuels the lifestyle here and tells both the outdoor novice and the extreme expert to adventure on. In all four seasons, we listen. 

SPRING  IS "BLOSSOM TIME"
in the forests and orchards overlooking Grand Traverse Bay.
Hit the hiking and biking trails, walk along the beach, cast a fishing line or dip your paddles into one of the many rivers and lakes. Nature's display calls for celebration, and Traverse City residents have always observed the onset of the spring bloom with appropriate festivities. There are several festivals that promote cherry blossom season as a time to take a wine tour or to forage for the distinctive culinary treasures -- tender asparagus shoots, sweet strawberries, and morel mushrooms. 

SUMMER'S ENDLESS DAYLIGHT
means more time for exploring outdoors.
Whether you're a hiker or a cyclist, a paddler or an angler -- whether your idea of a good time is playing a round of golf or walking for miles down a beach -- there's always something to do here. And the atmosphere where you'll do it? There are options there, too. Take a stand up paddleboard on West Grand Traverse Bay, just steps from Downtown Traverse City. Or for some isolation, head to a remote beach on Leelanau Peninsula. It's all here, take your pick. 

WHEN THE SNOW COVERS THE REGION,
the fun is just beginning.
Race a sled down the Dune Climb at the Sleeping Bear Dunes National Park or take your time on a quiet snowshoe hike in the woods. Challenge the family to a friendly skiing competition and see who can do the most runs or glide your way across the miles of cross country groomed trails. Have you tried fat biking? These specially-adapted mountain bikes, with large tires capable of cycling on snow and sand -- have become a normal part of the local winter landscape. And if man-powered sports aren't for you, rev up that motor and blaze a trail on the 200+ miles of snowmobile routes around the region.

AUTUMN IS THE SEASON
of splendor in Traverse City.
The colors are stunning throughout the region and make for the best backdrop to all things outdoors. Sleeping Bear Dunes is a go-to park for visitors, but there's also a diverse selection of trails located within the Grand Traverse Regional Land Conservancy and the Leelanau Conservancy. For sport fishermen, Lake Michigan and the Boardman River are prized areas, especially for salmon and smallmouth bass. And if you're an athlete, don't miss the themed runs throughout the season.