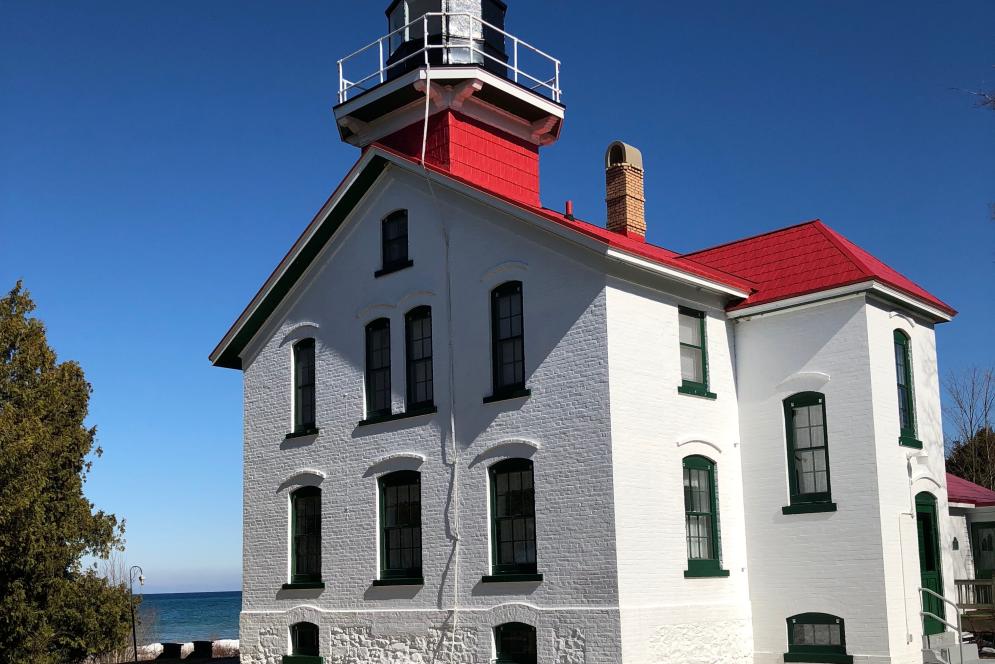 It's easy to get overwhelmed on vacation, and even easier to spend more money than you have. Luckily, northern Michigan has plenty of options for families on a budget—and we've found 20 fun, easy, and beautiful ways for you to enjoy the region. 
1. Go on a bike ride. Whether you're racing or just enjoying the fresh air, Traverse City offers beautiful views of sparkling lakes, vineyards, and orchards by bike. If you didn't bring your own wheels, don't sweat it—there are plenty of cycling rental shops in the area.
2. Combine art and the great outdoors. The Michigan Legacy Art Park in Thompsonville is a stunning sculpture park in the middle of a peaceful forest. Kids and adults alike will be enchanted by the dynamic artwork on the 30-acre preserve.
3. Catch a fish. A relaxing yet exciting way to get on the water and be one with nature, fishing is a favorite NoMi pastime. Head to the Boardman River, huddle up in an ice shanty, or get out on the bay to catch your supper!
4. Visit a lighthouse. Northern Michigan is home to several beautiful lighthouses, including the Grand Traverse Lighthouse near Northport, the Mission Point Lighthouse on Old Mission Peninsula, and the Point Betsie Lighthouse near Frankfort. Most are open for tours for a small fee or donation.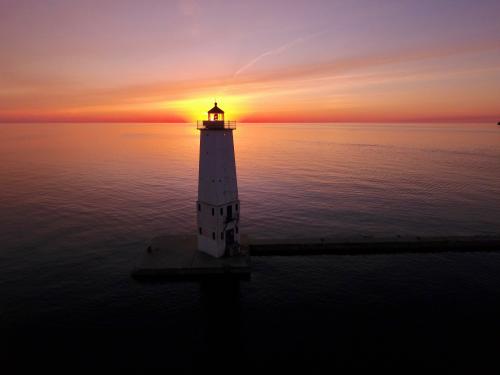 5. Hit the hiking trails. Both serious hikers and leisurely strollers will find breathtaking scenery everywhere they look with northern Michigan's countless trails and unparalleled views. 
6. Watch a baseball game. There's nothing quite like a sunny baseball game, and Traverse City's Northwoods League baseball team, the Pit Spitters, has tickets at low prices all summer long. 
7. Get geocaching. Join the "world's largest treasure hunt" and unearth one of Northern Michigan's hundreds of caches just waiting to be found. Pro tip: Benzie County is a gem when it comes to geocaching!
8. Explore the Grass River Natural Area. This 1,492 acre nature preserve, located in the heart of Antrim County, offers seven miles of trails as well nature education programs for kids and grown-ups for just $5!
9. Discover an art gallery. Take a day to feed your sense of culture by visiting some of the multitude of charming galleries, all with their own unique art and talent. Traverse City and Elk Rapids (a small town just northeast of the city) are havens for artists!
10. Try bird watching. Though it may not seem like it, birding is America's No.1 outdoor activity, and Traverse City is a hot spot for birds! With an incredibly diverse array of species and habitats, you and your family can reconnect with nature and see rare and fascinating birds in their natural environments. 
11. Visit Sleeping Bear Dunes. Rated the Most Beautiful Place in America by Good Morning America viewers in 2011, the Sleeping Bear Dunes National Lakeshore doesn't disappoint. Towering sand dunes overlook a breathtaking expanse of water and islands, offering countless opportunities to be awestruck. And, best of all, seeing one of the most beautiful sights our nation has to offer is very affordable! (Some areas are free and others require visitors to purchase a park pass.)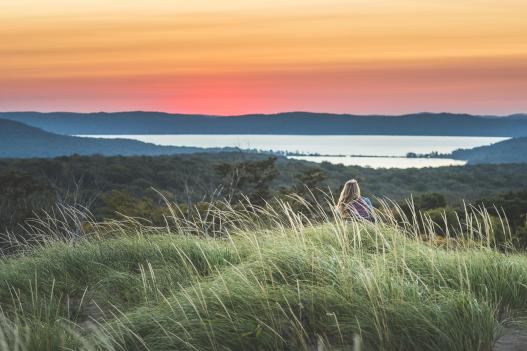 12. Go to the museum. While northern Michigan is home to many fascinating museums, two must-sees are the Dennos Museum—containing one of the world's most extensive collections of Inuit art from the Canadian arctic—and COGnition, which has hands-on learning for all ages.
13. Window shop in downtown TC. With boutiques, art galleries, and gift shops galore, it's easy to spend hours floating in and out of the dozens of local stores downtown Traverse City has to offer. If all that shopping makes you hungry, there are also countless cafes, restaurants, and breweries that you can't find anywhere else.
14. Pack a picnic. A great way to reconnect with family and enjoy a nice day outside. Many of Traverse City's beaches and parks have picnic tables, but a good old-fashioned blanket works just as well!
15. Fly a kite. A classic American pastime made even better with the local beaches, parks, and dunes! 
16. Find all of the murals in Downtown Traverse City. Murals and street art have begun to pop up to decorate the sides of buildings and illuminate alleyways throughout our downtown. Here are five that we recommend seeing.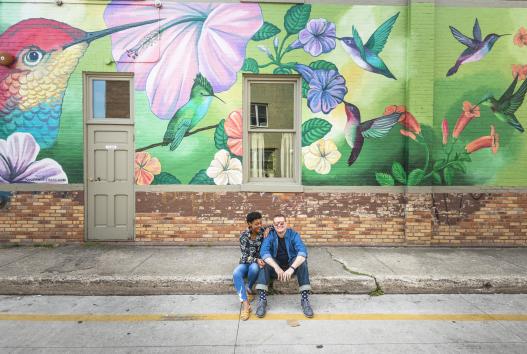 17. Play at the park. Spend the day playing Frisbee and sunbathing at one of Traverse City's numerous parks. Some have even more than just open fields and pretty views – Clinch Park has over 1,500 feet of sandy beaches, a snack bar, and trail access, and Medalie Park has beautiful lake overlooks and a boardwalk. 
18. Find a petting zoo. Who can resist making animal friends? In addition to farm animals, Gallagher's Farm Market has a corn maze and a pumpkin patch for the kids, Crystal Lake Alpaca Farm has fuzzy friends and cozy gifts, and Black Star Farms has wine for the adults. 
19. Go wine tasting. Traverse City is known throughout the nation for its incredible wine and vineyards. And the taste isn't even the full experience—you can drive through gorgeous scenery as you explore wine trails and experience some of the most exquisite wines in the country. Just make sure you're not the one driving! 
20. Relax at the beach. No salt, no sharks! Slap on that suntan lotion and enjoy a day at one of the region's many renowned beaches. It's not just a summer activity, either—northern Michigan's beaches are picturesque all year long.