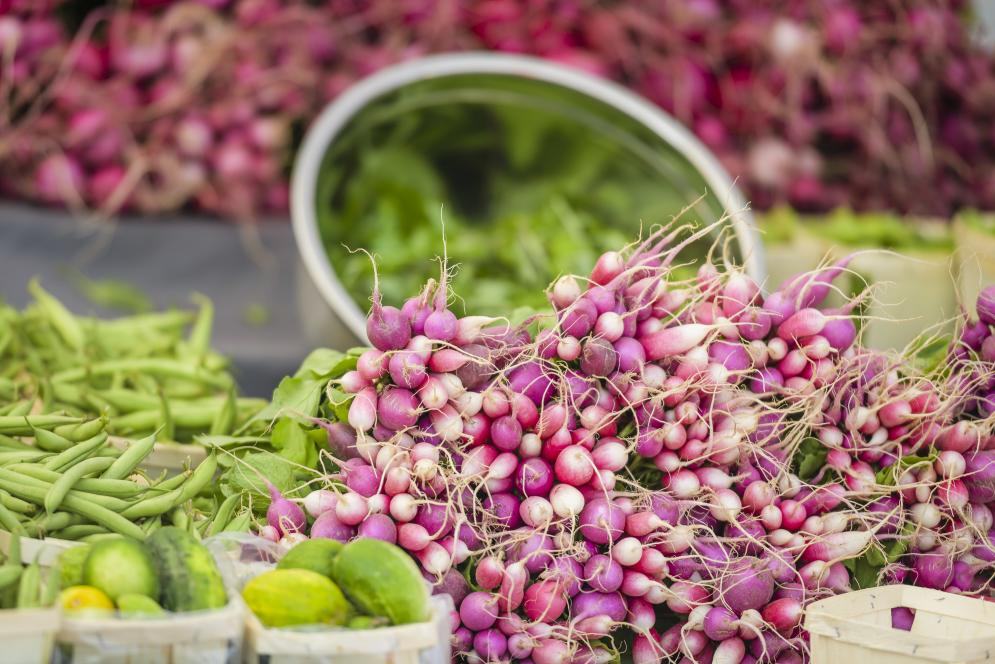 Northern Michigan is THE place for the summer harvest. From our signature cherries to just about every fruit and veggie you can imagine, it's all here. Our farmers markets also host local butchers, cheese makers, bakeries, and more. Yum!
We may never agree on where an apostrophe goes in Farmers/Farmer's/Farmers' Market—in fact, you'll see different punctuation on the names below—but we certainly CAN agree that we love shopping all the fresh and fabulous options. Here are seven must-visit markets for your next visit up north.
P.S. This summer, masks and social distancing are standard for all the markets below, so be sure to come prepared! Many markets have their COVID-19 information on their websites, or you can call or email with specific questions.
1. Sara Hardy Downtown Farmers Market
The pride and joy of downtown Traverse City, the Sara Hardy Farmers Market features dozens of vendors from across the region. Best of all, you're just steps from downtown or Grand Traverse Bay to create the perfect summer Saturday.
Where: Parking Lot B, Southwest Corner of E Grandview Pkwy and Cass St, Traverse City
When: Saturdays from 7:30 a.m. to 1 p.m. There is also an online option for Wednesday pick-up, which you can check out here!
Website: dda.downtowntc.com/farmers-market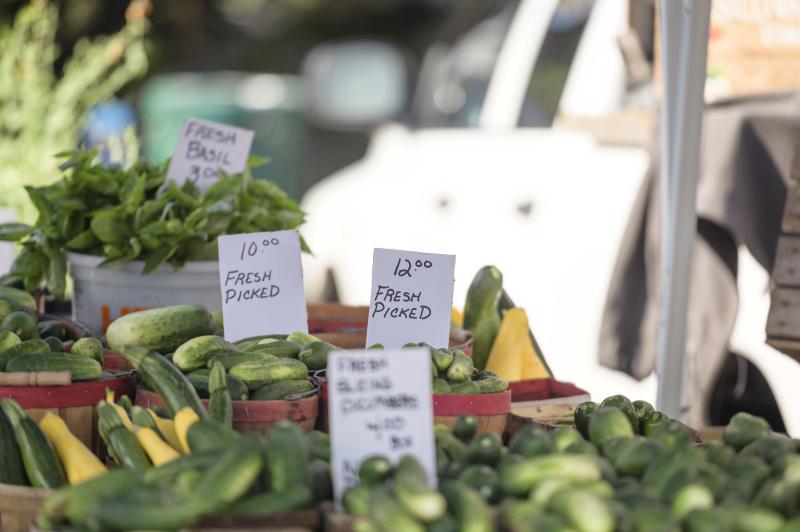 2. The Village Farmers Market
What better place to shop than at the historic Village at Grand Traverse Commons? Wander the beautiful grounds with your bounty…or keep filling up your basket with gems from the Mercato shopping gallery.
Where: The Piazza (between Cottageview and Red Drive) 806 Red Drive, Traverse City
When: Mondays from 2 p.m. to 6 p.m.
Website: thevillagetc.com/farmers-market 
3. Bellaire Farmer's Market
Have you heard? Bellaire means fresh air, and their wide-open farmers market brings the name to life. This sprawling market attracts vendors from all over Antrim County, so you'll know you can find incredible produce from around the region.
Where: In the parking lot of the ASI Community Center at 312 Thayer Ln, Bellaire, MI 49615
When: Fridays from 8 a.m. to 1 p.m. 
Website: facebook.com/BellaireFarmersMarket 
4. Elberta Community Farmers' Market
Just a stone's throw from Frankfort—see market #6—you'll find Elberta tucked between Betsie Lake and Lake Michigan. Seasonal finds representing the five counties of northern Michigan are on display, along with beautiful blue waters beckoning you to visit. 
Where: 1098 Lakeside Blvd, Elberta
When: Thursdays from 8 a.m. to 12:30 p.m. 
5. Elk Rapids Farmers Market
The beautiful village of Elk Rapids is just a short drive from Traverse City, and their market captures the quaint, laidback essence of life up north. Shop an array of vendors before venturing out to explore the downtown and waterways of Elk Rapids.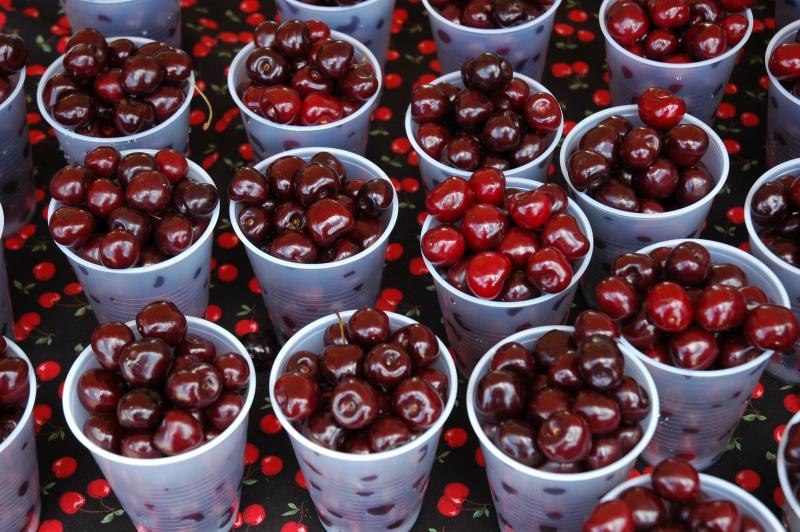 6. Frankfort Farmer's Market
Stroll charming Main Street in Frankfort to browse products from local farmers and artisans. You'll find fresh fruits and vegetables, eggs, herbs, meats, baked goods, jewelry, crafts, and more!
Where: Main Street, between 7th and 9th Streets, Frankfort 
When: Saturdays from 9 a.m. to 2 p.m.
7. Leelanau Farmers Markets
That's right…plural markets! Get your fresh fix almost every day of the week in Leelanau County. This diverse agricultural region produces everything from apples to zucchini (see what we did there?) all summer long.
Tuesday | Glen Arbor | 9 a.m. – 1 p.m. 
Thursday | Leland | 9 a.m. – 1 p.m. 
Friday | Northport | 9 a.m. – 1 p.m. 
Saturday | Suttons Bay | 9 a.m. – 1 p.m. 
Sunday | Empire | 9 a.m. – 1 p.m. 
Get all the details here: leelanaufarmersmarkets.com/markets