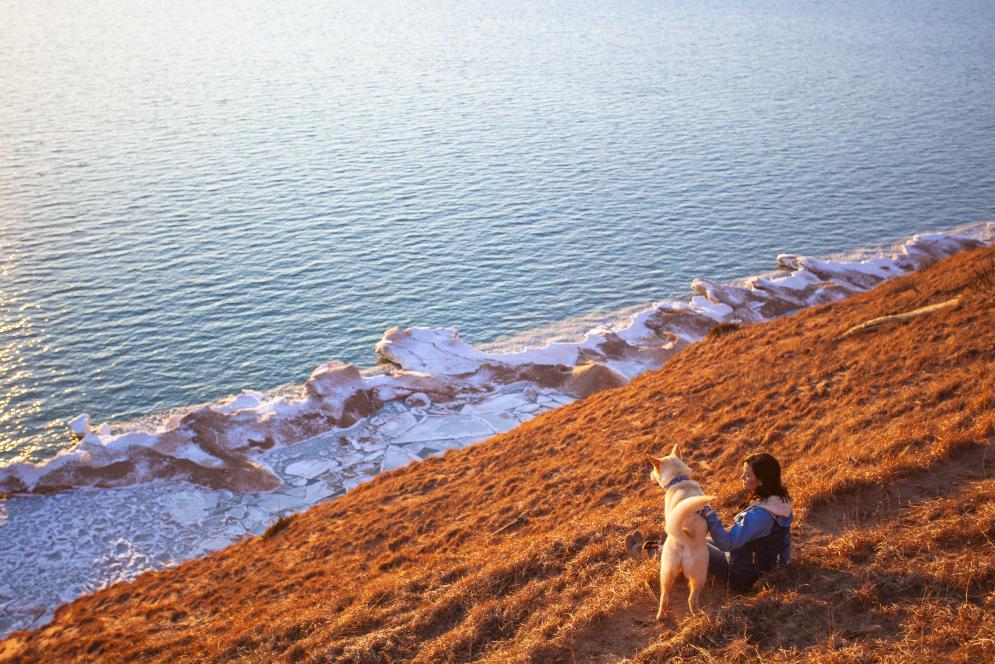 Having our four-legged companions join us on the trails makes the experience all the sweeter—there's just something about being outdoors, watching our tongue-wagging canines so deliriously happy as they sniff and run and check out every turn in the path. Here are a few of our favorite pet-friendly spots to get out in nature and explore:
Village at Grand Traverse Commons

Nestled within 480 acres of preserved parkland, the historic Village at Grand Traverse Commons is known for its great mix of housing, eateries and shops—and an abundance of outdoor space that allows for wooded-trail exploring, urban walking and serene strolling on a sprawling front lawn or on a wood-planked pathway leading to this destination's barns and botanic garden. The Grand Traverse Commons Natural Area is the largest park in the group, including 140 acres of unpaved trails wandering through the hills behind Building 50. Beautiful streams, wooded areas and clear panoramic views make this a go-to place for getting out into the woods with your pooch.
Leelanau Trail 

The 17-mile Leelanau Trail provides a paved off-road connection between Traverse City and Suttons Bay, and you'll find plenty of fellow dog-walkers along the route. Running through the last of Leelanau County's former railroad corridors, the Leelanau Trail features picturesque forests, farms, vineyards, lakes and ponds. The Leelanau Trail bisects the land of DeYoung Natural Area—191 acres—for .75 of a mile. From the Cherry Bend parking lot, a Universal Access trail (0.2 miles) leads to a lakeside fishing and viewing platform, where you can see the protected shoreline of Cedar Lake. After your stop at the fishing pier, you can continue onto the Cedar Forest Trail, about a half mile, which will take you through an enchanting hardwood conifer swamp with open views of an old field meadow.

Three trailheads provide parking along the trail—these include Cherry Bend Road, Fouch Road, and 4th St in Suttons Bay. Parking is also available at the Leelanau Studios parking lot, just 1/3 mile east of the Cherry Bend Road trailhead.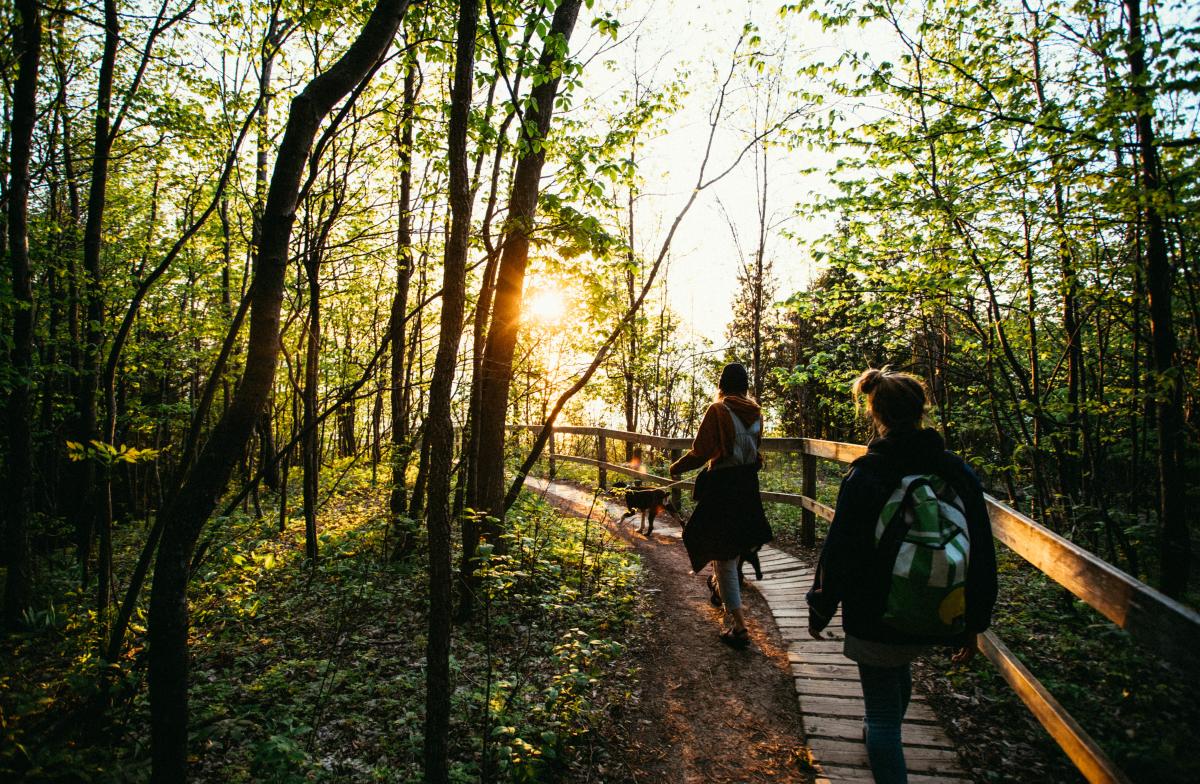 Holiday Woodlands Preserve 

A locals-favorite spot on the east side of Traverse City, the 80-acre Holiday Woodlands Preserve is a place where, for decades, people have walked their dogs and allowed their children to venture off and build forts and explore make-believe worlds. Thanks to the efforts of a group of residents, this parkland was saved from residential development. It is nestled just south of Holiday Hills with public access off Five Mile road.
45 North Recreational Trail

This Leelanau County trail on the grounds of 45 North Vineyard & Winery is free to use during business hours. With terrain covering everything from gentle slopes to uphill climbs, there's something for everyone. The trail starts near the tasting room and wanders through the lower vineyard before starting uphill toward the top vineyard where you'll be rewarded with views of the entire property and surrounding Leelanau Peninsula rolling hills. It then winds down through a wooded portion before returning back to the tasting room. The complete trail is a 3-mile loop with shortcuts along the way if you're looking for a lighter excursion. Post-hike, sip and savor a glass of wine on the outdoor patio. 
Brown Bridge Quiet Area 
 
With some 1,310 acres and six miles of trail, the Brown Bridge Quiet Area is located on the Boardman River, a state designated Natural River, approximately 11 miles southeast of Traverse City. One of the largest natural areas managed by the Grand Traverse Conservation District, you can enjoy more than 6 miles of trails, with gorgeous views of the river from several different overlooks.