Whether you're searching for a radical lifestyle change or just looking to expand your palate, eating plant-based food is trendy, healthy, environmentally friendly, and delicious. In the past couple of years, plant-based dining options have grown exponentially in the Northern Michigan area. Not to mention, the food selection for people with other dietary restrictions has developed, as well.  
What is plant-based eating? It is easy to be confused and intimidated by labels like vegetarian, vegan, and plant-based, but with a little help, learning the differences is navigable. Food groups that should be avoided in a plant-based diet, like meat, poultry, seafood, and egg and dairy products, must be strictly cut out of a vegan diet. Vegetarians omit meat from their dietary consumption. Plenty of plant-based people also tend to avoid gluten, so there is an overlap. There is a multitude of benefits to adopting a plant-based diet, such as disease prevention, improved gut health, a reduced environmental footprint, and weight loss and management. If you're looking to dabble on the green side, here is a guide for a full day of plant-based eating in the Traverse City area. The best part: most of the produce used to create plant-based cuisine in the area is locally sourced, so to eat plant-based in TC is to support local – all the way back to the farm! 
Breakfast - Third Coast Bakery
Breakfast... the most important meal. With great power comes great responsibility, and I would not steer you in the wrong direction with something as integral as the first meal of the day. The initial stop on your journey is Third Coast Bakery. Here you will find gluten, soy, and dairy-free treats that also happen to be vegan! My mother is gluten-free, and you can usually find a Third Coast pastry or two in our refrigerator. Our favorites include the Cherry Almond Streusel scone and the Double Chocolate Chunk muffin. For my early risers, never fear – the bakery opens at 6:30 AM Monday-Saturday and at 8:00 AM on Sunday. 
Drink - Edson Farms 
To wash down your breakfast and jumpstart your day, grab a fresh, cold-pressed juice from Edson Farms, a natural food market, deli, and juice bar. Each juice on their menu is brightly colored and cleverly named, making you want to try them all. Popular juices include the Granny Elixir, Purely Green, and the Flu Fighter. Edson Farms specializes in catering to customers with food allergies and dietary restrictions and they have a full line of wheat-free, gluten-free, nut-free, dairy-free, egg-free, and casein-free foods in addition to carrying local, organic produce.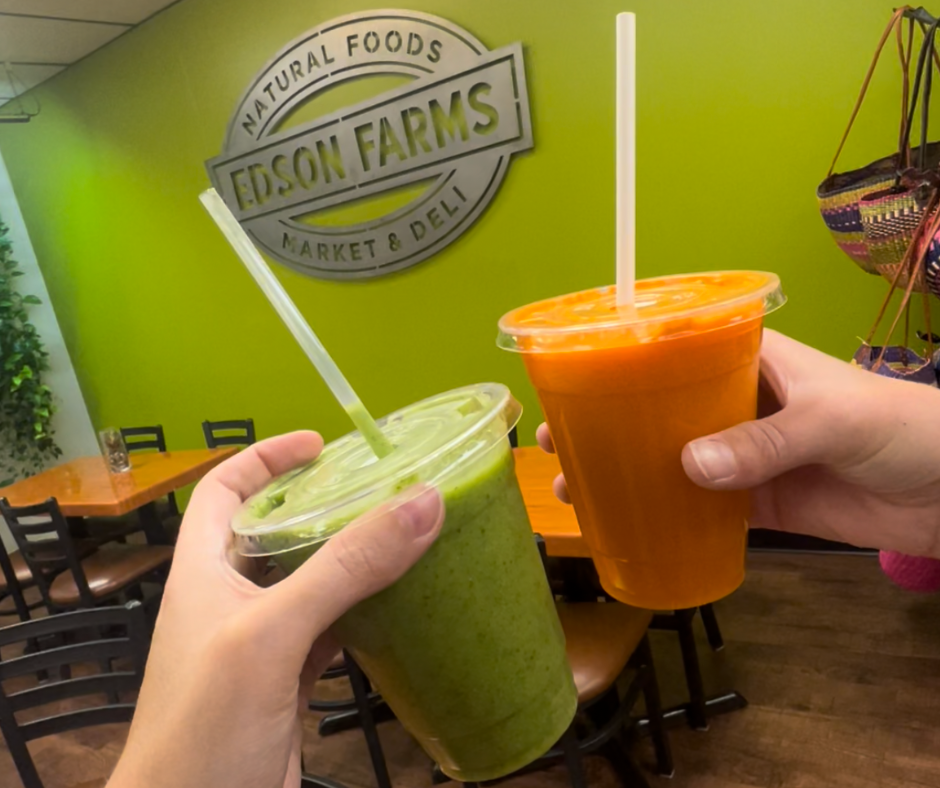 Lunch - Zest Plant-Based Kitchen
For lunch, I suggest that you head down to Front Street and enjoy outdoor seating with a view of Grand Traverse Bay and vegan eats to boot... all at Zest Plant-Based Kitchen. They focus on taking plants in their natural state and creating delectable, unprocessed dishes for everyone; plant-based or otherwise. You won't feel sluggish for the rest of the day after a meal at Zest thanks to their healthy and raw approach to midday nourishment. Their all-vegan menu boasts an array of toasts, salads, açai bowls, and other yummy handhelds like burritos and samosas.  
Snack - Oryana
The stretch from lunch to dinner can be a long one, and a plant-based snack can make it not only bearable but enjoyable. Oryana is the answer to your prayers. They provide local, sustainable, organic, and non-GMO food at both of their locations, one on 10th St. and one located off of US-31. Oryana offers the largest selection of locally grown produce in Northern Michigan and their grocery shelves are packed with a variety of local food brands. You will not be hard-pressed to find gluten-free, dairy-free, and vegan pick-me-ups at this grocery store and café.
Dinner - Taproot 
Dinnertime! Let's take a trip to Taproot Cider House, located in downtown TC at 300 E. Front St. Taproot specializes in farm-to-table eating, and their menu is loaded with plant-based options. The fare ranges from salads to black bean burgers to cauliflower and mushroom tacos to vegan grilled cheese... and more. They even serve a vegan wine to pair with your nutrient-rich meal. Taproot does provide just as many meat and seafood options, so feel free to invite your carnivorous friends to join you because Taproot has something for everyone.  
Dessert - Milk & Honey
The final destination of your plant-based journey through Traverse City is Milk & Honey. Milk & Honey is a café and ice creamery that works with local farms to create natural, organic, and GMO-free sweet treats. The shop offers both traditional vegan ice cream and vegan house mixes, including classics like Rocky Road and Chunky Monkey. Their vegan ice cream flavors are chocolate, vanilla, matcha, and Mumbai spice. Even when it seems impossible, there's always room for dessert! 
If you find yourself hungry for more plant-based eating, check out these local businesses:  
Lunch:
Spanglish is an adorable Mexican restaurant located in the Grand Traverse Commons and is one of my personal favorites. They blend traditional Mexican recipes and Northern Michigan ingredients to produce Traverse City-style Mexican dishes brimming with veggies.  
Hexenbelle is a coffee shop and eatery that specializes in Arabic comfort food. The entire menu is vegetarian, and they provide vegan, dairy-free, and gluten-free options. For those who prefer to enjoy a breeze during lunch, Hexenbelle has a covered, outdoor patio.  
Dinner:
Poppycocks is open for both lunch and dinner. Each day, the chef creates a vegetarian food special deemed the "Green Plate". They focus on using fresh, local ingredients and offer a variety of vegetarian, vegan, and gluten-free menu items.  
Drink:
Rough Pony is a coffee and juice bar in the Warehouse MRKT on Hall Street. In addition to coffee and juice, they offer tea, smoothies, house sodas, and Bubbie's bagels. The juices and smoothies are made with fresh, local produce, and the house sodas are made fresh to order.