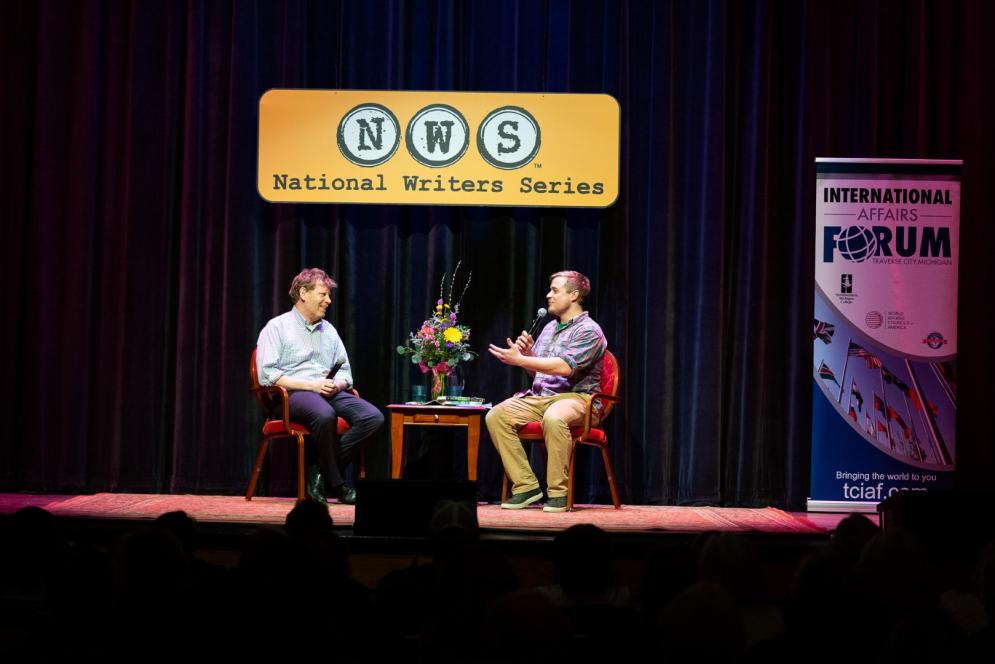 From a distance, it might seem glamorous for an author to take a whirlwind tour around the country signing books for adoring fans in each city they visit. But in Doug Stanton's experience as a No. 1 New York Times bestselling author, it can be more like a marathon of drudgery as you hawk your wares out of a suitcase. 
That's one reason Stanton and his wife, Anne, started the National Writers Series. The year-round festival in Traverse City invites authors to a different kind of public event that breaks up the monotony of a typical tour. Each event creates space for authors and book lovers alike to get a refreshing breath of fresh air. 
"It's not a Q&A. It's not a lecture. It's not a reading, which all are typically standard fare," Doug Stanton said. "It's an interview with the author about their whole personhood.
"We like to say it's a conversation on stage, the kind you'd have late at night on a train traveling through a foreign country. When the conversation goes well, it makes for a really astounding evening."
The National Writers Series has held about 250 events with writers over the past 13 years, leaning on the "big rolodex" that Doug Stanton developed from writing bestsellers including "Horse Soldiers," which was adapted into the movie "12 Strong" starring Chris Hemsworth. 
The series has become one of the top events in the country for touring authors and over the years has attracted writers including Tom Brokaw, Mitch Albom, Elmore Leonard, Janet Evanovich, Michael Connelly, Sophie Kinsella, Buzz Bissinger, Tess Gerritsen, John U. Bacon, Anna Quindlen, Peter Heller, Diane Rehm, David Sedaris, and many others.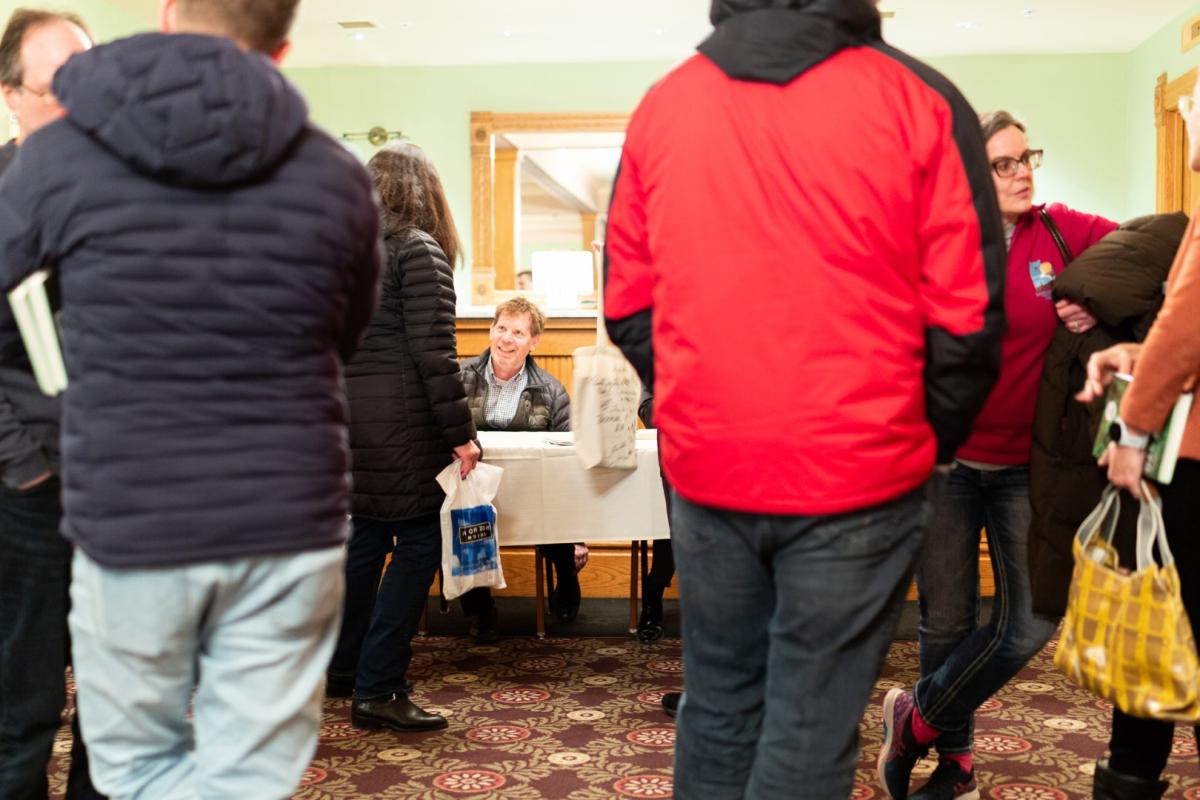 *Photo credit to Shawn Roach the National Writers Series photographer. 
Eileen McNamara, the Pulitzer Prize-winning journalist and author of "Eunice," lauded her experience with the National Writers Series as one that was "sponsored by the most gracious hosts, in the loveliest place, supported by the most attentive, community-minded readers I have encountered anywhere."
And journalist Aarti Shahani, author of "Here We Are," said the conversation partner in her National Writers Series appearance "threw me off my script and made me dig deep," making the energizing event "easily one of the best tour stops in America."
"Believe me, I've done more events than I can count – big and small, literally all over the world," said Steve Hamilton, the Detroit-born mystery writer and creator of the Alex McNight series. "But if I could only do one more for the rest of my life, it would be the National Writers Series."
Some 70,000 people have been in the audience at National Writers Series events through the years, including more than 400 (both in person and online) earlier this month for an evening with David Egan, author of "The Devil's Element."
The series typically holds one to two events per month throughout the year, and tickets are still available for these upcoming events:

Tickets are available both for in-person attendance at the lovely and historic City Opera House in Traverse City and for a virtual live stream of the event. 
"Each event is unique because it's a different author, a different topic," said Anne Stanton, executive director of the series. "It's a great place to come spend time with a famous author while also having a vacation in the most gorgeous place on earth. 
"It's one more really fun thing you can do in Traverse City."
In addition to the events with authors, the National Writers Series operates a Raising Writers program that exposes kids to the joy of reading and writing. The program includes free creative writing classes with guidance from expert instructors and a Battle of the Books competition for fourth- and fifth-graders. 
As a nonprofit, the series also operates a college scholarship fund and through the years has awarded more than $60,000 to students in partnership with the Grand Traverse Regional Community Foundation.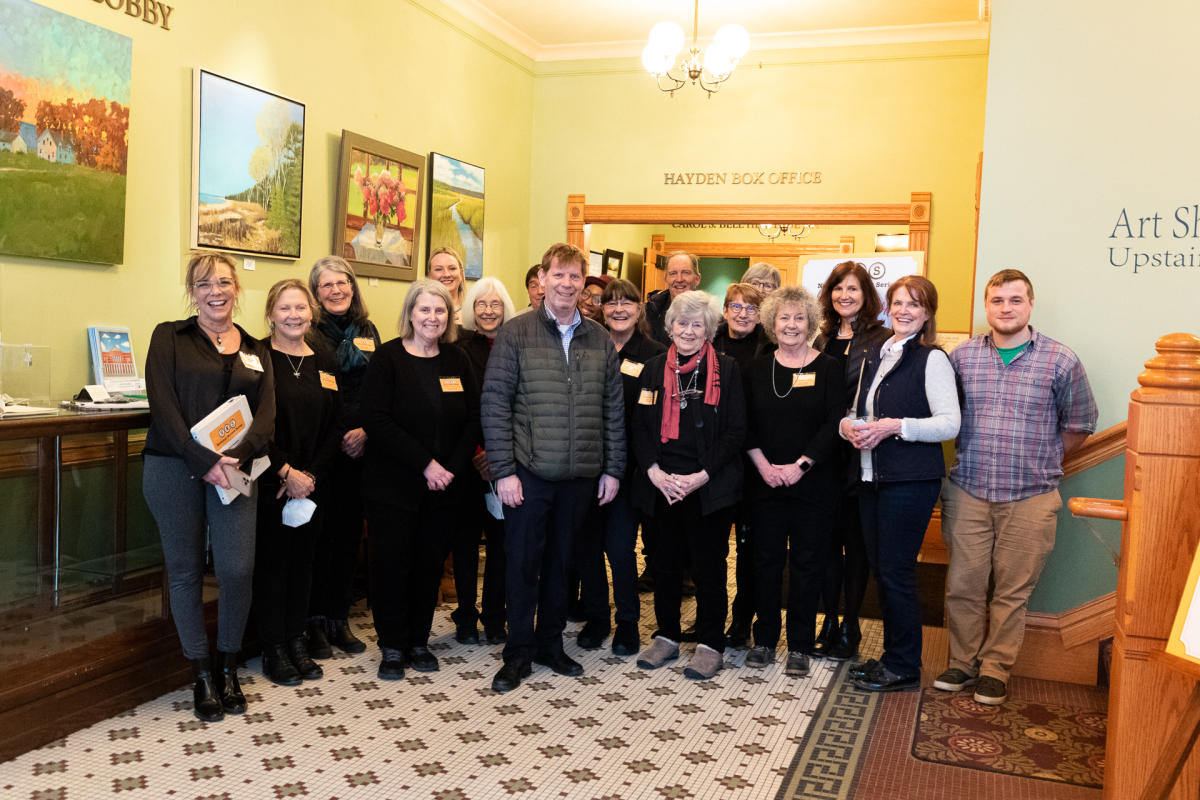 *Photo credit to Shawn Roach the National Writers Series photographer. 
As author Jodi Picoult said about the series, "when you put together a community that cares deeply about reading and a staff that cares deeply about writers, magic happens." 
More than a decade ago, Doug Stanton took every good thing he experienced on his national book tours, brought them back to Traverse City, and combined them into a single event. Since then, the National Writers Series not only has turned Traverse City into one of the country's premier places for revealing conversations with some of the world's most prominent writers. It also has made Traverse City a "Book City." City leaders made an official proclamation. 
And why not? Where else can people – bookworms and casual readers, alike – really connect with authors in an up close and personal way?
Michigan's "Book City" has become the top place in the Mitten to put yourself in the presence of the next great idea, and to be changed by it for the better.
"We have a saying of 'Turn the page and open your mind,'" Anne Stanton said. "These are super fun conversations, and you don't need to have read the book to enjoy them. 
"Our No. 1 rule is just to make each event as interesting and meaningful as possible."