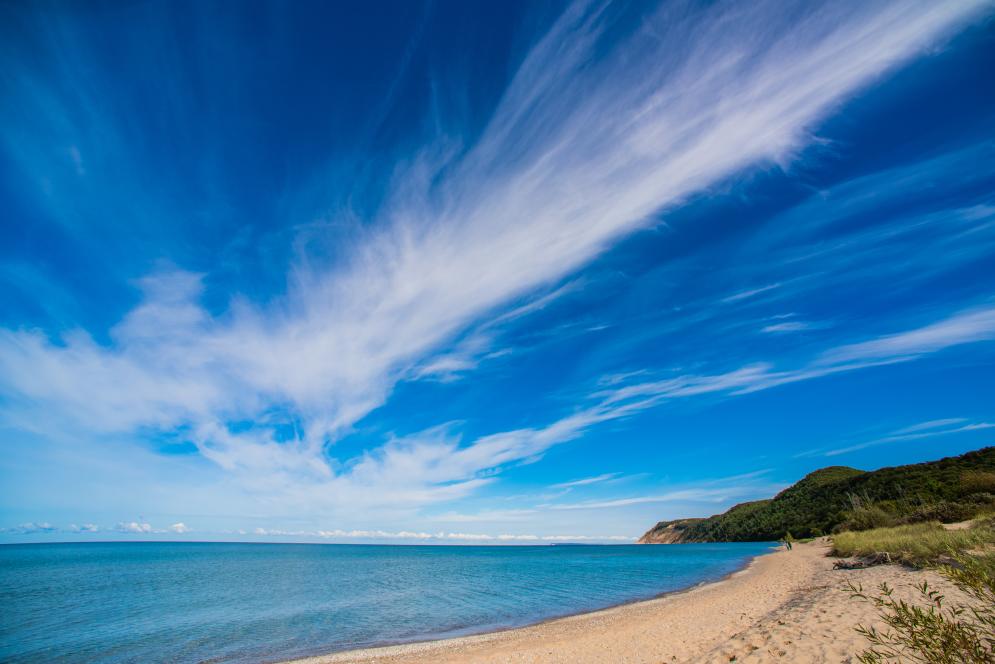 In so many ways, Traverse City is defined by the water. This area was 20,000 years in the making when massive glaciers melted and cut gouges in the earth that became the Great Lakes. It was worth the wait. Today, it doesn't matter if you are on, in, under, or just sightseeing; enjoying the beauty of the fresh, blue water, is an important part of any Traverse City vacation. 
On the water
Traverse City has a different look when viewed from the water. The crystal blue freshwater frames the land with a unique perspective. From the water, you have many options. Board a majestic tall ship and experience the lakes as our great grandparents did. Tall ships are a common sight on Grand Traverse Bay. However, they are an uncommon experience. The Inland Seas Education Association uses a tall ship to encourage exploration and appreciation of the delicate ecosystem in the lakes. This is a school ship that is eye-opening for children and adults. Other ships include Wind Dancer, the Nauti-Cat catamaran, and the tall ship Manitou.
A new addition to the on-the-water excursions is The Discovery. This boat is designed to stage weddings, business meetings, family outings, or just a little individual cruise on Grand Traverse Bay. You don't have to own a boat to get out on the bay or Lake Michigan. There are a number of boat rentals available. Plus, you can rent kayaks or canoes to travel either the bays or area rivers.
Charter fishing is also popular. Whether you choose to fish the big lake of Lake Michigan or the more sheltered East and West Grand Traverse Bay. You'll find plenty of charter fishing options with captains that know when and where to find a thrilling fishing experience.
Parasailing is yet another water adventure. Experience the sensation of flight while being towed around the water with a boat. Soar to new heights and take in Traverse City with an unmatched aerial view.

In the water
There is something new "in the water" around Traverse City. It's called e-foil. It's a mixture of surfing and jet skiing. It may look like a scene from Back to the Future where an e-foiler is actually floating above the water. There are both lessons available along with e-foil rentals.
A close cousin to e-foil is kiteboarding. Here you attach a large kite to a surfboard and see what happens. Usually what takes place is exhilaration. Lessons and rentals are available in the area.
Your experience doesn't have to be a thrilling adventure. The Traverse City region has a ton of inland lakes and the shores of Lake Michigan and Grand Traverse Bay. They all have magnificent beaches for relaxing, and they all have one thing in common, they are salt-free! No sharks, and contrary to a popular April Fool's Day prank, there are no whales. Just fresh, crystal clear water to splash and play in. If you go to Clinch Park Beach in Traverse City you can alternate between the beach and taking the kids to a splash pad. Make sure you leave time for building sandcastles, going for a swim, or just dipping your toes into the refreshing water.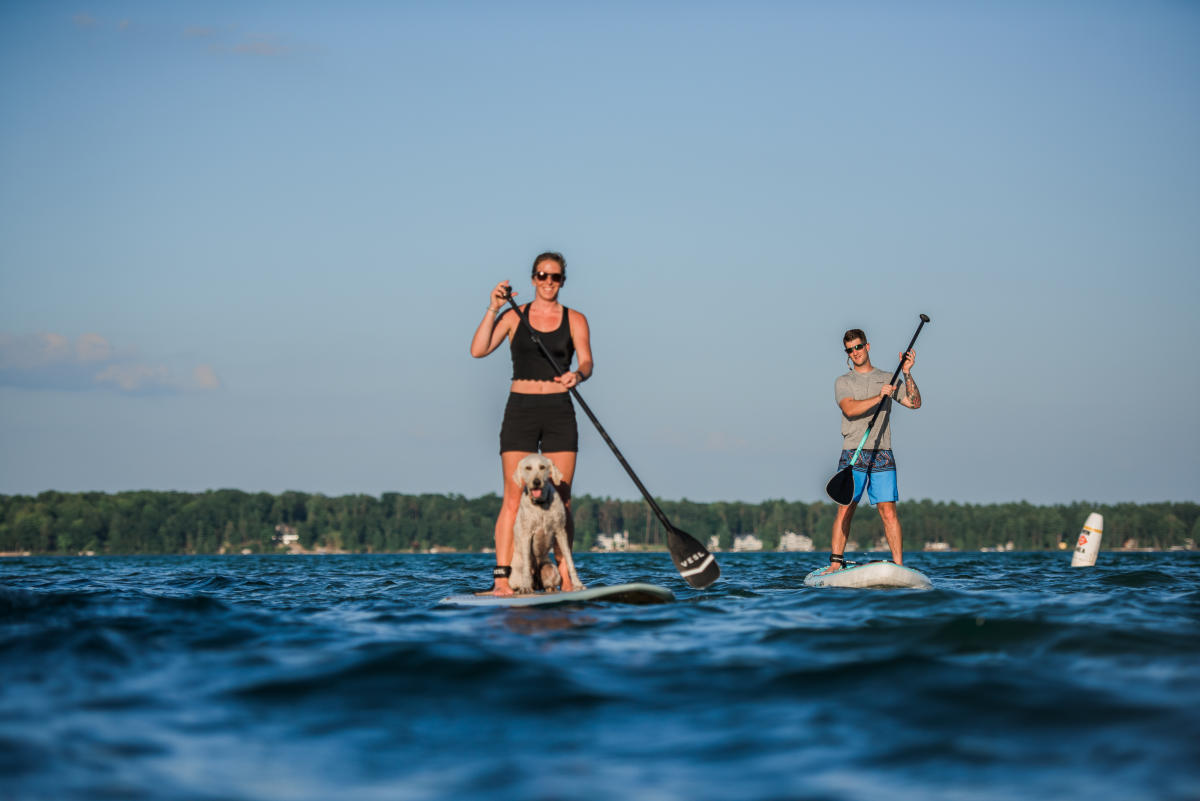 Under the water
Lake Michigan along with East and West Grand Traverse Bay attracts many visitors that go to great depths to explore the region. The Grand Traverse Bay Underwater Preserve is one of 14 historical underwater preserves in Michigan. Scuba divers can be seen just a few feet offshore or skilled divers can take depths of 200 feet or more. They are searching for signs of our history, and that includes sunken ships, traces of the lumber era and even a horse-drawn carriage and a car that plunged through the winter ice and ended at the bottom of the bay.
The freshwater attracts all skill levels divers. Novices will find plenty of guidance and opportunities for great finds. While Grand Traverse Bay can reach depths of over 600 feet, there is plenty to see in more shallow depths. Some shipwrecks can be seen in less than 30 feet, and once a beginning diver sees the ribs of a sunken sailing vessel, they are hooked on Great Lakes diving. For experienced divers, they explore sunken treasures that lie in 150 to 200 feet of water.
Traverse City has a rich nautical history. It's a history where sailing ships gathered wood from the forests to rebuild in the aftermath of the Great Chicago Fire. Those ships brought the first tourists to the area long before a single road was built. Divers can see the remnants of that history, explore the past, and marvel at the telltale historical crumb trails.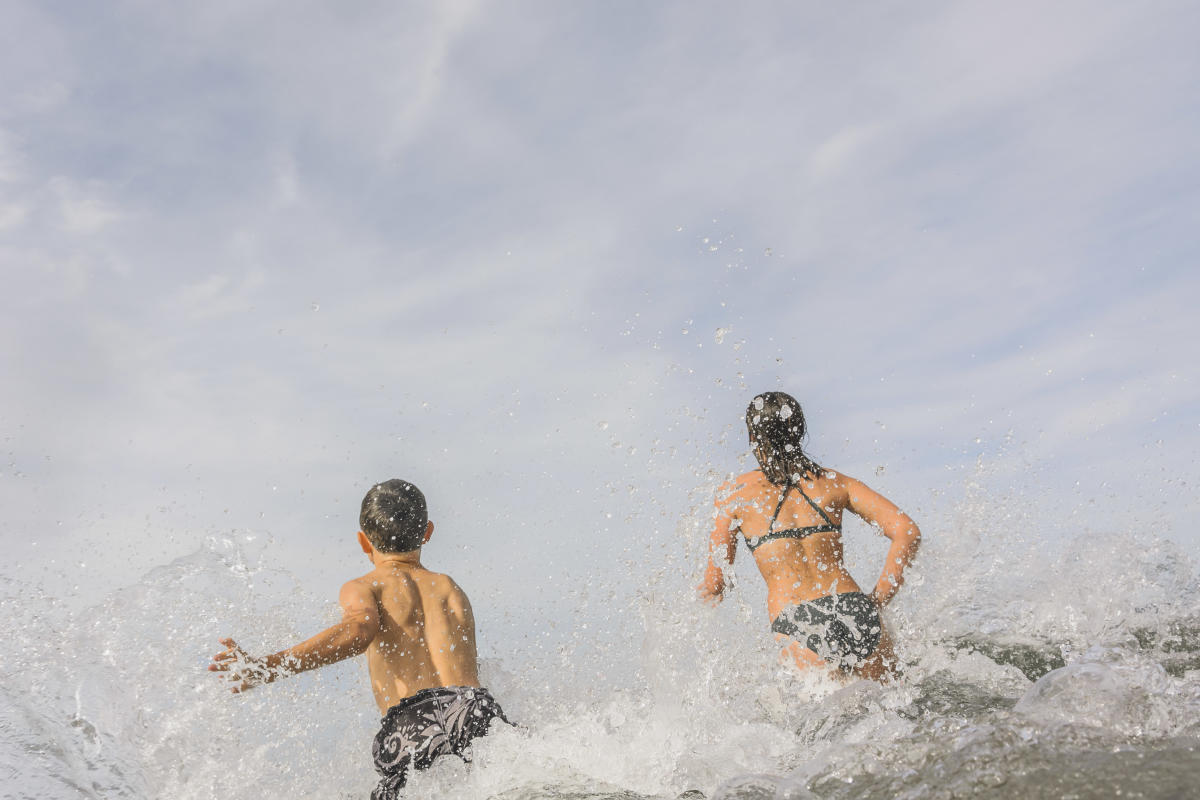 Dare to be a kid again. The waters of northern Michigan are calling to you. They want you to explore, to frolic, to enjoy, and to play. There is so much to do and see in the clear blue lakes of the Traverse City region.