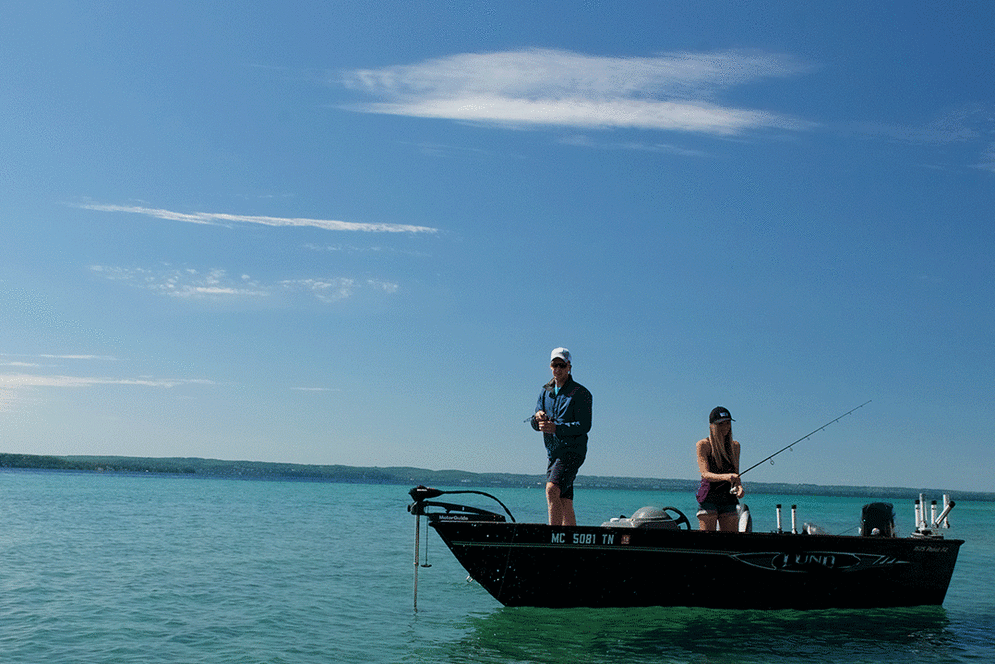 Visitors to Traverse City come for a wide variety of reasons, and visiting anglers agree that fishing is one of the best reasons! Traverse City is located right at the doorstep of the famed Grand Traverse Bay, and this protected waterway is one of the best deep water fisheries in the country. How deep is it? Boaters need not go very far from shore to find 300 feet of water, and the really deep spots reach over 600 feet deep! 
Besides deep, clear water, Grand Traverse Bay is home to a fantastic fishery. It is very easy to access, too, for both the serious angler and the casual weekend visitor. Fishermen with their own boats can launch at one of several different boat ramps located around the bay. For those who prefer to hire a charter boat, there are plenty of local charter captains who are experts at putting their customers on the fish.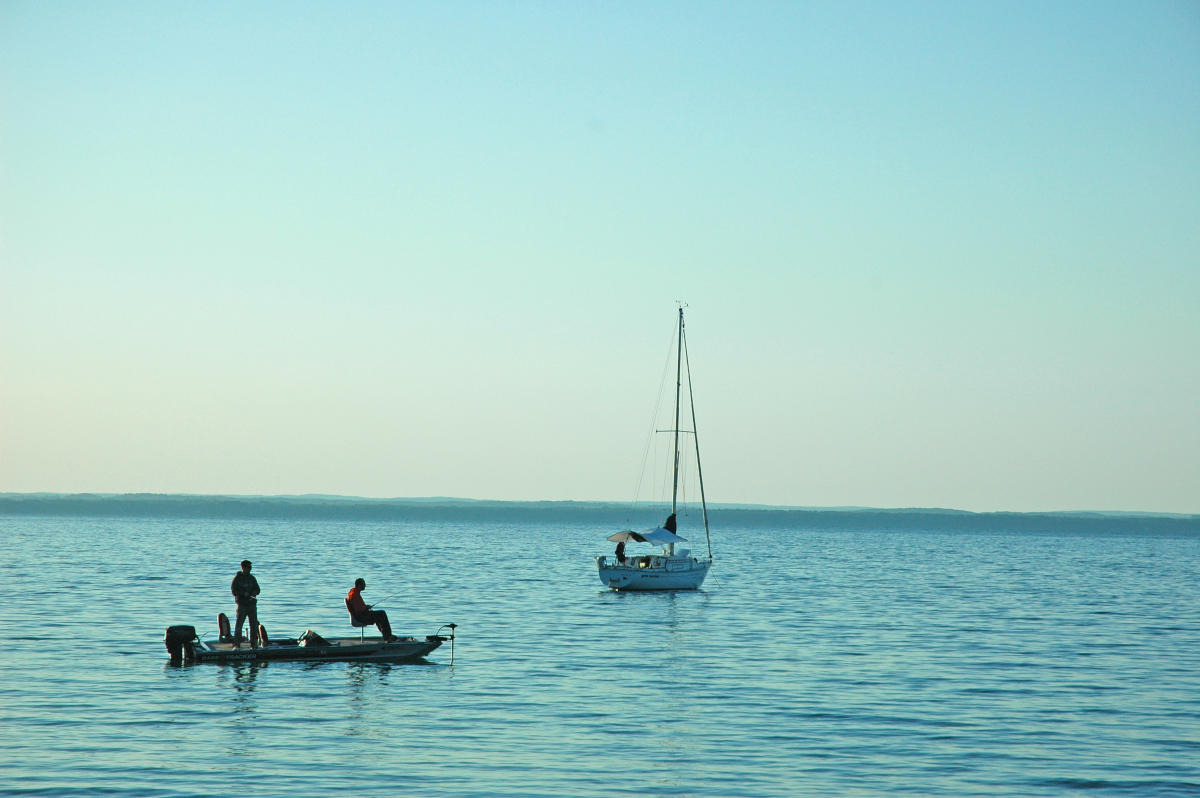 A wide variety of fish species call Grand Traverse Bay home, including hefty salmon like chinook (king) salmon and coho salmon. There are large numbers of trout, too, including lake trout, brown trout, and steelhead (rainbow) trout. Yellow perch, lake whitefish, cisco, smallmouth bass, and walleye are also plentiful – just to name some of the most popular species. The great fishing starts in the springtime, lasts all summer, and continues into late fall. What could be better?
During the first warm days of spring, the fishing out on Grand Traverse Bay is already red hot! Fishing for perch in April is excellent, and catching a limit of these tasty panfish is on the to-do list of many eager anglers. But there are plenty of other fish species biting during the spring, too.
Besides perch, the resident lake trout, steelhead trout, cisco, and lake whitefish are also very active and ready to play at this time of year. Jigging for suspended fish is a tried-and-true method for getting lots of action in the springtime, and the charter captains are adept at finding them. Anglers with their own boats should use their electronics to locate schools of suspended perch, cisco, and whitefish, and then drop jigs down to them.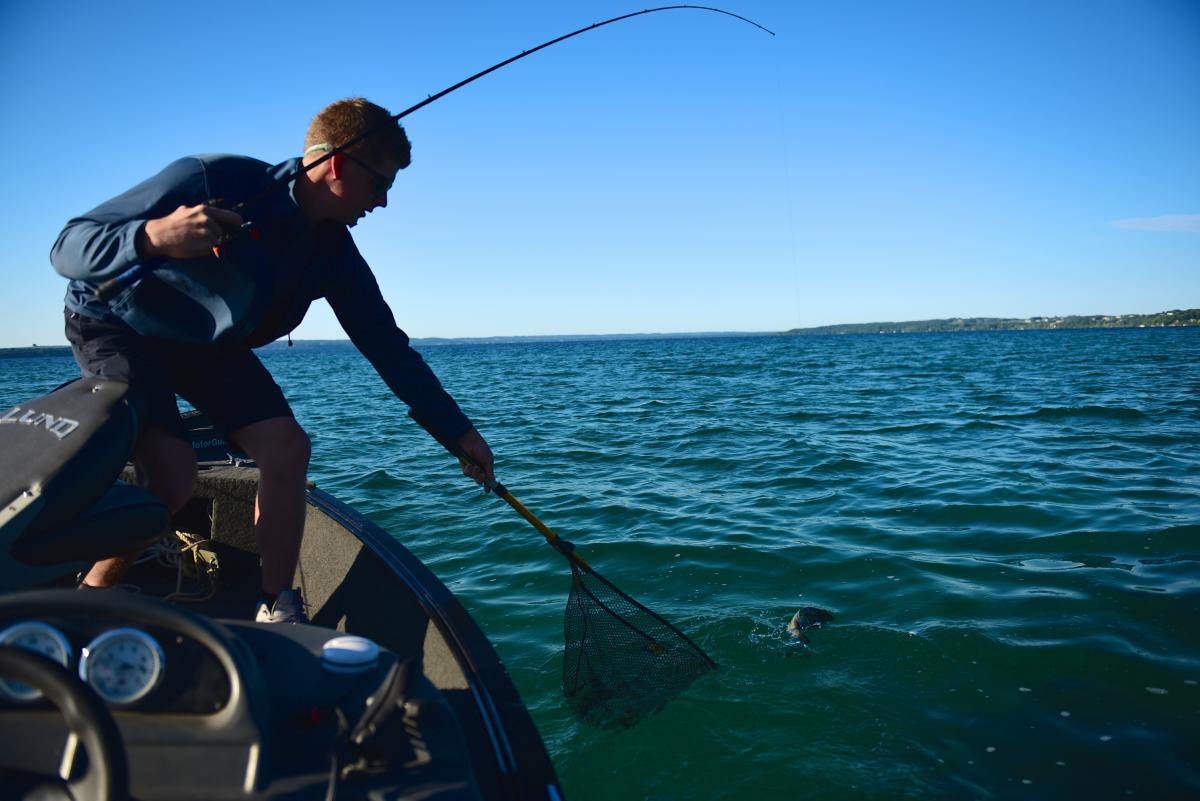 Lake trout are often found near the schools of cisco and whitefish sh, especially when they are near the bottom. In the spring, these schools can be found suspended in 30-40 feet of water out to just over 100 feet of water. Every day is a little different, though, so put your electronics to work in finding the fish. Steelhead fishing around the mouth of the Boardman River in the West Bay can also be great.
The warmer spring days mark the beginning of the near-shore bass fishing, too. Grand Traverse Bay is home to some world-class smallmouth bass fishing, and catching bass in the 4-pound class (and even 5-pound class) is certainly possible. Smallmouth bass really invades the shallows in May, and bass anglers look for rocky areas along the shoreline which attract plenty of bass.
At the beginning of summer (June), the perch fishing has already slowed, but trolling for trout and salmon becomes very good and accounts for heavy coolers and happy fishermen out on the bay. Good-sized lake trout make up much of the early catch for trollers, but as the weather gets hot in July and August, the fishing for chinook salmon and coho salmon really heats up, too! The chinook salmon can get huge, and trophy-sized fish in the 30-pound range are caught every year. It doesn't take very many 30-pound salmon to make a memorable fishing trip!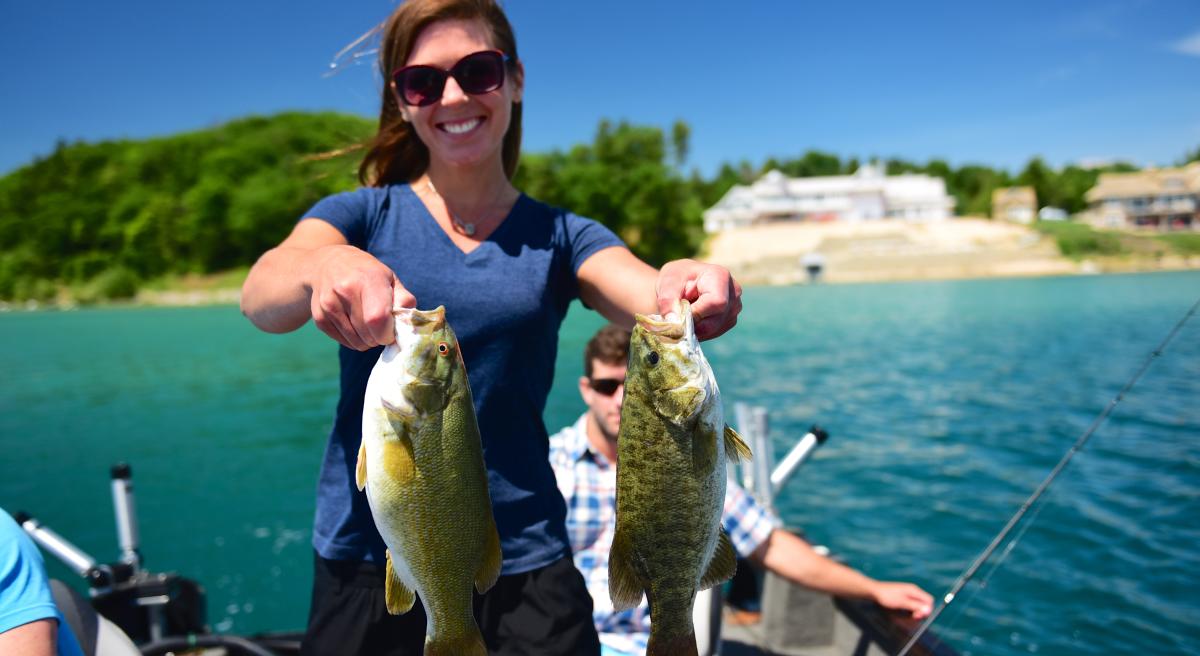 As summer turns to fall, the excellent fishing shows no signs of slowing down. In September, many anglers are still trolling for bruiser chinook and coho salmon. Vertical jigging for lake trout, cisco, and whitefish is absolutely dynamite! Some of the best jigging action can be found in 200 feet of water, with fish suspended anywhere from 90-100 feet all the way down to the bottom. Salmon are sometimes caught while jigging, too. Smallmouth bass begins returning to the shallows and the perch bite starts to get good again.
As you can see, visitors to Grand Traverse Bay have plenty of options when it comes to fishing. In fact, the fishing opportunities here are absolutely world-class. When you add in the beautiful scenery and all the amenities of nearby Traverse City, this is a destination that should be on every angler's bucket list!