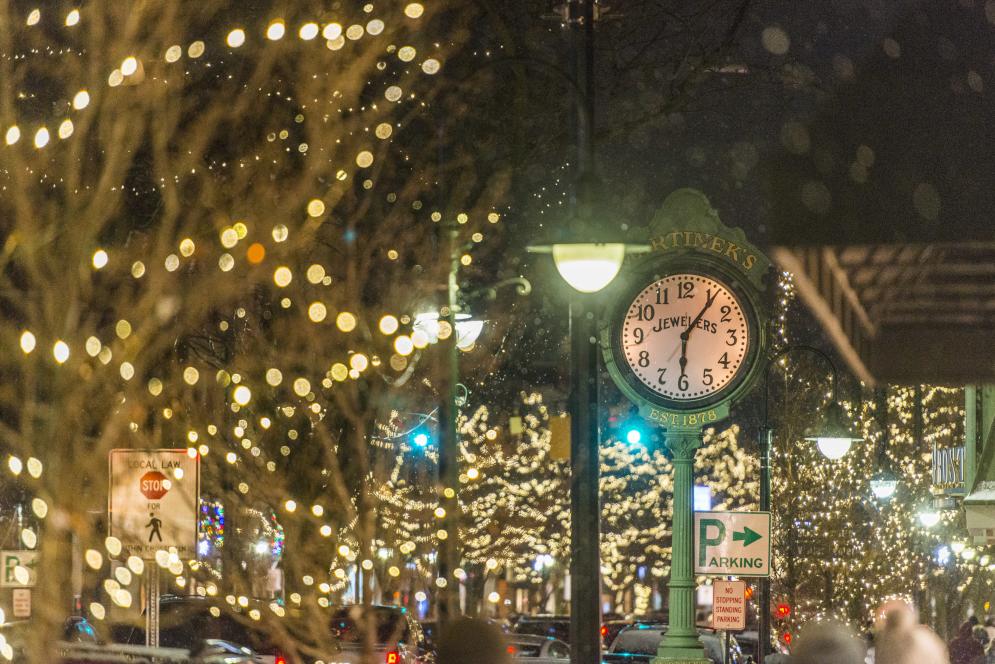 Tickets to "The Nutcracker" at the famed Interlochen Center for the Arts, snowshoeing the trails around the Village at Grand Traverse Commons, spending the night in the historic Hotel Frankfort while it's all decked out in Christmas décor...the list of unique yuletide experiences in the Traverse City area goes on.
Which activities will you choose to make this holiday season extra special? 
There's no wrong answer because wherever you go to celebrate in the Traverse City area you'll enjoy authentic, small-town Christmas charm. 
"It's fun to get the town all decorated up," said Rick Schmitt, chairman of the Frankfort Downtown Development Authority and co-owner of Stormcloud Brewing Co. "The winter season has a completely different personality that you get to enjoy."
From Frankfort in Benzie County north through the Sleeping Bear Dunes National Lakeshore to the port towns of the Leelanau Peninsula, and east to Traverse City and around the other side of Grand Traverse Bay, there's so much Christmas spirit to discover this holiday season in the Traverse City area. Not to mention some pretty incredible, one-of-a-kind gifts for everyone on your list.
To give you a glimpse of what you can encounter in the Traverse City area this holiday season, here are just three of the destinations where you can have a picture-perfect pre-Christmas adventure: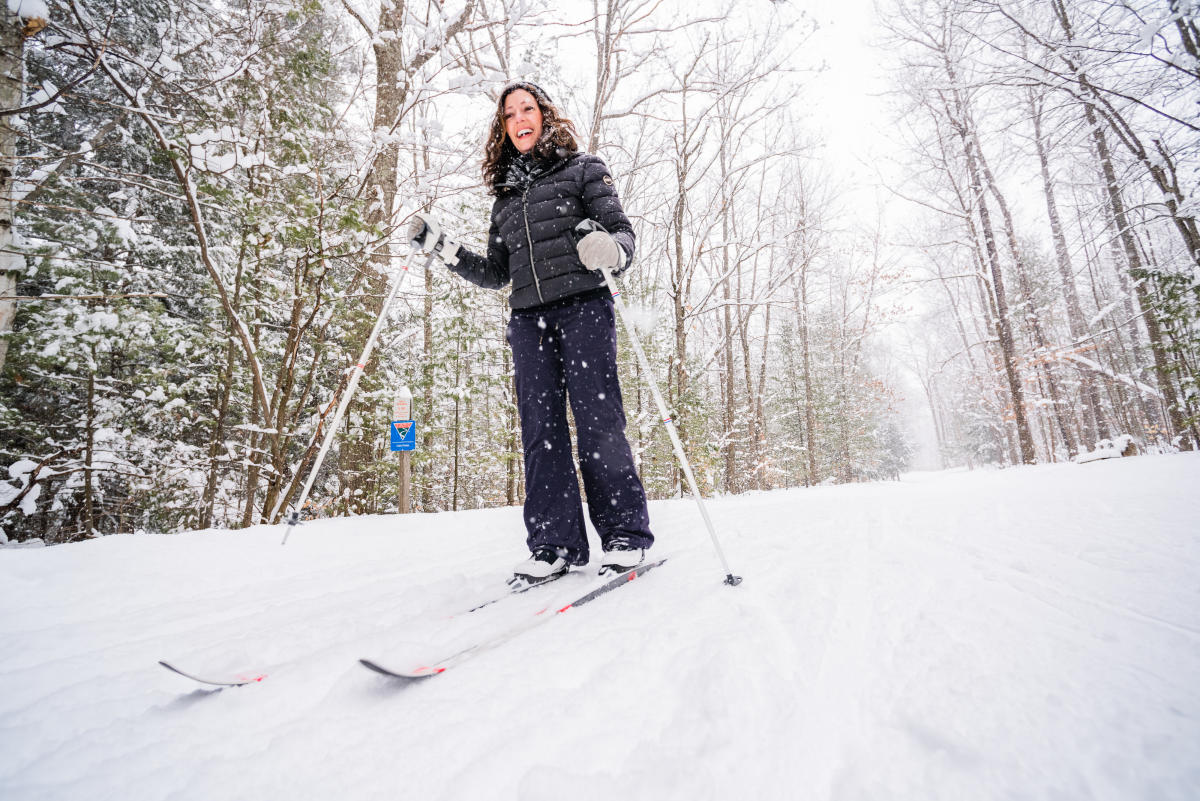 The Village at Grand Traverse Commons is a historic property where the buildings have been restored and turned into a diverse collection of locally owned boutique shops and intriguing restaurants. Just south of Traverse City, the charming site is a cozy place to escape for the day and immerse yourself in the holiday season.
Special holiday events at The Village includes a Nov. 26 tree lighting with live music and warm cups of hot cocoa. The lighting coincides with Small Business Saturday, making it a great opportunity to partake in a classic holiday tradition while browsing The Mercato in search of unique gifts from local Michigan businesses.
The highlight of the holiday season is the Christmas in the Village event on Dec. 9-11. There will be horse-drawn carriage rides with Clydesdales, an appearance by Santa Claus, and complimentary gift wrapping. 
"The Village has a unique charm of being this little village inside a village," said Kate Angove, event manager. "In addition to shopping, we also have everything from breakfast restaurants to lunch, brunch, and fine dining, too. It's a wonderful place to walk around and explore."
The Village at Grand Traverse Commons also hosts an indoor farmers market from 10 a.m. to 2 p.m. every Saturday through the winter. And guided tours of the historic property happen daily through the holiday season. Plus, the hiking and snowshoeing trails through the woods around The Village are especially beautiful when there's snow draped on the trees.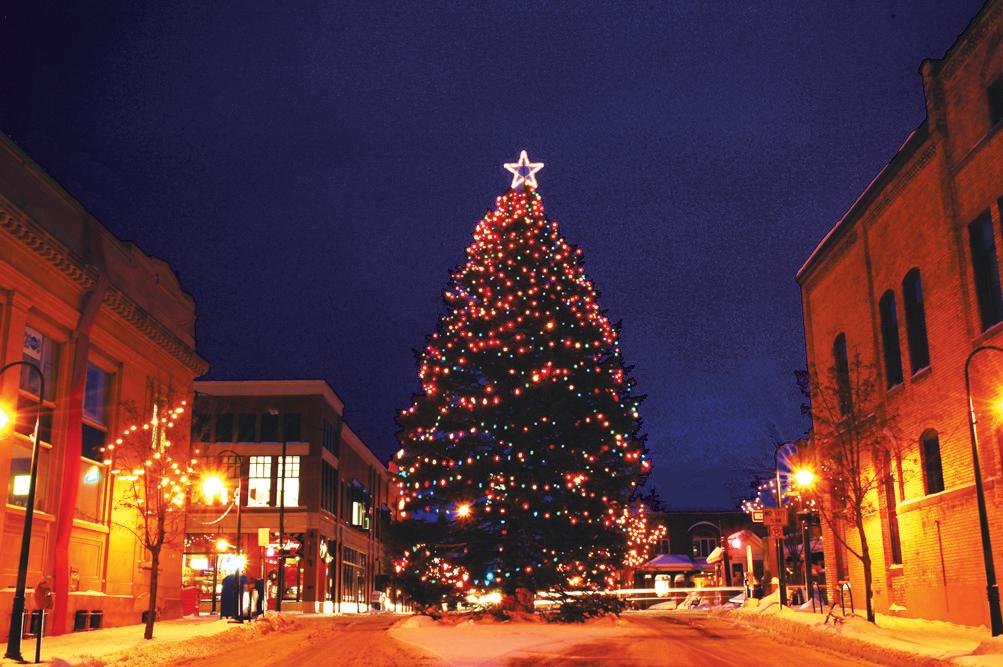 One of the Traverse City area's top holiday happenings for families is the Light Parade through downtown Traverse City on Tuesday, November 29. The free community event kicks off the Christmas season by welcoming Santa Claus to town. Jolly Old St. Nick then will spend the following weekends hanging out at his house in Civic Square on Traverse City's Front Street where kids can share their gift wishes and get a treasured photo. 
Downtown Traverse City is another wonderful holiday shopping destination with locally owned small businesses and special events throughout the holiday season. Whether you visit for Black Friday and Small Business Saturday on Nov. 25-26, Ladies' Night on Thursday, Dec. 8, or Men's Night on Thursday, Dec. 15, you'll find special discounts, free gift wrapping and charming touches including Front Street all lit up and carolers sharing Christmas cheer. 
"It's a chance to get special gifts that you might not find online, and it's also a chance to go out and do something in person instead of just ordering something on your computer," said Abby Taylor, downtown experience coordinator. "There's something to be said about that small-town feel."
You can even get into the giving spirit this holiday season in downtown Traverse City with Shop Your Community Day on Saturday, Nov. 12. With each purchase at a participating merchant, 15% of the sale will be donated to a nonprofit organization of your choice. It's a charitable way to kick off the holiday shopping season!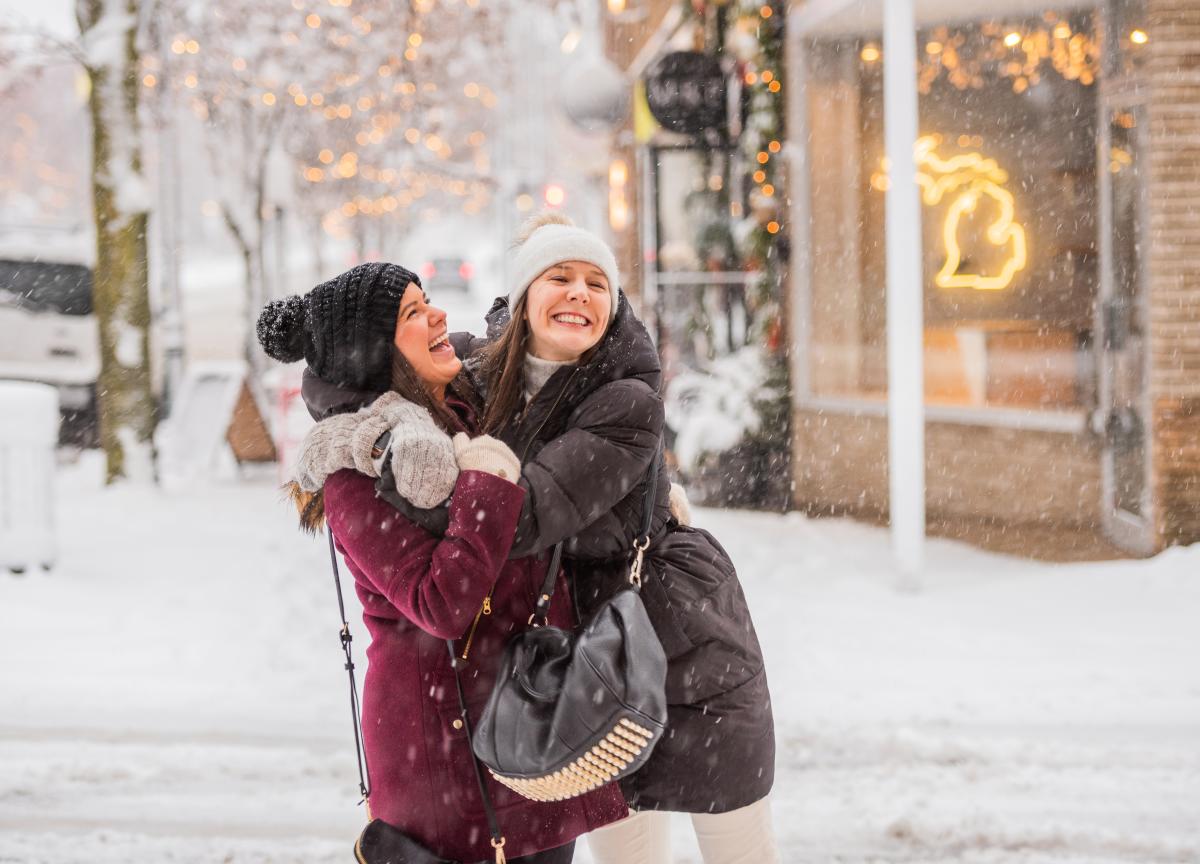 Outside of downtown Traverse City, there are many small towns where you can enjoy special holiday moments. One of those quaint little places in Frankfort, nestled between Betsie Lake and Lake Michigan west of Traverse City. The community of 1,200 residents celebrates the season with a variety of classic events and is home to an assortment of extraordinary shops offering everything from toys and t-shirts to whimsical garden items for the home, art and photography, and gourmet foods. You can even find socks and sweaters made from alpaca fleece!
There's a Holly Berry Arts & Crafts Fair at Frankfort High School on Nov. 26, the Saturday after Thanksgiving, where you can pick up some great stocking stuffers made by local artisans. The community tree lighting is Saturday, Dec. 3, with wagon rides, a free movie at the 100-year-old Garden Theater, and, of course, an appearance by Santa Claus. And there's a special Holiday Shopping Day on Saturday, Dec. 10, when you can discover all of the town's shops in search of that gift you'll just know is perfect when you see it.
You'll also find a delicious menu of restaurants in Frankfort and other small towns in the Traverse City area. And, of course, you'd be remiss if you didn't pop into a Traverse Wine Coast tasting room or two or visit one of the area's many craft breweries, such as Stormcloud Brewing in Frankfort.
"Stop in and have a beer," Schmitt said. "Frankfort is an old harbor Victorian town. The holiday decorations and the authenticity of a preserved northern Michigan experience resonate with the comfort feeling of Christmas in a small town."