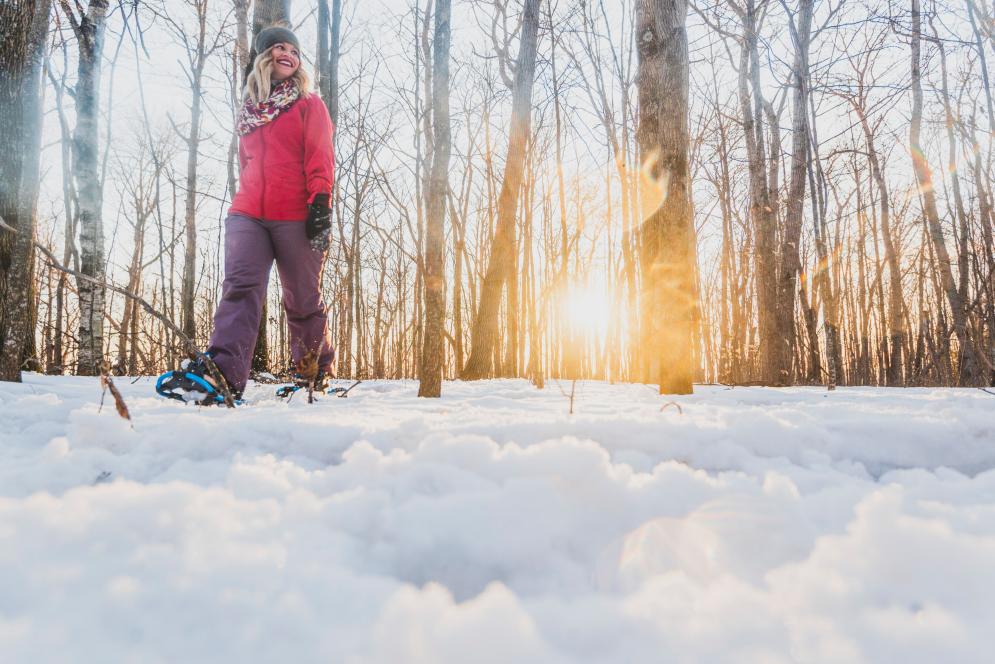 Snowshoeing is one of the best ways to see Traverse City in winter: rentals are affordable, you get a great workout, and there are tons of places to explore. It may take a few minutes for newbies to get used to a new stride, but once you're winding through a forest on top of the snow, pausing to catch a glimpse of an eagle overhead or a deer dashing across your path, you'll know like you're in a pretty great place.
If you're new to the sport—or just coming up north for the first time—here are some tips for making the most of snowshoe season in northern Michigan.
Find the Right Rentals
A well-fitting pair of snowshoes is important to fun in the snow. Be sure to get a pair that corresponds with your height and weight and try them on with the boots or hiking shoes you plan to wear. (Also, practice putting the snowshoes on and taking them off before you head out!)
When it comes to snowshoe rentals, we have good news—you can rent snowshoes almost anywhere in town! Here are a few options throughout northern Michigan, though it's not an exhaustive list.
And, if you're staying at one of our local resorts, you can probably find some rentals on property! Check out these great spots: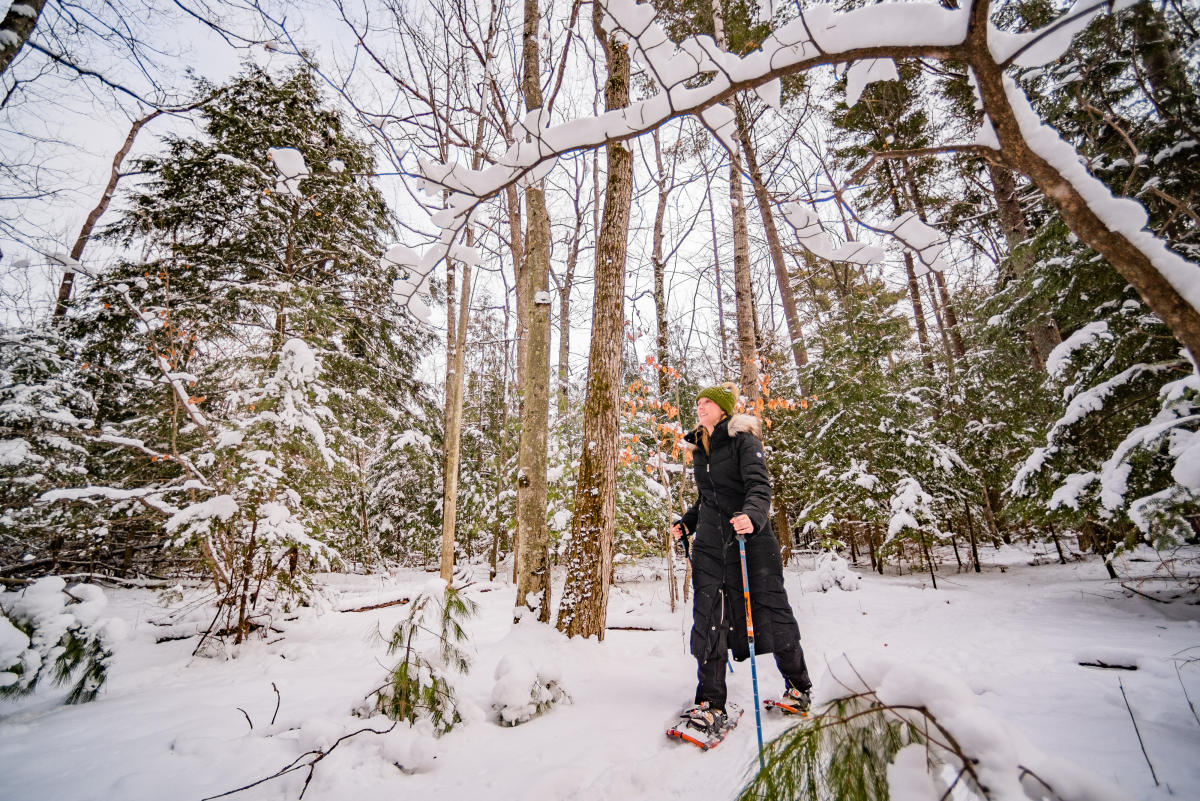 Know the Etiquette
There aren't a ton of rules when it comes to snowshoeing, but there are a few dos and don'ts. For example, avoid walking on paths that are groomed for cross-country skiing—snowshoes can mess up the tracks and make it harder for skiers to navigate. Keep an eye out for deeper snow patches and stick to the spots where you can accurately judge depth. And finally, always be respectful on the trails: make space for other snowshoers, yield to snowmobiles and skiers, and leave no trace of litter behind!
Take a Guided Snowshoe Hike
A guided snowshoe is a great way to get to know the area on foot. Try the Vine to Wine Snowshoe Tour offered by Grand Traverse Bike Tours or the Winter Tours at Michigan Legacy Art Park. Although Sleeping Bear Dunes will not be offering ranger-led hikes this winter, you can follow a self-guided tour with the help of their app! 
Explore the City
Did you know there are plenty of snowshoe spots within the city? The Village at Grand Traverse Commons is one of the best places to enjoy a hike followed by shopping or a delicious, warming meal at one of the community's beloved restaurants.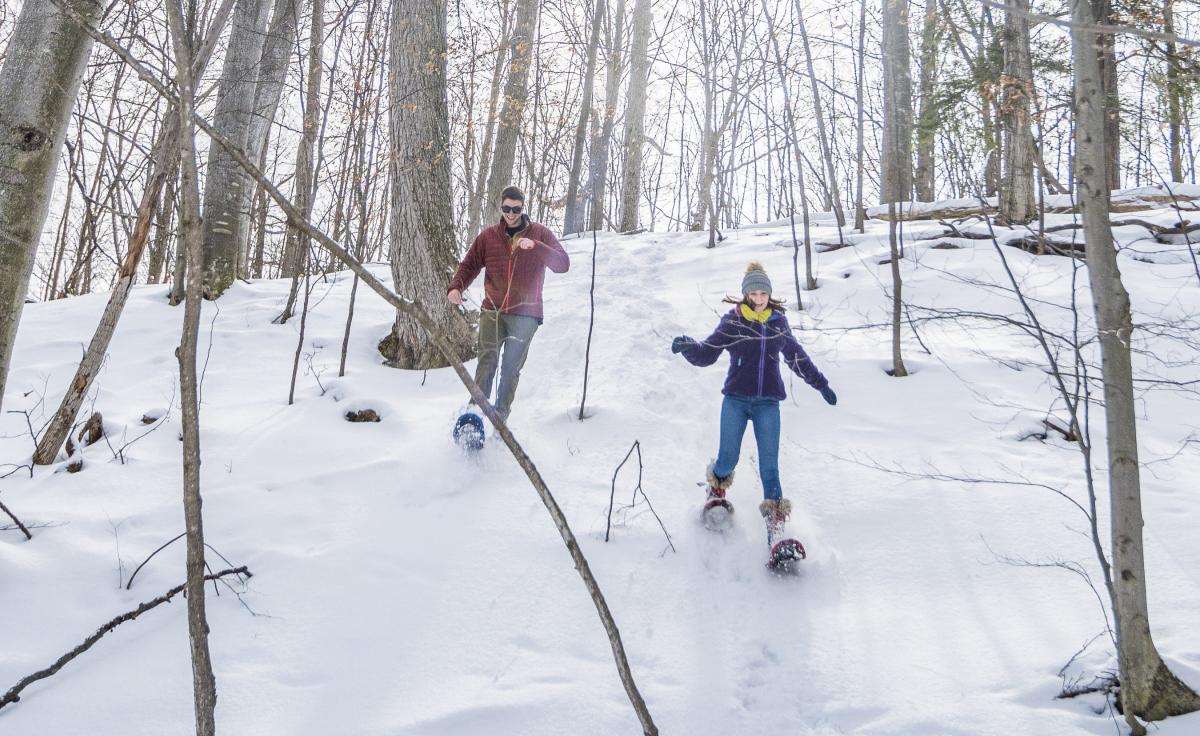 Walk Among the Vineyards 
Looking for an adventure just outside of civilization? You can test out your snowshoe skills at places like Rove Estate, Black Star Farms, Bowers Harbor Vineyards, 45 North Vineyard & Winery and more. When you're done, a tasting at the winery awaits! (Please call ahead or check online to confirm.)
Forge a New Path
There are endless places to explore up north. Check out our full snowshoe and hiking listings for more inspiration!
You May Also Like