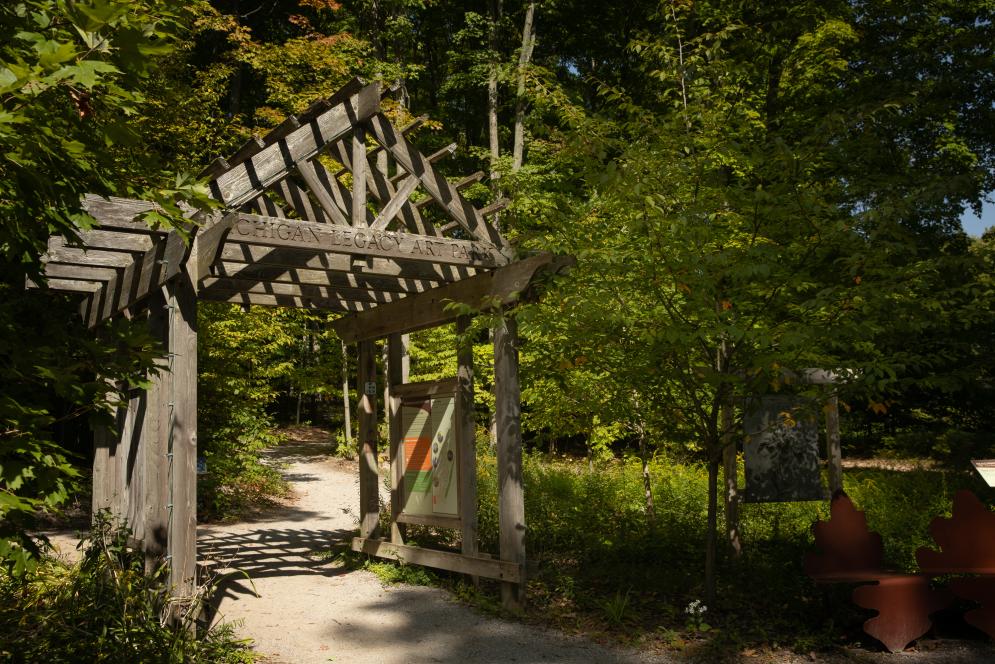 There's a lot of natural beauty at the Michigan Legacy Art Park, a 30-acre preserve in the Traverse City area with two miles of hiking trails that meander through woods and spring wildflowers up to sweeping views of the Betsie River Valley. 
There also are more than 50 permanent sculptures dotting the landscape and telling stories about the unique history and culture of our state through the eyes of professional artists.
It's quite an experience to walk the trails and encounter both the scenic splendor of the Great Lakes State and the interpretive insights of fellow Michiganders at the same time. And this year, you can even add to the artwork yourself by contributing to "Michigan Blue."
Michigan Legacy Art Park visitors are invited to paint a small wooden disc with anything blue that they love about our state.
"So, it could be blueberries or the water or a sailboat," said Angie Quinn, executive director of the park located within Crystal Mountain Resort. "In the last week, we've seen a disc with an otter swimming. We've seen flowers. We've seen a car.
"We are going to be creating waves along the accessible path using fishnet, and then we are going to be hanging the small wooden discs that people paint. It will be the largest community-generated sculpture in Michigan."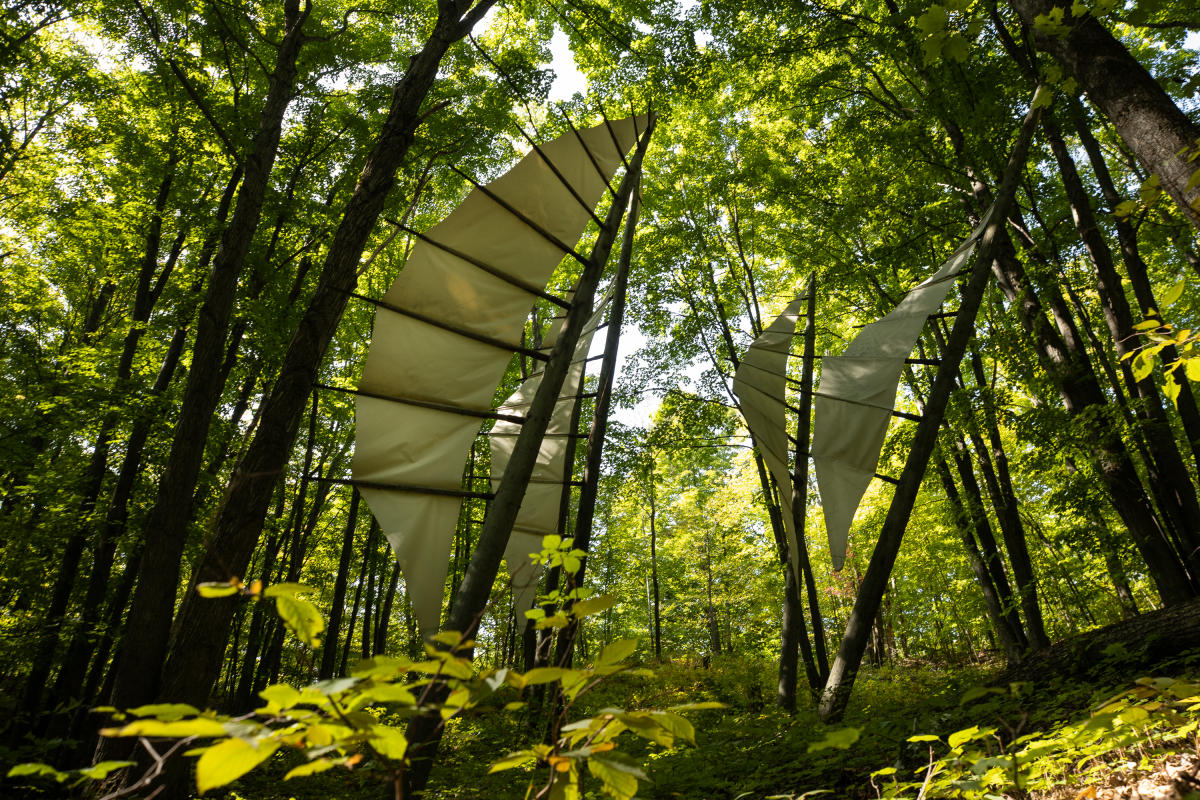 Whether or not you choose to participate in the community sculpture this year, there are lots of opportunities in the Traverse City area to observe works of art as you enjoy the great outdoors. The Michigan Legacy Art Park is just one example of many trails where human creations and the natural world complement each other.
For just $10 per adult or $20 per family, you can explore the art park's trail that weaves through 50-plus sculptures and 300 feet of elevation change over an ancient glacial hill. There's also an ADA-accessible section about a half-mile long, and you can charter a golf cart tour of the park for up to five people, too (with at least two weeks' notice of your visit). 
"It's a healthy walk," Quinn said. "If you take it at an art-viewing pace, you can probably make your visit in an hour-and-a-half and do the two miles. If you're really in it for the hike and the art is a bonus, a lot of people do it in an hour. We give you the option of exploring at your own pace. 
"It's also great for multigenerational groups with someone who might just want to take a hike, someone who might just want the kids to burn off some energy, and someone who might want a little art and culture."

Elsewhere in the Traverse City area, the new Boardman Lake Loop of the Traverse Area Recreation and Transportation (TART) Trails features "Boardman Serenade," a large mural depicting a loon inspired by the bird's call that can be heard along the trail. 
On the Leelanau Trail, which is another section of the TART Trails network of 100-plus miles, you can come across "The Dancers," a wooden sculpture of two human figures enjoined in a tango. 
Those are just two of many works that have been installed through the Art on the TART program, which aims both to engage trail users with local art and to encourage art lovers to get out on the Traverse City area's incredible trails.
"What's more comfortable than being out on a trail where you take your morning jog or you're walking your dog and you can see an incredible work of art from a Michigan regional artist," said Caitlin Early, campaign and development officer for TART Trails.
"We have incredible natural beauty in our state, and we want pieces of art to complement that natural beauty."
In addition to the existing art on the TART Trails, you may come across some new pieces that are being installed this year. Keep an eye out for these new works:
A second mural along the Boardman Lake Loop was done by Kiah Anderson, a Northwestern Michigan College student who assisted with the original mural
"A Fold in Time," a kinetic sculpture that doubles as a kind of playful bench on a renovated section of the TART Trail near Cherry Capital Airport
Art on the TART is also bringing a temporary exhibition to the 18-mile Leelanau Trail this year with a Sidewalk Poetry Project. Five northern Michigan poets are contributing short works that will be stenciled onto the pavement at seven points along the trail.
"We've heard incredible feedback so far, and I just can't wait to grow the program even more," Early said. 
The Michigan Legacy Art Park also is planning to add a new sculpture this year (in addition to the "Michigan Blue" community piece involving wooden discs). A monumental steel sculpture called "Gateway to Black Eden," by Detroit artist M. Saffell Gardner, will incorporate music and spoken word through a QR code that visitors can scan.
The 15-foot-tall piece is a reflection on the lake resort experience of Blacks in early 20th-century America and especially at Idlewild, an African American resort near Baldwin, Mich. 
"One of the challenges that the Michigan Legacy Art Park was created to address was how to express things about our state's history and culture through contemporary art," Quinn said. "This is our first sculpture that uses multimedia to do that."
You may already know that the Traverse City area is home to one of Michigan's finest trail networks. But come on out this spring and summer to appreciate the variety of fine art that's on the trails, too!