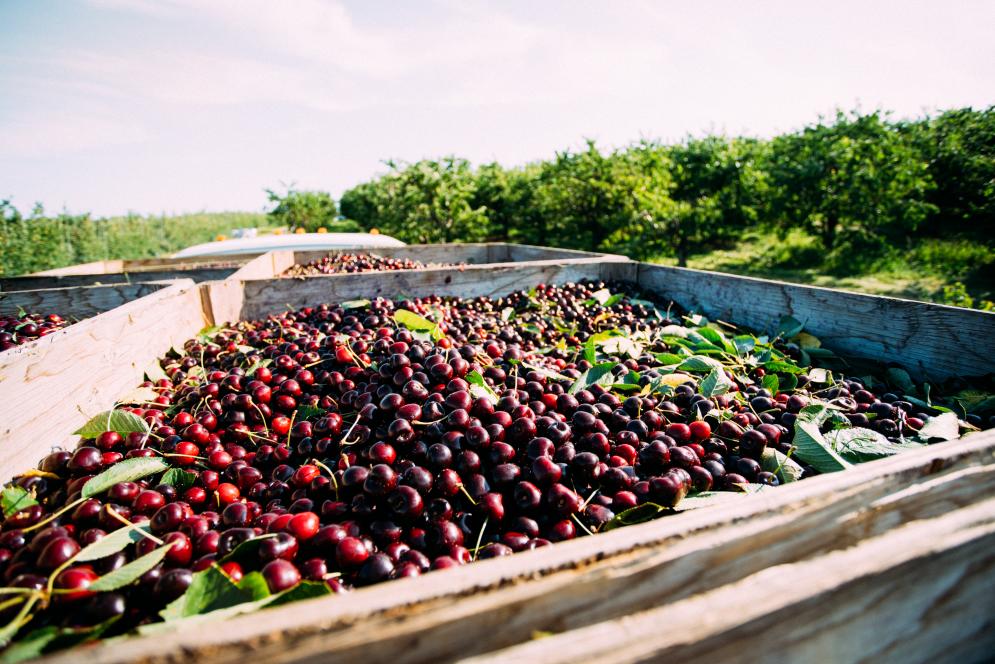 If you're a fan of the cherry season in Traverse City or plan your yearly trip in timing with the cherry blossoms of spring, you might be surprised to find that National Cherry Month actually falls in snowy February. Luckily, cherries still rule the day in the Cherry Capital with producers making perfect bites (or sips!) throughout the area.
As a Northwest Michigander, here are my suggestions for celebrating National Cherry Month: 
Grand Traverse Pie Co.'s Cherry Pies
With two locations in downtown Traverse City alone, the Grand Traverse Pie Co. has a huge assortment of cherry pie flavors to choose from, including varieties that are no-sugar-added and gluten-free. I suggest their 'Old Mission Cherry' for a classic, flaky crust with the perfect ooey-gooey sweet-tart cherry filling. 
Benjamin Twigg's Cherry Festival Preserves
It's hard to leave Benjamin Twigg's with just one cherry product, but if you need to choose, their Cherry Festival Preserves have locked in the taste of sunshine. Each spoonful evokes cherry days of summer, made by a company committed to sourcing locally.
Chateau Chantal's Bubbly Cherry Wine 
Cheers to cherries! Perfect for celebrating our locally cherished fruit, Chateau Chantal makes a bottle of sparkling wine from 100% Montmorency cherries. This fun, pink drink won the Gold Medal at the 2019 Taster's Guild International Wine Competition and can be found at their Old Mission tasting room.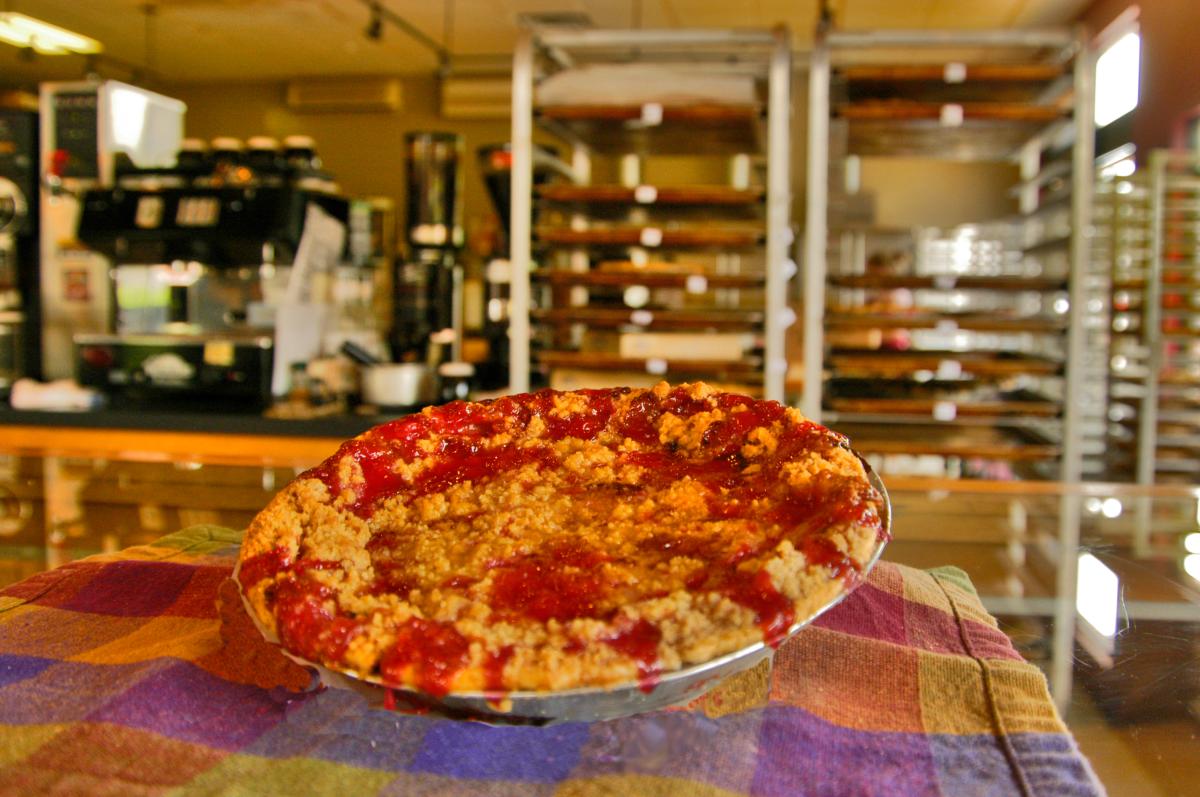 Oryana's Michigander Smoothie 
Are you in Traverse City on a wellness journey? Cherries make a great post-workout drink and have many healthful properties. Find them as dried cherries, frozen cherries, cherry juice, or even at the coffee bar at the local co-op grocery store Oryana. Pick up their Michigander smoothie at their West location for a great lunchtime pick-me-up. 
Grocer's Daughter Cherry Chocolate Bon Bons
If heading into Leelanau county for cross-country skiing, or just a great road trip, make sure to add Grocer's Daughter, in Empire, to your itinerary. Their chocolate is a great way to celebrate any occasion, but their cherry bonbons are a bite-sized celebration of cherries, specifically. This chocolate shop proudly sources all possible ingredients from the area, so you're sure to eat local during your visit. 
Cherry Republic's Catalog of Cherry Products
Pop up to Glen Arbor and head to the Cherry Republic main campus to see an array of 200+ cherry products including salsas, barbecue sauces, yogurt-covered cherries, and more. If feeling peckish, their Cherry Public House has a full menu to choose from in a sit-down setting. If you can't make it out to Leelanau, their downtown Traverse City shop holds all of the same joy for cherries. 
Hallstedt Homestead's Cherry CSA 
Does all this cherry talk have you excited about fresh, in-season cherries? Signups are open for local farm Hallstedt Homestead's cherry CSA. Pay in advance and enjoy tasting several varieties of cherries at the peak of their season this July and August.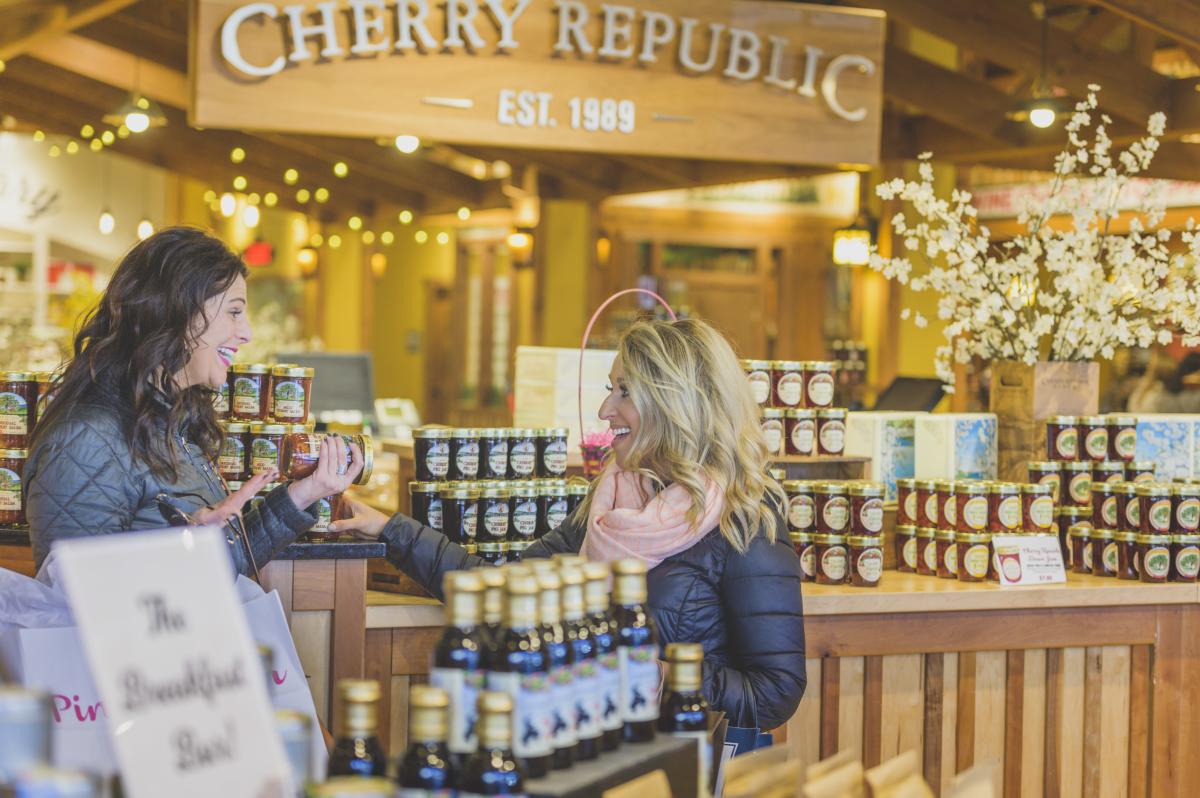 While you may not see pops of red in the orchards this winter, there are still plenty of ways to celebrate the cherry this National Cherry Month!