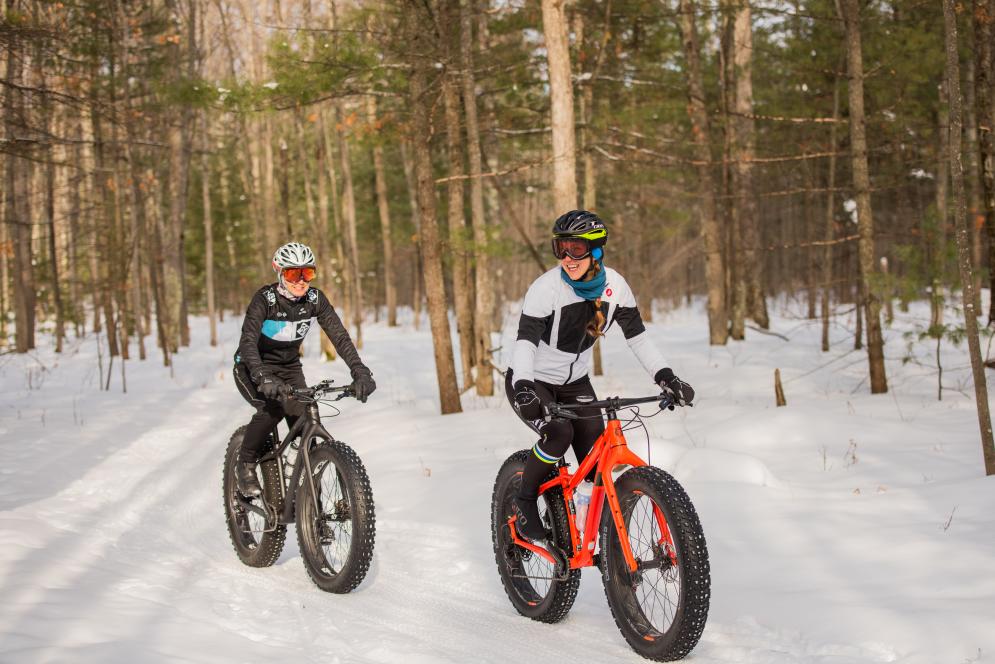 As the daughter of a dedicated biker father who is a northern Michigan (NoMich) trail rider and connoisseur, the sport of biking has always been intertwined with the path of my life. I have experienced the spectrum of different types of biking, whether it be road, mountain, tandem, or even stationary cycling. For my family, the draw of the sport is not solely rooted in exercise, but in the opportunity for bonding it provides for families, children, and adults alike. Now, biking may not strike you as a winter sport, but thanks to fat tire bikes, it has transformed into one. 
However, fat tire biking remains an untapped potential in terms of winter activities. I have taken it upon myself to find and share the best winter biking trails in northern Michigan so we can explore the world of fat tire biking when the first snow falls. For those who are already well-versed in the sport, read on -- you just might discover your new, favorite trail.
A fat tire bike is an off-road bicycle that has wide and underinflated tires that are sometimes twice as broad as a typical mountain bike tire. The extra width of the tires, combined with the lower tire pressure is ideal for riding on soft, unstable terrain such as sand, mud, and snow. Due to their capability of traversing diverse terrain, fat bikes are the perfect answer to the northern Michigan winters. "Mountain biking really kicked off in northern Michigan in about 2012," said fat tire biking enthusiast, Cody Sovis. "I was working at a local bike shop, Einstein Cycles, and we decided that they (fat tire bikes) would be fun to have around. We got an early model, built it up, and I spent thirty minutes on it just riding around the parking lot. I was hooked." Einstein Cycles, Brick Wheels, Suttons Bay Bikes, and Crystal Mountain each provide fat bike rentals for those inspired to dip their toes into winter biking.
Once you've secured your trusty steed, it is time to scout the trails. In my opinion, there is nothing quite like a pot of gold at the end of the rainbow; the rainbow being a wintery fat bike ride and a reward of local beer, wine, and fare. Sovis' sentiment is akin to my own and he recommended the Vasa Winter Sports Singletrack.  "My favorite winter ride is to get up nice and early with a charged light and ride in the dark while the sun slowly rises," said Sovis. "It's like watching the woods - and the trail - come alive. After an hour or two you start to see more riders out and even some wildlife on the move. On the way home I stop at Cuppa Joe on Four Mile for coffee and a cookie...you know, recovery food!"
A trail that offers a similar recovery drink is located in Thompsonville from Crystal Mountain to Iron Fish Distillery. Iron Fish is Michigan's first farm-based distillery that grows grain, distills spirits, and barrel finishes sourced whiskey, with a library of barrel-aged spirits exceeding 2,400 barrels. The bike route is only a couple of miles long and once you reach Iron Fish you can treat yourself to a delicious and refreshing local libation. Not to mention, Crystal Mountain itself boasts twelve miles of winter bike trails to fuel your exploration and enjoyment.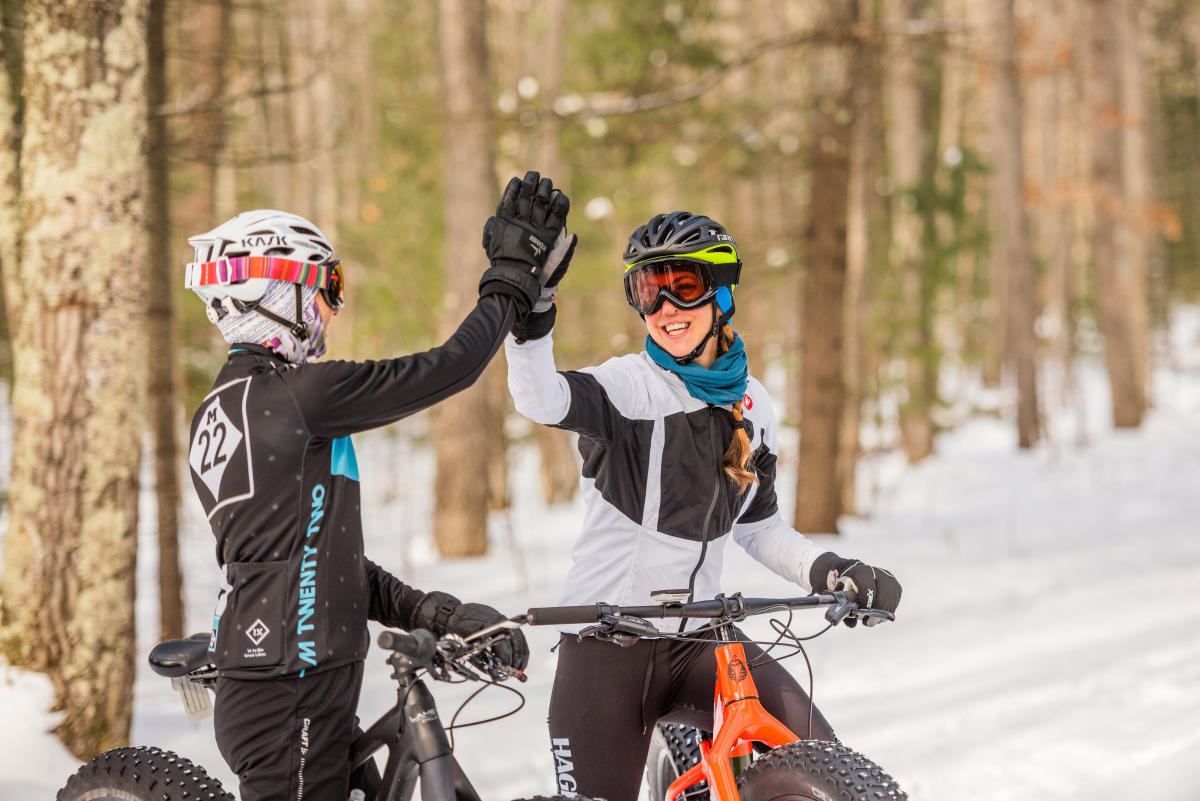 Another trail with built-in benefits is the Forty-Five North Vineyard Trail. Forty-Five North is located on the Leelanau Peninsula and named after its relation to the 45th parallel. It has a three-mile, recreational Vineyard Trail that is free for all to use during business hours. The trail is a loop that snakes through the vineyard grounds, offering both uphill terrain and shortcuts if you're looking to avoid the added difficulty. The trail starts at the Tasting Room and winds around the property, taking riders through a tour of the vineyard with the promise of a glass of wine at the finish line. 
If you're looking to take a turn towards local breweries, bring your fat tire bike to the Grand Traverse Commons. The GT Commons Natural Area provides an extensive trail system that wanders through the acreage behind Building 50. In the Village at Grand Traverse Commons, you'll find my dad's favorite post-ride watering hole: Earthen Ales Taproom and Brewery.
Fat tire biking is the future of winter sports and recreation. For the social butterfly, there is a multitude of local riding groups that northern Michigan has all winter long, one of them being a squad of bikers who do Friday Night Lights together, a night ride at Timber Ridge Resort. In the words of Cody Sovis, "Try it."