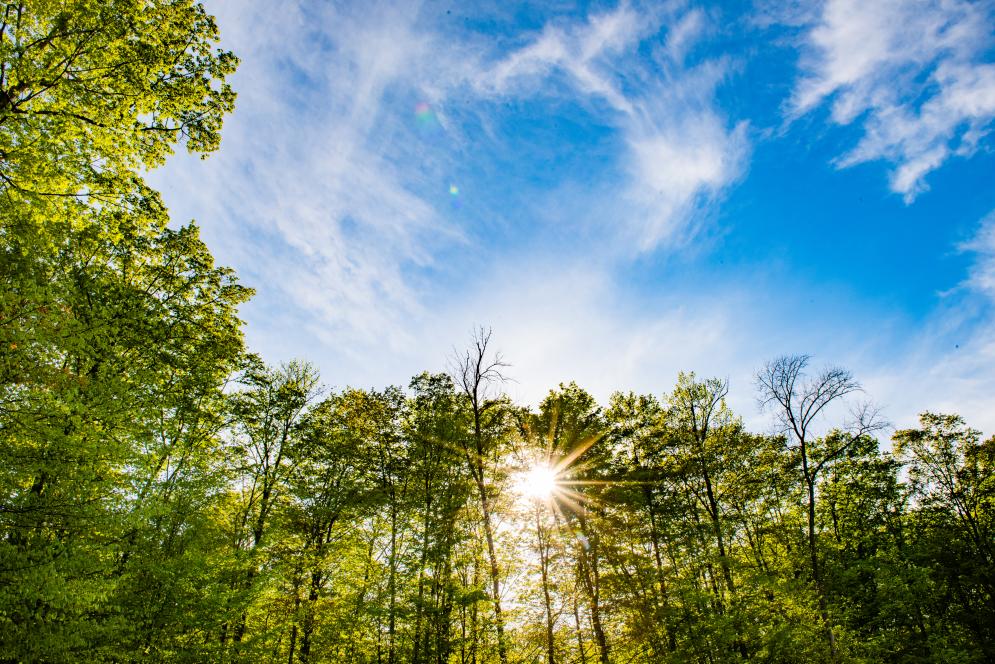 If you're seeking a Michigan destination where you can really appreciate and contribute to the conservation of our state's natural beauty, it's hard not to think of the Sleeping Bear Dunes National Lakeshore. The Traverse City-area treasure offers 70,000 glorious acres of trails and beaches spread along 65 miles of spectacular shoreline.  
In many ways, Sleeping Bear Dunes is the best of what Michigan has to offer. 
But here's a secret: It's just one of many incredible ecotourism opportunities in the Traverse City area. For example, just a few miles south of Sleeping Bear Dunes is Arcadia Dunes with 15 miles of trails through forests and dunes along 2 miles of Lake Michigan.
"You get all the views of Lake Michigan without the crowds of people," said Jennifer Jay, director of communications and engagement for the Grand Traverse Regional Land Conservancy, which owns and manages the 3,800-acre preserve. 
"There's even a universally accessible trail that goes right out to the bluff overlooking Lake Michigan. Last time I was there, I didn't see another soul."
More and more travelers are looking for experiences where they can be immersed in natural splendor, and the Traverse City area happens to be full of those places – from well-known attractions such as Sleeping Bear Dunes to lesser-known locations such as Arcadia Dunes to scores of little known preserves, parks, and sanctuaries.
"What I would say to people visiting the Traverse City area is, 'Go to places that are off the beaten path that maybe you've never heard of and take advantage of the opportunity to learn about what makes those places so cool,'" Jay said.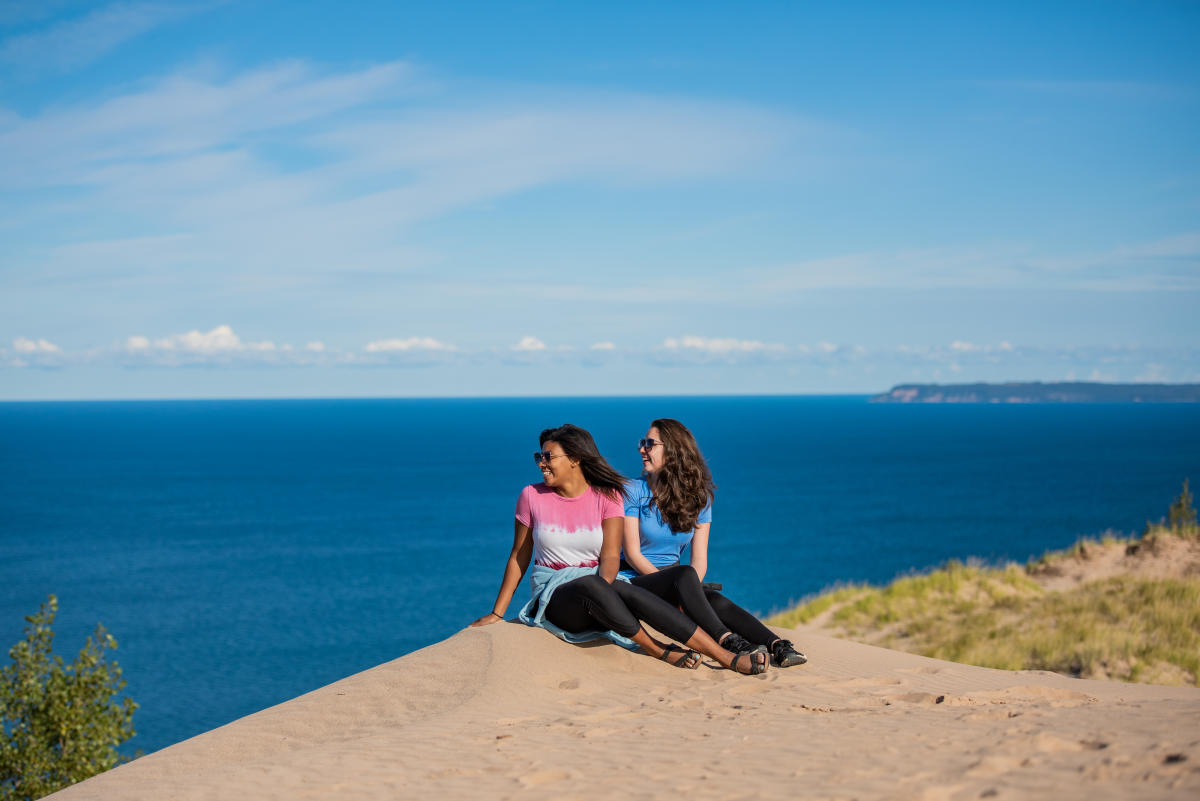 Practice Responsible Recreation
While you're exploring those preserves and forested recreation areas, please do your part to travel responsibly and keep the natural spaces in the Traverse City area as pristine as you found them. That means following a list of do's and don'ts: Do keep your dog on a leash and pick up after them, for example, and don't litter or wander off the trail. 
It's basic etiquette. And multiplied by thousands of visitors each year, it makes a significant positive impact on gems such as Arcadia Dunes and Sleeping Bear Dunes.
"Behave like you're in someone else's home," Jay said. "Clean up after yourself and be a responsible guest, and that's what keeps those places beautiful for others, and forever."
Three Ecotourism Tips
From hundreds of properties and thousands of acres protected by the land conservancy to the magnificent Sleeping Bear Dunes to the 100-plus miles of the Traverse Area Recreation Trails network, the Traverse City area is overflowing with scenic places to responsibly enjoy incredible hiking, biking, and paddling experiences out in the wild. 
Here are a few tips to make the most of your ecotourism adventure, both for yourself and for others: 
1. Take a Minute to Read the Signs – Many information signs at nature preserves and trailheads not only list the rules of what you can and can't do, but also detail the history of the place and what kinds of wildlife, plants, and natural features you might encounter. "A lot of people tend to breeze by kiosks and signs, but really they're a great way to better enjoy the properties," Jay said. "If you go to the Pete's Woods Trail at Arcadia Dunes, there's a huge sign there that has photos, names, and the bloom times of wildflowers. I learned so much on my first visit there just by looking at the sign."
2. Practice the 3 C's – With walkers, runners, cyclists, and e-bikers (not to mention inline skates, skateboards, and other forms of non-motorized transportation), the 100-mile network of TART Trails can have lots of users going at a variety of speeds. To help everybody have a good time, "we encourage all trail users to practice courtesy, caution, and control," said Kate Lewis, director of communications for TART Trails. "What we are aiming to do is foster a culture of kindness on the trails." Don't travel too fast through any congested areas. Ride single file when other trail users are coming at you from the opposite direction. Let people know when you're about to pass them from behind.
3. Stay on the Trails to Protect and Preserve – There are good reasons to follow the rules. For example, keeping your dog on a leash and staying on the trails protects the habitats of sensitive plants and nesting animals. It also minimizes erosion and prevents the spread of invasive plants that threaten native species. Trails are designed to provide the optimal experience of a property's natural beauty, so there's no need to go rogue.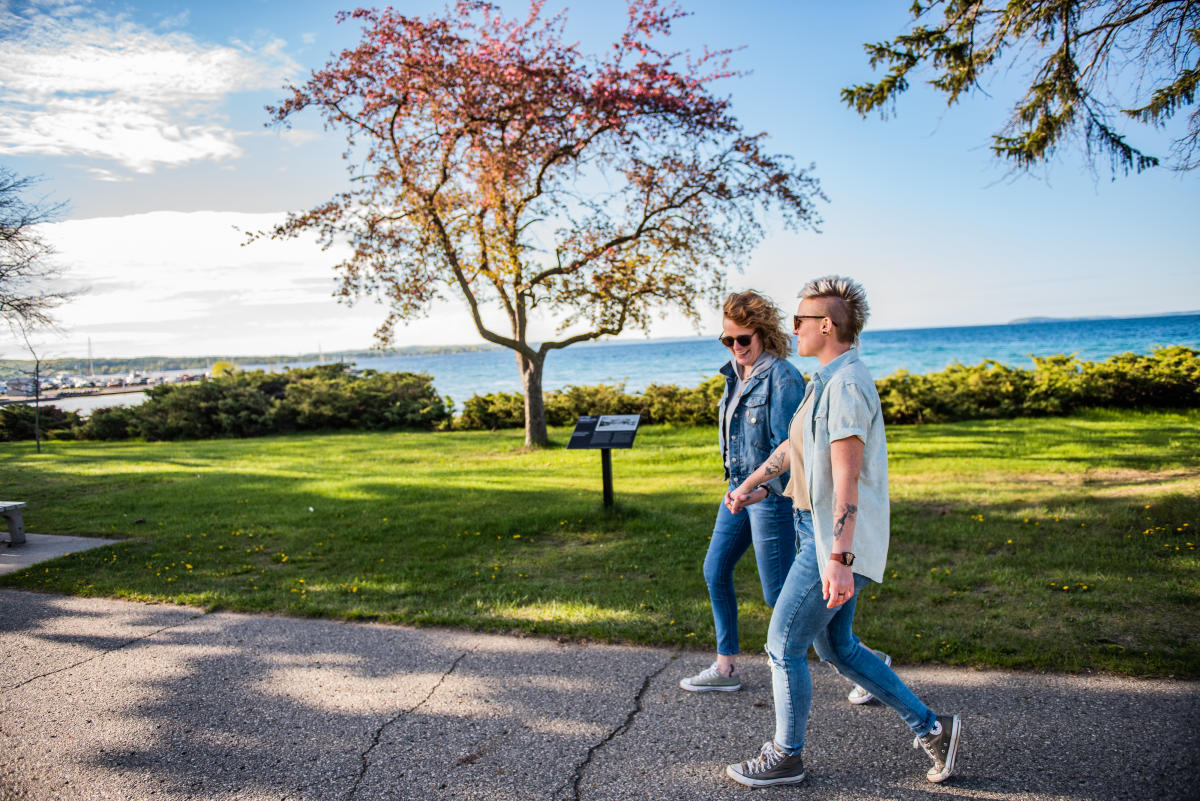 Voluntourism
Another way to enrich your ecotourism experience in the Traverse City area is to participate in one of the many eco-friendly events that take place each year such as the Tour de TART family bicycle ride, a guided hike at Sleeping Bear Dunes or a tour of the Botanic Garden at Historic Barns Park.
There also are many volunteer opportunities for visitors to the Traverse City area. 
"A lot of people take it for granted when they're out on the trails: 'Oh, how nice this is that Traverse City puts these trails in,'" Lewis said. "But it's typically a nonprofit that is making the trails happen, and they're doing that with the help of volunteers."
You can sign up to volunteer right on the TART Trails website for tasks such as pruning, mowing, picking up litter, and helping at events. The Grand Traverse Regional Land Conservancy also offers many volunteer opportunities such as planting trees or removing invasive species, and the Sleeping Bear Dunes National Lakeshore has a variety of volunteer opportunities as well. 
And, of course, you can donate money to organizations that keep the Traverse City area beautiful for current and future generations. 
Or, just be mindful of the positive impact you can make on natural spaces such as the TART Trails and Arcadia Dunes by enjoying responsible recreation, one visit after another. 
"We all play a part," Jay said. "Keep it beautiful so that you and your family can keep coming back."