Economic Impact
How Destination Marketing Leads to
Economic Development
Advertising a destination is proven to have a positive impact on consumer attitudes and increase interest in visiting. Now, research has identified an even larger impact of tourism promotion. Applying the psychological concept of the "halo effect"  to tourism advertising, Longwoods International set out to determine if Traverse City's tourism advertising would extend beyond its core goal of attracting people to visit. Could economic development objectives also be achieved, such as viewing Traverse City more favorably as a place to live, work, start a business, attend college, purchase a vacation home and retire?
The study results are extremely compelling. Traverse City's destination marketing significantly improves people's impressions on a range of economic development objectives. In a time when nearly every community is devoting time and resources to attract new businesses, skilled workers and economic investment, the Longwoods study shows that tourism promotion can have a major impact on those areas. The positive impact of advertising is further amplified when people visit.
Those who saw Traverse City Tourism's (TCT's) advertising had significantly improved perceptions of Traverse City in key areas of economic development and talent attraction. For example, compared to individuals who were not aware of TCT's advertising, those who saw TCT advertising were more than twice as likely to strongly agree that Traverse City is a good place to live.
Those who saw TCT's advertising and subsequently visited the region were even further motivated in their positive perceptions in all factors.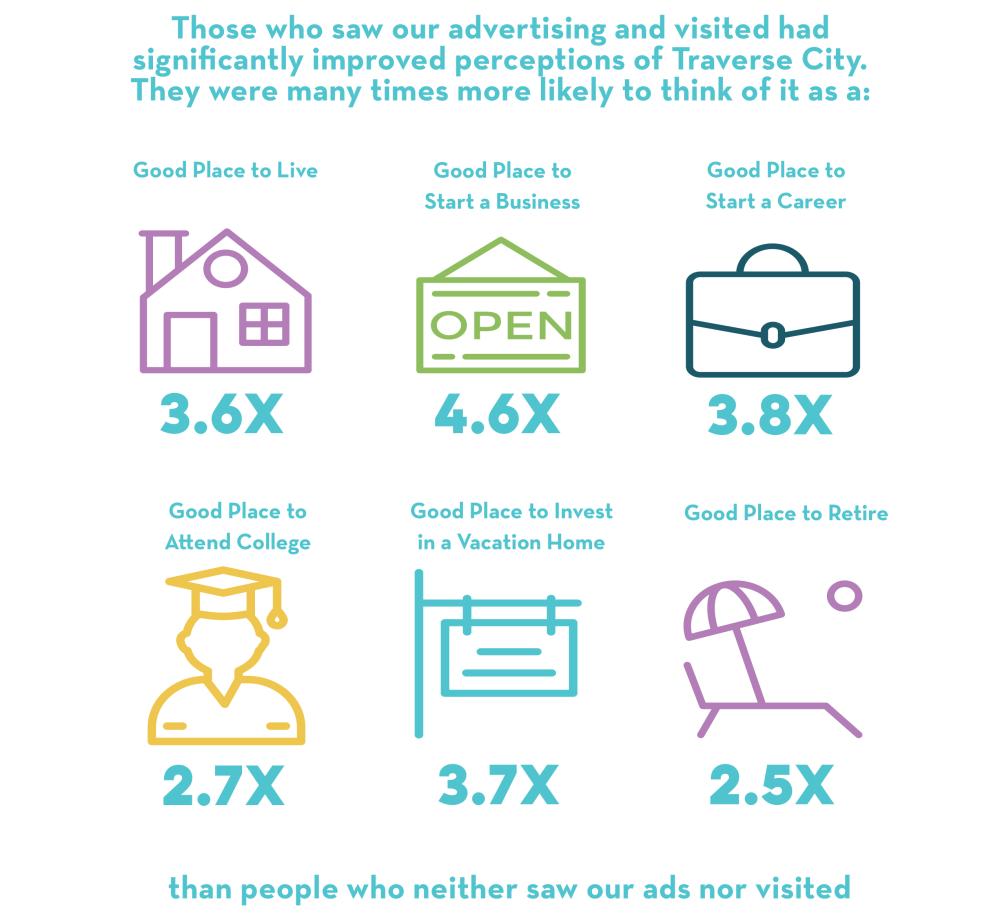 Promotion of Traverse City helps attract businesses, investment and talent

The Traverse City region's business community and local governments have established several key goals to spur and strengthen economic development. 
The study found that those who see Traverse City's advertising and later visit are significantly more inclined to start a business here. This is a lead indicator of people's intent toward increased outside investment in the region and increased demand for commercial and retail property. 
With talent attraction dominating regional economic development discussions, Traverse City tourism advertising has a positive impact in support on recruitment. The perception of Traverse City being a good place to start a career and a good place to live is paramount in the relocation process. 
Local educational institutions can be a catalyst for new businesses, and talent attraction and development. Potential students and their families are twice as likely to consider attending Northwestern Michigan College or other local educational opportunities if they are exposed to TCT's marketing.
Demand for commercial real estate, residential homes, and second home ownership leads to stabilized and increased property values, helping boost our regional economy. High demand for real estate also increases the region's property tax base and helps support essential services throughout our community. The study showed a people were 3.7 more likely to strongly agree that Traverse City is a good place to buy a vacation home if they saw TCT's advertising and visited the area.
The baby boomer generation is rapidly retiring, bringing strong opportunities to enhance economic vitality to the places they move through business investments, diversifying service industry demand, and expanding the year-round consumer base. Traverse City is consistently listed in national lists of great places to retire, and our destination promotion further enhances its appeal. 43% of those who had seen TCT's advertising strongly agreed that the Traverse City region is a good place to retire, and the strong sentiments jumped to 63% if they had also visited. 
Second homeowners and retirees are also likely to invest in the region through business opportunities and donations in support of the causes they value, such as conservation and preservation, and arts and culture.
 
Traverse City Tourism's advertising has excellent reach and is widely recognized
In fact, more than 50% of respondents in major midwestern markets reported they were familiar with Traverse City Tourism advertising across a range of online, broadcast media and physical platforms like billboards and print.
National television advertising was the most widely recognized component of TCT's advertising portfolio. TCT's national advertising purchases were made in partnership with Pure Michigan, and therefore have not been possible since funding for Pure Michigan was eliminated in the state's budget. The Pure Michigan partnership is essential to our continued success in both tourism promotion and economic development objectives.
 
Survey participants represent the talent and investment backgrounds Traverse City is seeking
The survey participants came from a variety of industries, including significant representation from talent areas in demand in the Traverse City region: 10% from health care, 10% from financial, legal and other professional services, 10% from the education sector, 7% engineers, 5% in sales and marketing, 11% professional workers, 5% in the building trades or machining, and in 3% science or technical roles. (Note that approximately 30% did not report their industry.)
Method: The Halo study was conducted in 2019 by Longwoods International to measure awareness of Traverse City Tourism advertising and to estimate the impact of advertising awareness on six key attributes associated with economic development. This research was conducted through a national self-completion survey of 800 respondents (over 18, drawn to be proportionate to geographic population) from key advertising markets. The research compared consumers' ratings of Traverse City on economic development image attributes by those who had not seen a campaign or visited Traverse City with those who did see the tourism ads and/or visited. More about the study can be found here.