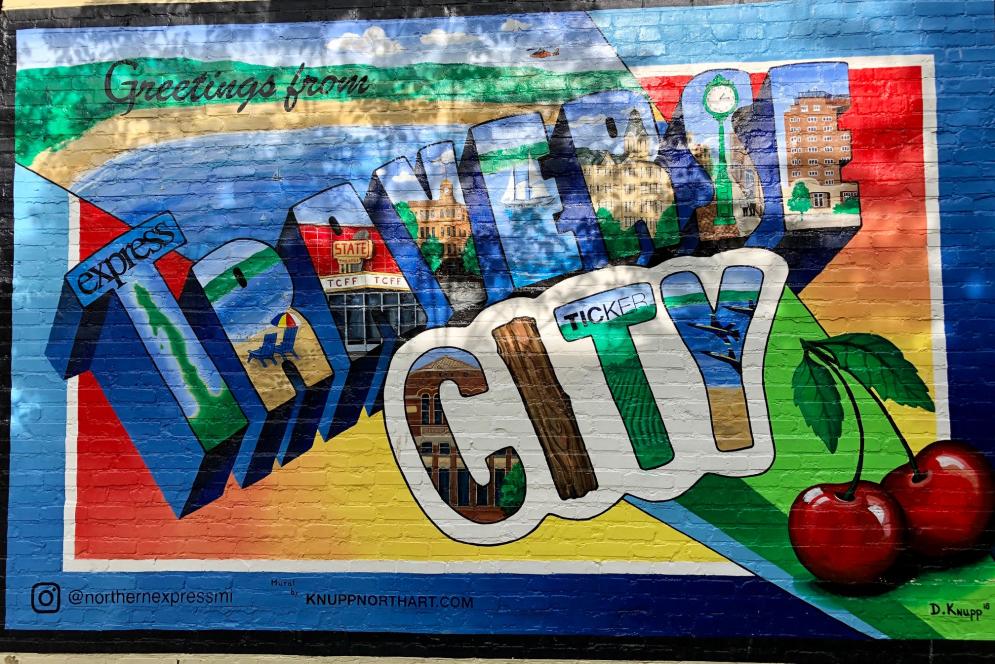 Looking for an outdoor art experience? Head to downtown Traverse City, where murals and street art have begun to pop up to decorate the sides of buildings and illuminate alleyways. While there are more than just these murals downtown—and far more than that around the region—we chose these classics to start your art education.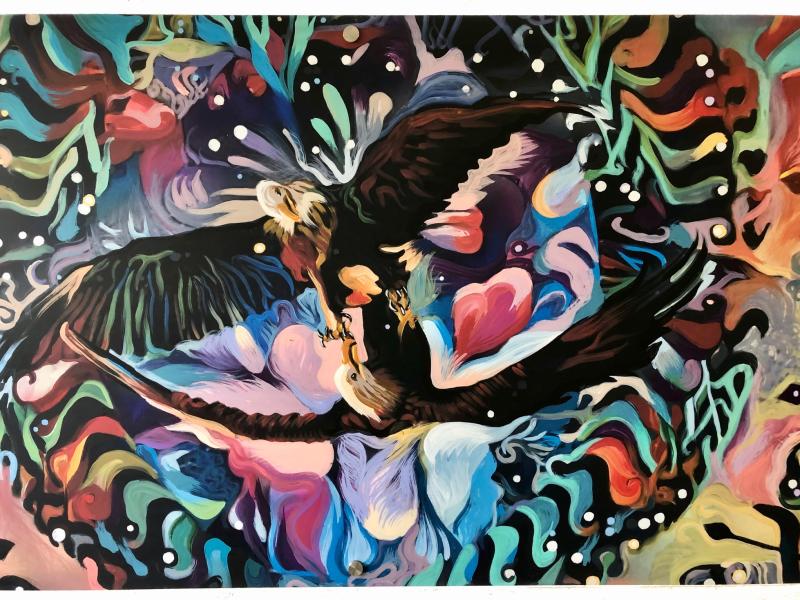 Mazinaadin Exhibition: Clinch Park Tunnel
In 2019, the Clinch Park Tunnel—which connects downtown and the Open Space beneath Grandview Parkway—got a whole new look. 
The tunnel had once been decorated with paintings honoring the Grand Traverse Band of Ottawa and Chippewa Indians (GTB), though they were painted over during a remodel. Artist bobby Magee Lopez of Colorado brought the spirit of that artwork back to life with an all new mural, created in partnership with the GTB. Titled Mazinaadin Exhibition (or "Make an Image"), the mural depicts the history and culture of the GTB in vibrant color.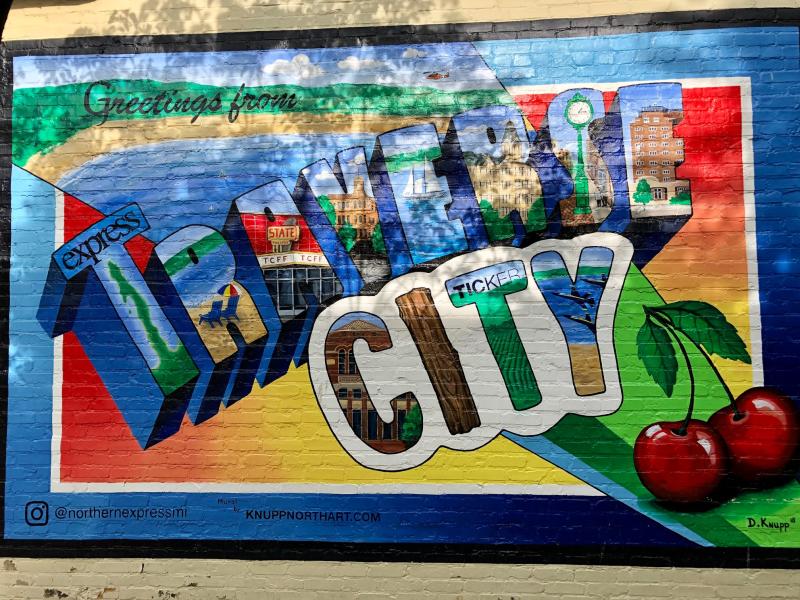 TC Postcard: Alley beside Kilwins
Created by Darin Knupp of KnUpp North Art (get it?) this postcard-inspired mural has turned a downtown TC alley into a must-stop for photos. 
"Greetings from Traverse City," the mural reads, paying homage to TC landmarks like Old Mission Peninsula, the Village at Grand Traverse Commons, and the State Theater. Cherries figure prominently, of course, as do scenes of bays, beaches, and greenery. You'll also see "Northern Express" and "TC Ticker" tucked into the artwork—two local new publications that made the mural possible.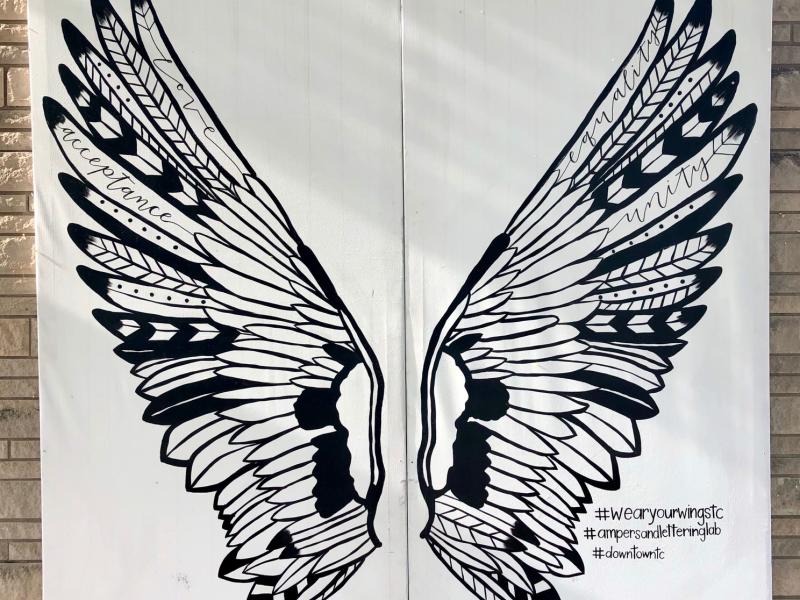 Wear Your Wings TC: Near the Coin Slot
Local artist Heather Spooner of Ampersand Lettering Lab is known as the woman who gave TC wings. You've likely seen iterations of this artwork style across the country, and Spooner brought her take on the design to the north. 
Spooner was commissioned to paint the wings during Traverse City's weekly August bash—Friday Night Live. The interactive element engaged the community and continues to do so as people from near and far pose with the wings for social media snapshots and family album photos. The mural's feathers are inscribed with affirming words like love, acceptance, equality, and unity—a message that feels more relevant now than ever.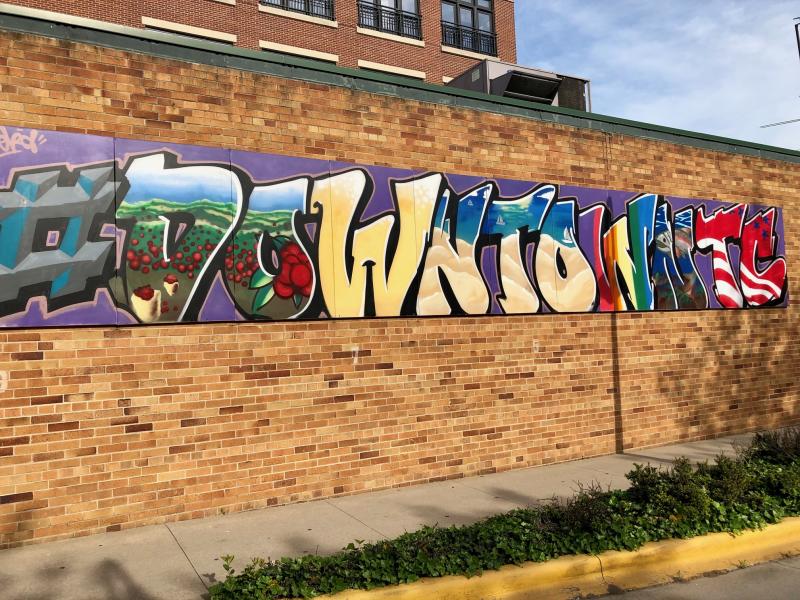 #DowntownTC: Larry Hardy Parking Garage
Artists Chase Hunt and John Jarosz teamed up to create perhaps the most Instagram-worthy mural downtown, aptly called #DowntownTC. Elements of the mural range from beachy scenes to bright cherries to what looks like a beer in the first W—cheers!—to paint a portrait of life in northern Michigan.
You can find more of Hunt's street artwork around town. For a scavenger hunt—pun intended—stop by: Middlecoast Brewing, Union Street Station, and many of the downtown dumpsters, which Hunt designed with local youth artists.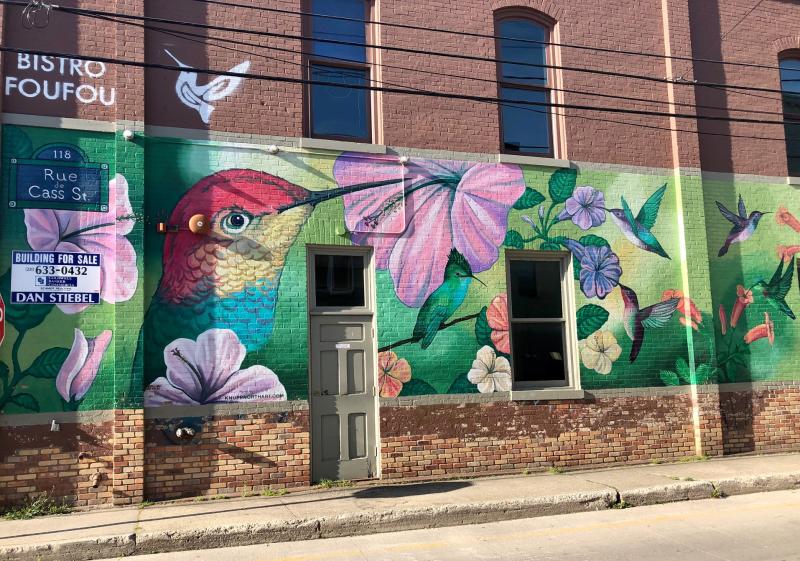 The Hummingbird: Bistro Fou Fou
While Bistro Fou Fou's doors are closed, this stunning mural—also by KnUPP North Art—is always open. Running along the side of the historic former firehouse between Front and State Streets, the mural showcases hummingbirds—giant ones—flitting among flowers painted in soothing pastels. "Rue de Cass St." is written in the corner, a nod to the former restaurant's French cuisine. 
For more artistic experiences in the great outdoors, visit the Dennos Museum's outdoor sculpture collection or explore the works of TC Public Art.


TC Color Blocks: State Street
A Traverse City postcard on the backside of the State Street Market was created by Traverse City-based artist and muralist Chase Hunt. Yes! You have heard that name before! Chase was the mastermind behind other street art including the #DowntownTC mural adding some beauty to Traverse City and beyond. 
Find this colorful hidden gem at the back of the building, making it a great stop for a picture! 


The Fox: Little Fleet
Located off Wellington Street, you can find this fancy Fox dressed in a suit painted on this mural. In this spot, you are just steps away from the food trucks at Little Fleet. Before entering, he'll catch your eye and make you want to walk further. 
Add this to your street art walking tour around Traverse City!


The Little Fleet Mural
An added bonus before grabbing some food and a margarita at The Little Fleet restaurant, check out this custom-painted mural by Em Randall as a part of the Downtown TC Paint Art Outside the Block series. The project is a mini pop-up series to celebrate the diversity of our communities and support the fight against intolerance. 
You can't miss this work of art located right on the side of the restaurant!