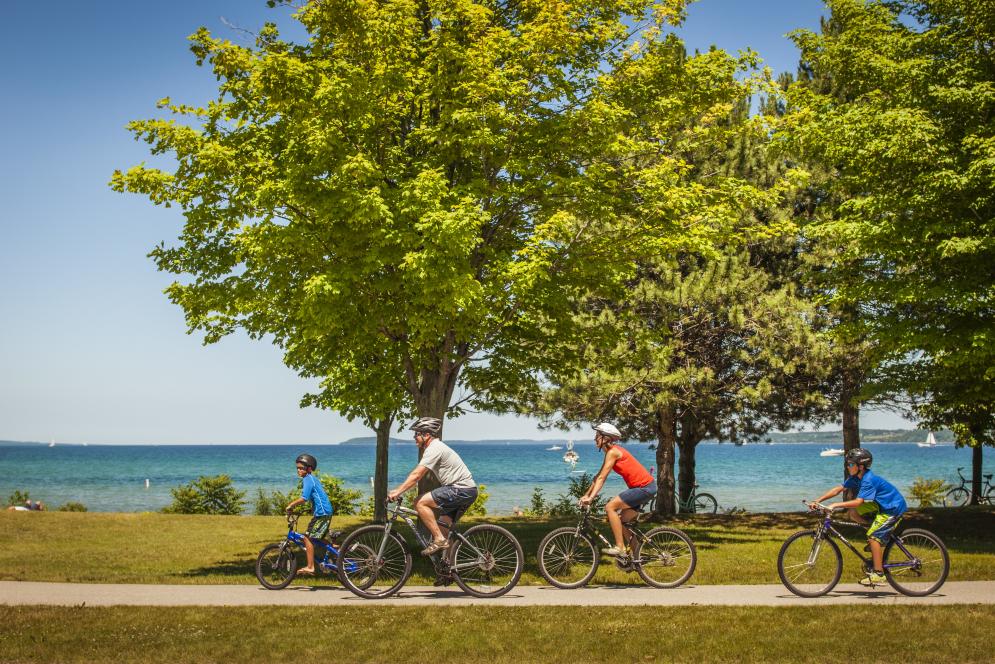 I was forced to hit my brakes — immediately. Traveling along the Leelanau Trail on my bike just outside of Traverse City, I made an abrupt stop. Standing in front of me, just a few feet away, was a majestic deer. He was bigger than me, and he wasn't going anywhere until he was ready to move along. I swear he gave me a little smile — and slowly went on his way. It's that type of experience you don't soon forget along the trails of northern Michigan. 
The region has hundreds of miles of bike-friendly trails. Some are paved, some gravel, some travel through the villages and cities, and many have amazing scenic views looking out on Lake Michigan or Grand Traverse Bay. The trails all have one thing in common: they offer riders great opportunities to get healthy exercise and enjoy northern Michigan.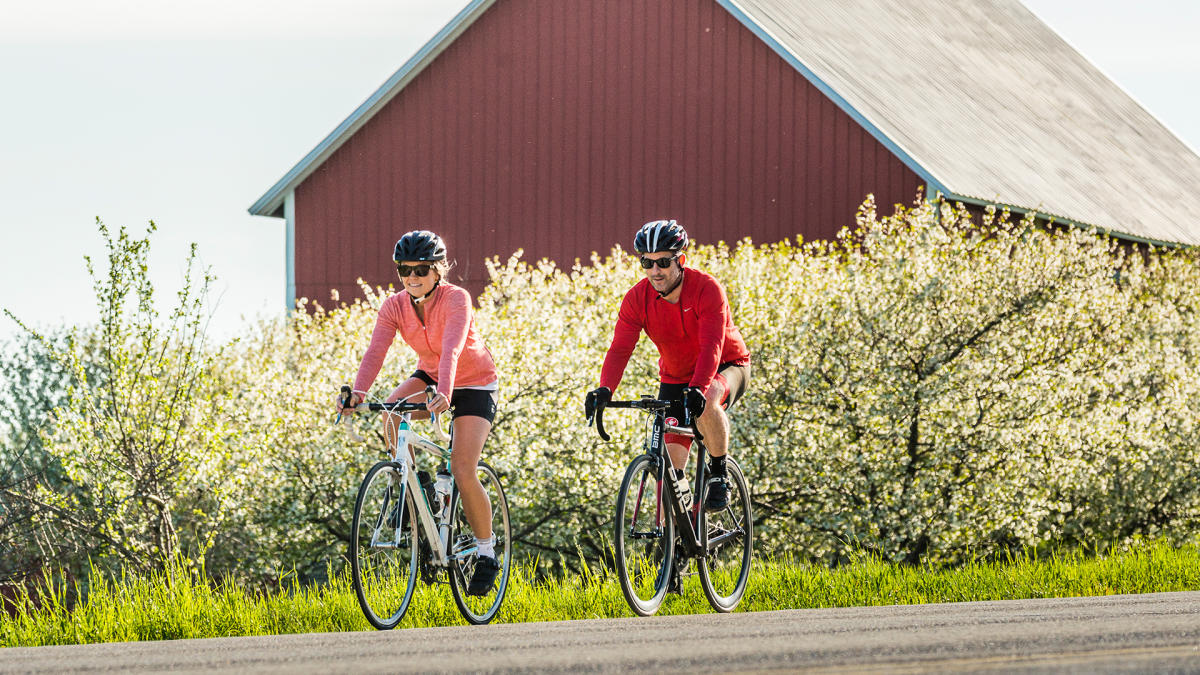 "Trail tourism is a real thing," said Brian Beauchamp, Communications and Policy Director of the TART Trail System. "Many people choose their travel destination based on where they can get out and enjoy non-motorized activities." Beauchamp points to a 2018 study that showed just the Sleeping Bear Dunes National Lakeshore Heritage Trail generated $3-million a year in direct spending to the region. The same study reported that the VASA Pathway brought in $2-million a year in spending.
The TART system is just one of a network of trails that weaves throughout northern Michigan. It's constantly expanding. And Beauchamp said more expansion is planned through at least the next 20-years with plans to add 100 more trail miles. Key trails include the Leelanau Trail, TART Trail, Boardman Lake Trail, Betsie Valley Trail, Buffalo Ridge that goes through Grand Traverse Commons, Sleeping Bear Heritage Trail, and many more. Eventually, these interconnecting trails will allow riders to go from Benzie County, through Grand Traverse, Antrim Counties, and all the way up to the Mackinac Bridge and beyond.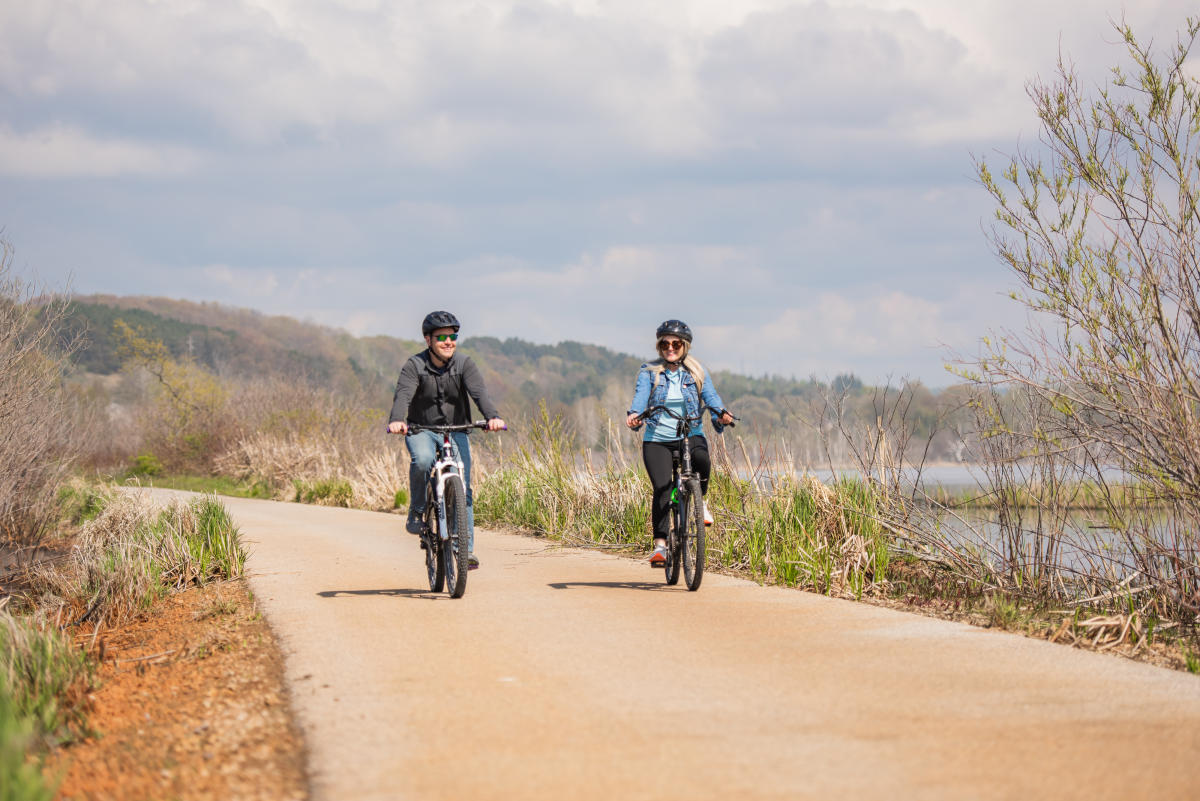 These trails are accessible and friendly for all age groups. It can be a great experience for beginning riders yet offers a challenging experience for competitive rides too. The attraction includes the beautiful vistas and many scenic outlooks, but there is also the health benefit. "When you have proximity to outdoor activity it vastly reduces a community's obesity and diabetes rate," said Beauchamp. "It's a huge driver for good health. The daily activity of 20 to 30 minutes of moderate movement can dramatically reduce long-term health risks."
Beauchamp said those health benefits are part of the reason why the trail system earns such enthusiastic support from civic leaders, community partners, volunteers, and donors.
The trails not only offer a good workout and beautiful views; they are designed to help you take full advantage of what the Traverse City region has to offer. You can take a trail to the Dune Climb at Sleeping Bear. Take your own Wine Trail tour of Leelanau County. Ride around Boardman Lake in the recently-completed loop. Or hop on the 22-mile Betsie Valley Trail that goes from Frankfort through Elberta, to Beulah and Thompsonville.