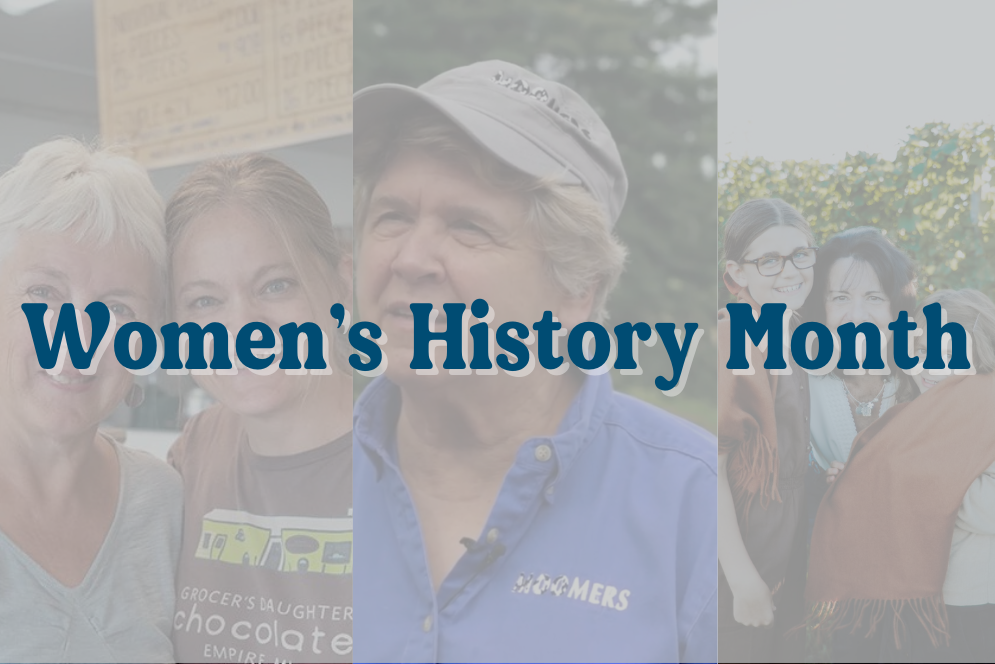 "Mom to the rescue!" may well be the war cry at home – and at work – for these regional businesses! March is Women's History Month, and we chatted with three mothers who've built thriving Michigan businesses, and, in some cases, even passed their businesses on to their kids. Read on to hear about Michigan ice cream, wine, and chocolate – could there be a better trio? 
The Ice Cream
Nancy Plummer, creator, and co-owner of Moomers Homemade Ice Cream, Traverse City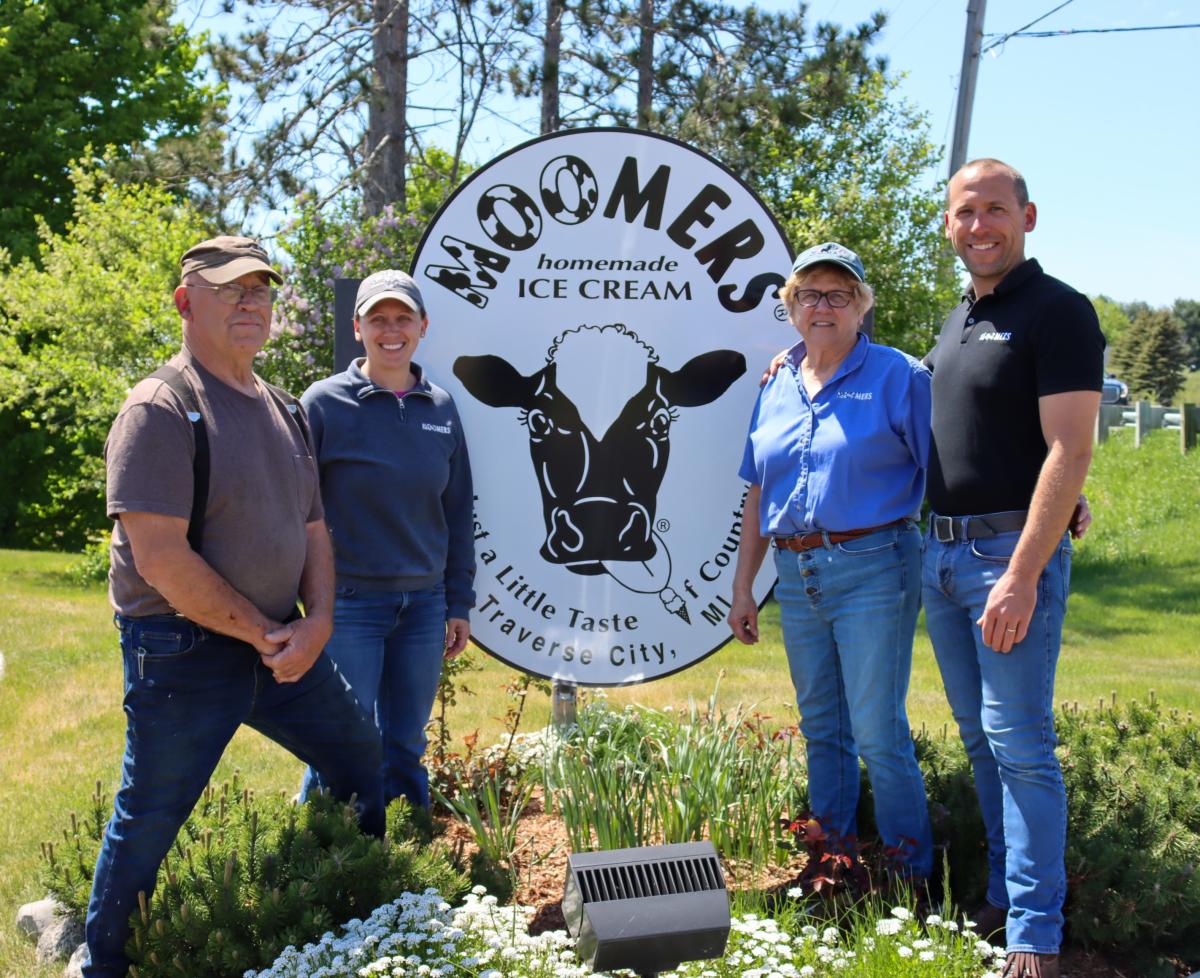 The idea for Moomers came at a time when Nancy was a first-grade teacher and mother to 4 – while running a dairy farm with her husband, Bob. She loved ice cream and wanted to share the country setting with the kiddos, and to build a family-oriented place for others to enjoy. It was a joint decision: Bob constructed the building and Nancy had to learn everything – from making ice cream and doing the accounting to overseeing employees, mopping floors, and a "never-ending list."
In April of 1998, the doors opened. And here they are 150+ flavors and 25 years later!
Moomers sits near Long Lake, perched above the Plummers' gorgeous dairy farm. You can pick from 20 ice cream flavors available each day, then take your scoop outside on their wooden patio and watch the cattle grazing in the fields below. Be sure to listen for a "Moooo!" at Moomers!
(And when you pull into Moomers, the line is nearly always out the door and snaking around the building. But it's worth the wait, which isn't that long thanks to their efficient staff. We promise!)
Nancy still works almost full-time during peak season, May-September, but she has handed over the reins to 2 of her 4 children, Becky Mead and Jon Plummer.
"I've always felt that if the business wasn't passed on to family, I would dissolve it," Nancy says. "Moomers wasn't created as a business venture that I needed to rely on for my sole income. It was created as something fun to do using our dairy farm. I'm proud that Jon and Becky will continue the business."
Moomers has a major feather in its cap: It was voted the best ice cream parlor by USA Today in 2016. The resulting press made this unassuming ice cream place in Traverse City known all over America and people started traveling to the area to see what all the deliciousness was about. They even have a scrapbook on their counter to browse through, recording all the hub-bub that came with the award.
"People may remember the great ice cream and perhaps a specific flavor found only at Moomers," Nancy says. "But more than that, they will remember how they felt, unique country touches overlooking a picturesque family-owned and operating dairy farm."
Nancy says she keeps trying to ratchet back her hours, but she doubts she will ever be "done."
"I'll always be involved in conversations, offering support to Becky and Jon, and offering suggestions based on passion, common sense, and my extra generation of life's experiences!"
And her advice for those hoping to build a family business?
"Take baby steps. Establish your roles according to your strengths. Have open communication and be able to separate family and business, especially when tough decisions need to be. Establish a succession plan for the business as soon as possible, especially when some family members are not actively involved."
 
To Try:
On April 28, Moomers in Traverse City will celebrate turning 25 years with – what else? – a birthday party with ice cream!
Try their four new flavors this season:
Pep In Your Step - Vanilla ice cream with a crème de mint swirl and mint Oreos (the staff flavor contest winner!).
Scotchie Highland - Cinnamon ice cream with a butterscotch swirl and oatmeal butterscotch chip cookies.
Summer Sugar - Lemon ice cream with a blueberry swirl and pie crust pieces.
Big Whopper - Chocolate malt ice cream with a caramel swirl and Whoppers.
The Wine
Debbie Simpson, co-founder of Good Harbor Vineyards, Lake Leelanau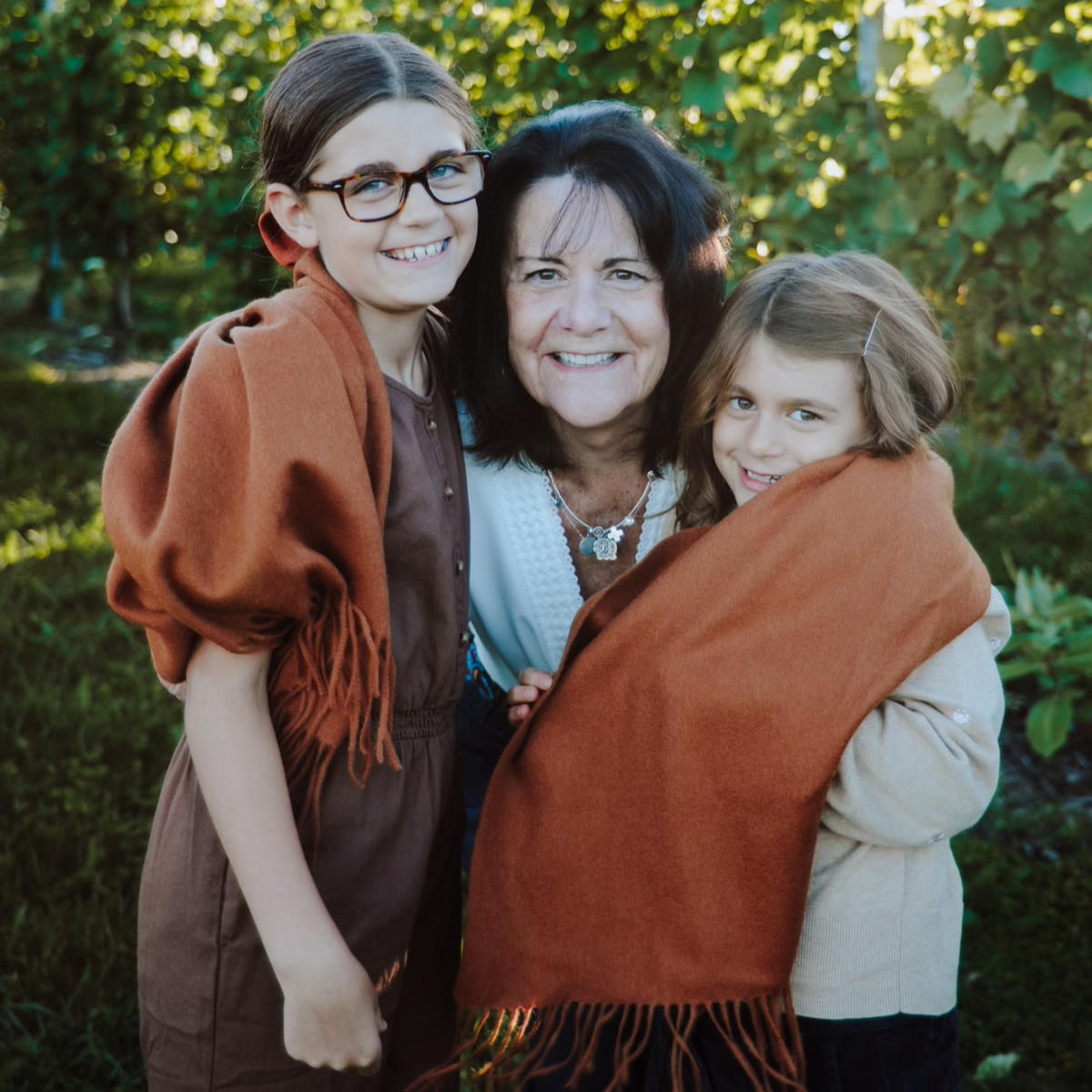 Debbie's a familiar face at Good Harbor Vineyards – even if she has officially passed on the business to her children, Taylor and Sam. Now she gets the fun part – pouring wine and chatting with people.
"I work behind the bar and wait on customers," Debbie says. "It's generally fun and I think people are generally nice. Our regulars are like family."
Case in point, she has just served a couple in their 40s who got engaged over a glass of Fishtown White at Good Harbor Vineyards years ago.
"I love stories like that," Debbie says. "I stay here for selfish reasons – I love it!"
As a teenager, Debbie attended high school at the Leelanau School in Glen Arbor, where she met Bruce Simpson – It's where their love (and vineyard) story began.
After both graduating college, they decided to marry and return home to run the Simpson family cherry farm, plant vines, and build and open Good Harbor Vineyards in 1980.
"Bruce's family already had the land and people were just starting to grow here. Bruce had the opportunity to study grapes and enjoyed it," Debbie says. "We were fortunate. Having family land is the only way to get into farming now… or having millions to invest."
It wasn't long after they moved back to the Leelanau Peninsula that they began their family – having two children. While being a full-time Mom, Debbie juggled all the ins and outs of starting the latest family business.
"My job was running the tasting room, brand design, and customer service," she says. "I loved the people who came in."
Debbie's way with customers was the foundation for success from the beginning – she is known for her wit and humor. And her love of art made the Good Harbor brand and labels stand out on the shelves in a growing Michigan wine category.
"I loved all the different artwork," she says, "and a wonderful way to support local artists."
After 40 years of dedication to the growth of Good Harbor Vineyards, the Michigan wine industry (one of the few women in the industry at the time!), and her family, Debbie made the decision to turn ownership over to her children.
"After Bruce's passing in 2009, both kids decided to come home and work in the family business," Debbie says. "It took a village after we lost him. It's a blessing that we had all these people to help us get through."
Their son, Sam, is in charge of finances and vineyard management. ("We actually take care of vineyards and make wine for others," she notes.) and daughter, Taylor, oversees Good Harbor Vineyards and Aurora Cellars (also owned by the Simpson Family Estates).
"This is a third-generation business and you have to keep growing, and adding more families and businesses to survive," Debbie says. "You have to be smart about it or you lose it. We couldn't have done this without his parents, and now we get to pass it on to our children."
Look for Debbie in the tasting room Thursdays, Fridays, and Saturdays.
Oh, and her one piece of advice for working with family? "Duct tape for your mouth!" she says, laughing. "I try to keep my mouth shut – it's really hard to do! – but I still want to have family holidays too!"
 
Try:
Two fun wines that show the warmth of this business!
Labernet: Inspired by Taylor's late Black Lab Betty, Labernet is a delicious dry red blend. Stewed dark fruit with big black cherries is found at first scent.
The Retriever: Designed after Debbie's dog, Clare. Loving aromatics of big juicy peach, and like any good Golden, joy!
And one to honor their history:
Brut: The John W. Simpson Sparkling Series honors the man (Bruce's father) who had the vision to start planting grapes and open Good Harbor Vineyards on the Leelanau Peninsula back in the late 1970s. (2022 San Francisco Chronicle Wine Competition - Gold Medal)
The Chocolate
Mimi Wheeler, founder, and Jody Hayden, co-owner of Grocer's Daughter Chocolate, Empire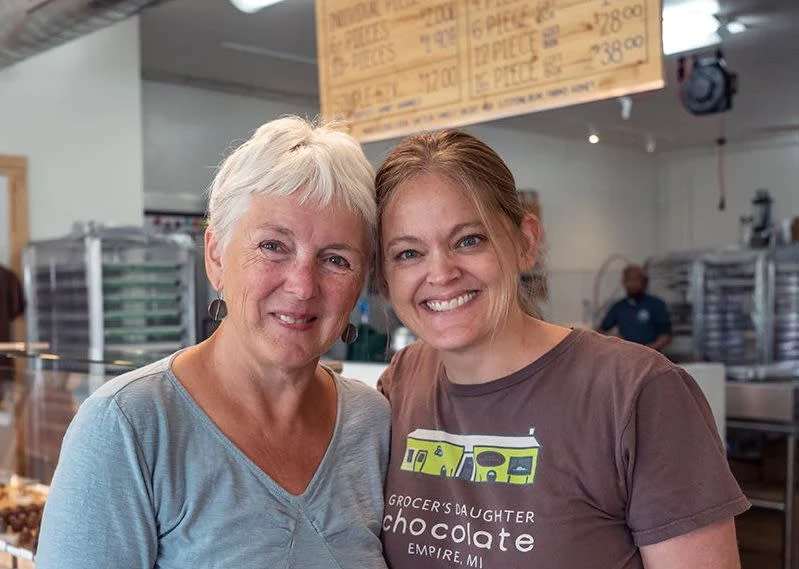 If you've ever been to Empire, you can't miss the lime green building of Grocer's Daughter Chocolate standing just outside of town! The market, which specializes in using clean, local and ethically traded ingredients, makes everything from chocolates (of course) to cookies.
Mimi Wheeler started the shop in 2004, after years of playing around making chocolate for her own friends and family. Originally from Denmark, she was never satisfied with the chocolates she could purchase in the United States, and she was always working on creating the perfect sweets. After retiring from 25 years of social work, she made the leap to open her own shop.
"It was quite novel to introduce rosemary-infused chocolate truffles when I started," Mimi says. "I live near the village of Empire and my family has been here since 1984. I loved my little community and I thought that the community would support my small business. I was aware of the Sleeping Bear National Lakeshore and the growing tourism. I was surprised by how busy I was shortly after I opened the business!
Mimi says she started on a shoestring and leaned on the people of the Empire.
"I sought help from friends for label printing and photography, and I listened attentively to owners of other small businesses. I knew that I had a steep learning curve. I was met with such generosity by all."
The name, Grocer's Daughter Chocolate, is a nod to her Denmark family's grocery store.
"I grew up in an apartment above a country grocery store in Denmark," she says. "It was the 50's and 60's. I loved the community. It was a time when people had more time on hand and would meet in the store to visit. I sought to create this atmosphere in the store in Empire, and I think that I did."
As for her family, her kids were grown when she launched it, but they all enjoyed the sweet benefits.
"I have two children, they are both married and both have two children," she says. "We are a very close-knit family. My daughter is in Minnesota, and my son is the owner of Glen Arbor Sun. My entire family has great ties to the business and the area."
After growing the business for a decade, it was time to pass it on.
Jody and DC Hayden bought the company in 2013 and moved to a newer, larger location (still in Empire) in 2018. Jody, who had previously worked in specialty coffee as co-founder of Higher Grounds Trading Co. in Traverse City, says she looked forward to the new challenge of working with fine chocolate.
"Mimi has been a dear friend for many years, and we carry on her love of high-quality dark chocolate and pure ingredients, as well as many of her original classic truffle recipes," Jody says.
Jody adds, that since taking over the business, they have focused on ethical/traceable sourcing and fully sustainable packaging, as well as introduced many new products like frozen treats, cookies, and original confections – like their peanut butter pucks (see below). They have two young boys and Jody says it remains to be seen whether they will carry on the business someday!
"I am only in awe of Jody and DC's progress. They have expanded Grocer's Daughter Chocolate significantly, added fine gelato, scrumptious baked goods, and have only sought ever finer chocolate," Mimi says. "I visit (too) often because I am addicted to superior chocolate!"
TRY:
Chocolate-Covered Ginger - Perfectly balanced organic candied ginger covered in 70% dark Manabi chocolate.
Dark Chocolate Peanut Butter Pucks - Brand new! Their recipe features locally made peanut butter, ethically traded 70% Ecuadorian and a touch of salt. (And yes, they are shaped like hockey pucks!)
Whiskey Figs - An organic Turkish Golden Fig filled with dark chocolate ganache made with Iron Fish Distillery's Bourbon Whiskey and The Farmer's Creamery heavy cream and hand-dipped in 70 % dark chocolate.