Each year people flock to Traverse City to see one of Mother Nature's most beautiful displays - the cherry blossoms. The blossoms blanket the miles of rolling hills throughout the area, and with the amount of attention they draw it's fair to say there are plenty of questions that go along with them!
So we've narrowed those questions down to the "Top 3 Things to Know about the Cherry Blossoms around Traverse City" - including when they'll be here (just an estimate time frame), how long they last and where the best places are to see them.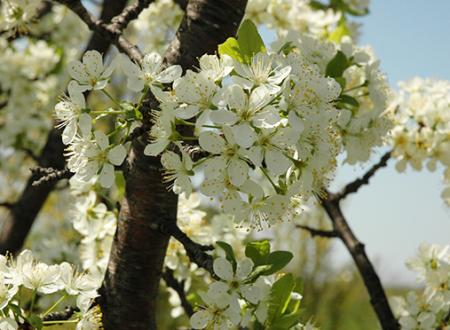 When will the blossoms bloom?
The region is scattered with cherry orchards so some areas might see blossoms appear midway through the month of May, while others might take slightly longer. Typically, blooms are first spotted in the Acme and Williamsburg areas because trees in those areas are generally farther away from the water, thus resulting in slightly warmer temperatures for the blooms. Next we have historically seen blossoms start down in Benzie county, followed by the southern and mid-portions of Leelanau County. As we work our way north to the fruit-growing portion of Leelanau County, the blossoms will follow with the latest blooms showing up in the Northport area and tip of the peninsula. The trend is similar on the Old Mission Peninsula with blooms typically showing first near the southern portion and progressing as we head north towards the town of Old Mission. 
How long will the blossoms last? The blossoms on the trees last on average of four to five days, but because different parts of the region bloom at different times, it's a safe bet you can see blossoms for one to two weeks on average if you make the rounds!
Where are the best places to see the blossoms? So, you're wanting to head out and see the beauty in all of its natural splendor? If you're heading out the Old Mission Peninsula, one of the best routes to take is straight out M-37. The state highway runs the entire length of the peninsula with views of East and West Grand Traverse Bay along the way, vineyards and, of course, cherry blossoms! In Leelanau County, one of the best routes to venture along is County Road 633, which takes you through the heart of the county. The road meets up with the famous M-22 before jetting back into the middle of the county's fruit-growing country north of Suttons Bay.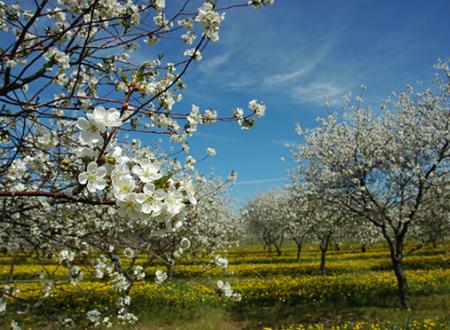 Since the season can bloom and be gone before we know it, make sure to stay tuned to our Facebook page to keep up-to-date on exactly where the blossoms are happening and what you can expect if you're headed out to see them!