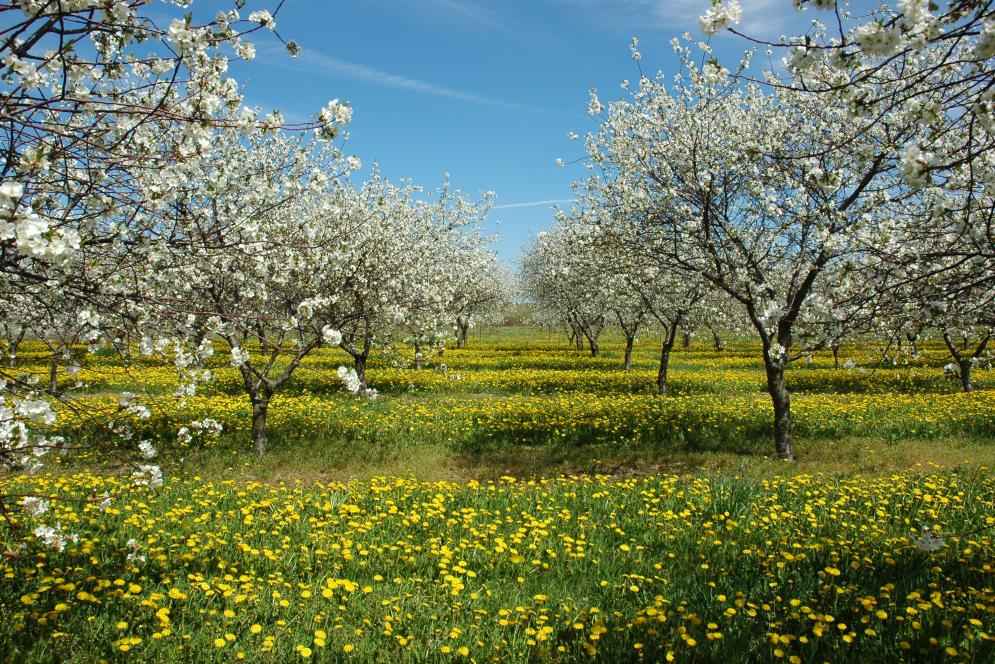 Four years ago, my wife Heather and I rented a house on the Leelanau Peninsula, just to the south and west of Northport. We had recently become a family of five -- our twin girls were 11 months old and our oldest daughter had just turned four. 
It was a long weekend getaway at a time when we were considering a move to Traverse City from our home in metro Detroit. We loved Traverse City, and had visited many times, but never in May. 
As we drove up the peninsula en route to our rental, we became awestruck by what we saw. Soft pink and white seemed to blanket the land as the cherry blossoms we had heard so much about spread their floral glory. Around every corner, and over every hill, the view became more majestic.
13 months later we moved to Traverse City. I can't say that it was the cherry blossoms that drew us here, but there's no doubt that their beauty stuck indelibly in our hearts and minds as a symbol of what beckoned us here, and then ultimately brought us here -- beautiful landscapes and fresh beginnings. 
Every spring since, as the orchards come to life and the cherry trees blossom, we feel spoiled by our newfound proximity to this region's riches. Over time, we've learned the best way to celebrate the magic of the season is to get out and take tours -- especially on the Leelanau and Old Mission peninsulas where we can stop for a few wine samples along the way. May is also Michigan Wine month, so there are plenty of activities on the calendar to celebrate the wine and blossoms during Traverse City Uncorked!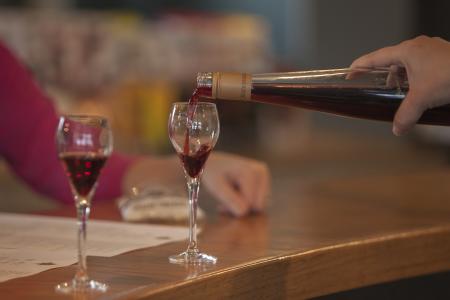 Old Mission Peninsula
Taking a drive up M37 (Center Road) on Old Mission Peninsula is delightful year-round. It's a journey full of farms, orchards, barn quilts and stunning views of West and East Grand Traverse Bay. And, when cherry blossom season hits, this scenic route is not to be missed! 
The peninsula is a glacially formed jut of land spanning 19 miles long and three miles wide at its broadest point, so it's easy to take in its entirety during an afternoon drive. But why rush? The views are so lovely, and the wine so delicious, it's best to take your time and savor the experience.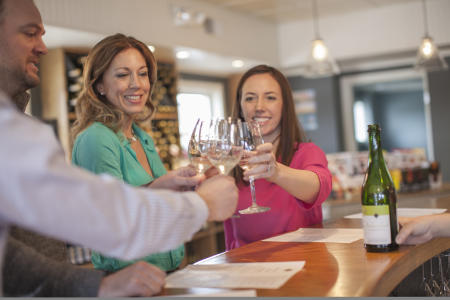 There are outstanding wineries and vineyards to visit along the Wineries of Old Mission Peninsula wine trail, starting with Black Star Farms and Mari Vineyards in the south, and ending with Chateau Chantal and 2 Lads in the north. There are ten wineries in all on the peninsula featuring wonderful riesling, pinot gris, cabernet franc, pinot noir, and many other delicious varietals. From sweet to dry, still to sparkling, there's a style that you'll love no matter what mood strikes you. So sit back, relax, and enjoy a glass of wine on a tasting room patio, while soaking in the sparkling blue and subtle pink colors before you.
Leelanau Peninsula
While a tour of Old Mission's wineries and cherry blossoms can be done in a day, tackling the entire Leelanau Peninsula Wine Trail is more suited for a weekend itinerary. There are three interconnected wine trails on the peninsula that offer scenic routes to view cherry blossoms and sample outstanding Northern Michigan wines. 
The wine trails include the Sleeping Bear Loop in the west, which includes wineries such as Rove Estate, Chateau Fontaine, and Good Harbor Vineyards; the Grand Traverse Bay Loop in the east, where you'll find L. Mawby, Black Star Farms, and Shady Lane Cellars, among others; and the Northern Loop, which features wineries such as Boathouse Vineyards, Leelanau Cellars, and 45 North. There are 26 wineries in all located along the entire trail, which winds through lush landscapes with stunning vistas.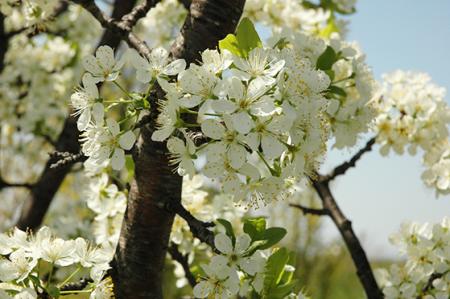 There are cherry orchards spread throughout the peninsula, so you won't miss the beautiful blossoms, but one of my favorite drives is north on County Road 641 from M72 just west of Traverse City. A journey up 641 will take you through farms and orchards, and a stretch of it hugs the eastern shore of South Lake Leelanau before it spills you into the Village of Lake Leelanau. From that point, smack dab in the middle of the peninsula, you can head in any direction and find lots more spring scenery to take in.
One of the best parts about touring the Leelanau Peninsula is that it's easy to grab a delicious bite to eat in one of the port towns, such as Suttons Bay, Northport and Leland. Great food, great wine, and great views of the stunning cherry blossoms in May -- does it get any better than that?