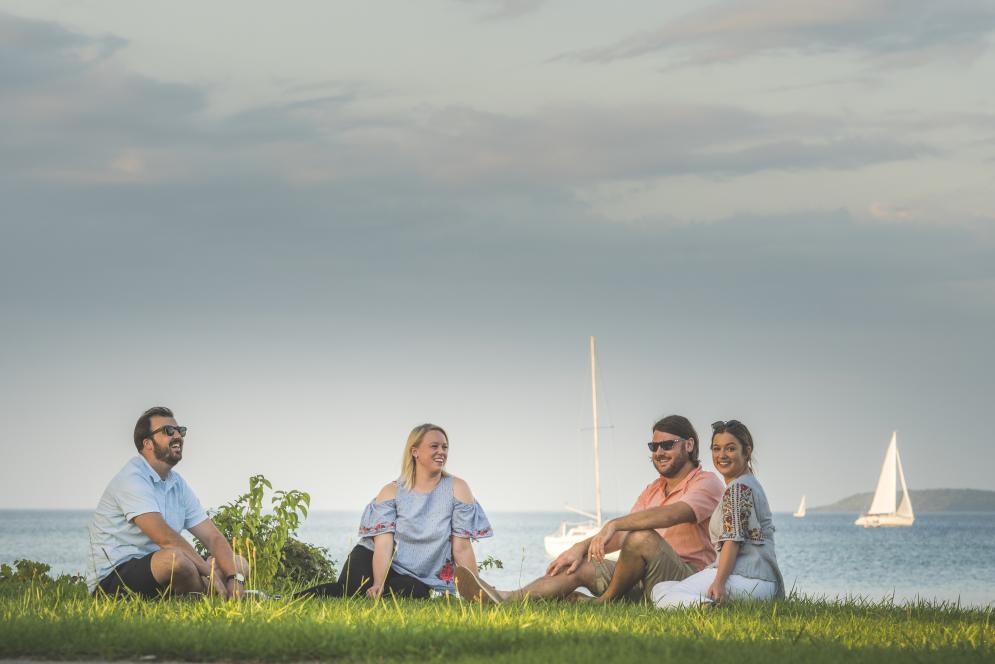 August is National Picnic Month! At the crossroads of cuisine and the outdoors, the picnic is the perfect union of two of the best things that Traverse City has to offer. Here is a guide compiled by a local to the finest picnicking spots in the area coupled with suggestions of go-to markets and eateries to fulfill the all-important food element of your idyllic, summer picnic. 
Grab your favorite picnic blanket, a basket filled with local fare, and a friend you haven't caught up with in a while to partake in National Picnic Month. 
Greilickville Harbor Park 

Just outside of the hustle and bustle of Downtown TC, Greilickville Harbor Park is a picturesque and peaceful spot nestled on West Grand Traverse Bay. The park offers both covered picnic tables and benches out in the sun to sit while you snack on your picnic goodies. With a recently renovated playground for children, a sandy beach area, and views of the water and the Elmwood Marina, the whole family can enjoy a picnic while marveling at the boats in the bay or taking a break to play.  
Located less than a mile away from Greilickville Harbor Park, Tom's West Bay is a grocery store with a deli, bakery, and even sushi made fresh daily! Fill your basket with your party's picnic cravings at Tom's before heading over to the park.  
Veronica Valley County Park 

Veronica Valley County Park is a retired golf course in Leelanau County that boasts bridges, picnic tables, rivers, ponds, and lush greenery. There are trails to explore after you finish your picnic lunch that take you over the bridges and through the woods, passing through the old golf course grounds. This park is another family-friendly spot, as children can fish in the fishing pond and traverse the grounds at length. Veronica Valley is my personal favorite picnic spot in Northern Michigan due to its unique beauty, quaintness, and opportunity for exploration.  
In the nearby town of Suttons Bay lives Bay Burrito Co. Veronica Valley County Park is a bit removed, but Bay Burrito Co is only a ten-minute drive from the park. For the unorthodox picnicker, they offer a variety of tacos, quesadillas, bowls, and, of course, burritos. 

Old Mission Point Park 

For panoramic views of Lake Michigan and sights of the historic Old Mission Lighthouse, take a trip up the Old Mission Peninsula to picnic at Old Mission Point Park. Not only is the park beautiful, but the drive to the park by the water and through the vineyards is not one to miss. The park has picnic tables by the water access point and trailheads throughout for a post-picnic walk.  
On your way up the peninsula to Old Mission Point Park, you will pass by Bad Dog Deli. Stop here to build your own sandwich and please every picnic-goer in your group.

Bryant Park 

Bryant Park's central location and popularity make it a reliable, go-to picnic location. The park has a beach on the bay, a playground, picnic tables, and even a grilling area. You can find shade and sun at Bryant Park while you enjoy your picnic with friends and family.  
Mary's Kitchen Port is located in downtown Traverse City and is known for its famous "Gobbler" turkey sandwich. Before your picnic, swing by Mary's to pick up a Gobbler or any of their other pre-made sandwiches and delectable pasta salads; my favorites being the Italian Rustic and the Tuba pasta salads.  
Grand Traverse Commons  

A classic Traverse City picnic area, you cannot go wrong with the Village at Grand Traverse Commons. The sprawling grounds, the abundance of picnic tables (both covered and uncovered), and the variety of local eateries and breweries make it the ideal place to picnic.  
For the Wednesday and Saturday Picnickers: Regardless of your preferred picnic setting, make your first stop at the Sara Hardy Farmer's Market in Downtown Traverse City. Here you will find a bountiful selection of local produce and baked goods with which to fill your picnic basket.