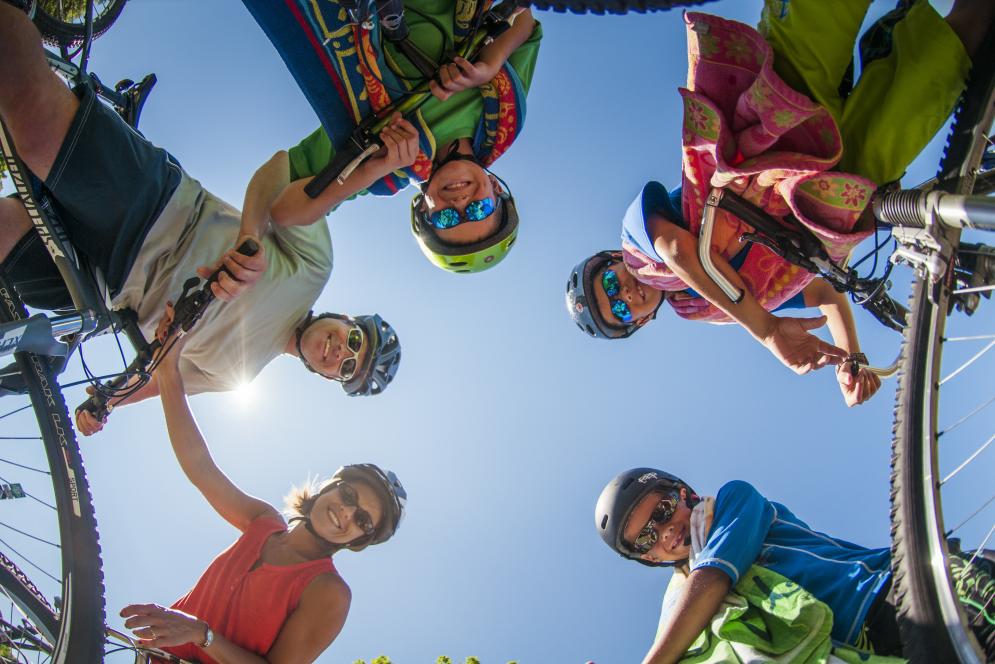 As summer heats up and events like the National Cherry Festival bring more people to the area, traffic will continue to increase, slowing down commute times. If you are looking to avoid the traffic this summer, here are some viable alternative modes of transportation. 
Public Transportation
 
BATA (Bay Area Transportation Authority) Bus
If you want to save gas and are looking for an affordable way to get around Traverse City, the BATA buses are a great option. The BATA Bus system offers the free Bayline bus route, as well as other loops with one-way fares that range from $1.50 to $3.00. The BATA buses transport passengers all around the Grand Traverse and Leelanau Counties at designated locations.
All BATA buses are wheelchair-accessible with access lifts for passengers who are not able to walk up the bus steps. Furthermore, BATA has the Adopt-a-Stop program where community members can volunteer to take care of a bus stop for those passengers who use mobility devices to reach their stop. Before they even get on a bus, BATA wants to accommodate every passenger by increasing the number of benches, shelters, and other amenities at all of their bus stops. 
The free Bayline bus route, which connects the west and east bayfronts, runs from 6 am-9 pm Monday-Friday and 9 am-9 pm on Saturday, with buses arriving at designated locations every 20-30 minutes.
BATA bus also offers the Link On-Demand service, which acts like a traditional dial-a-ride in the Traverse City area, as potential passengers can schedule online, call the BATA Customer Service phone number or use the TransLoc mobile app to request a ride from their location in real-time or up to a full day in advance. The full fare for Link On-Demand is $6.00, whereas students, seniors, persons with disabilities, and veterans or active military persons can ride for a reduced fare of $3.00.
For maps and schedules of individual bus lines, visit the BATA website.
Benzie Bus
If you want to get around in the Interlochen, Honor, Beulah, and Frankfort areas, the Benzie Bus system is another dependable option. This system provides airport service to and from the Cherry Capital and Manistee Blacker Airports, regional transportation options that can connect passengers to other bus systems in the state, non-emergency medical transportation, and package delivery. The service makes stops all around Benzie County and hours and rates vary depending on what service you plan on using.
Visit the Benzie Bus website here.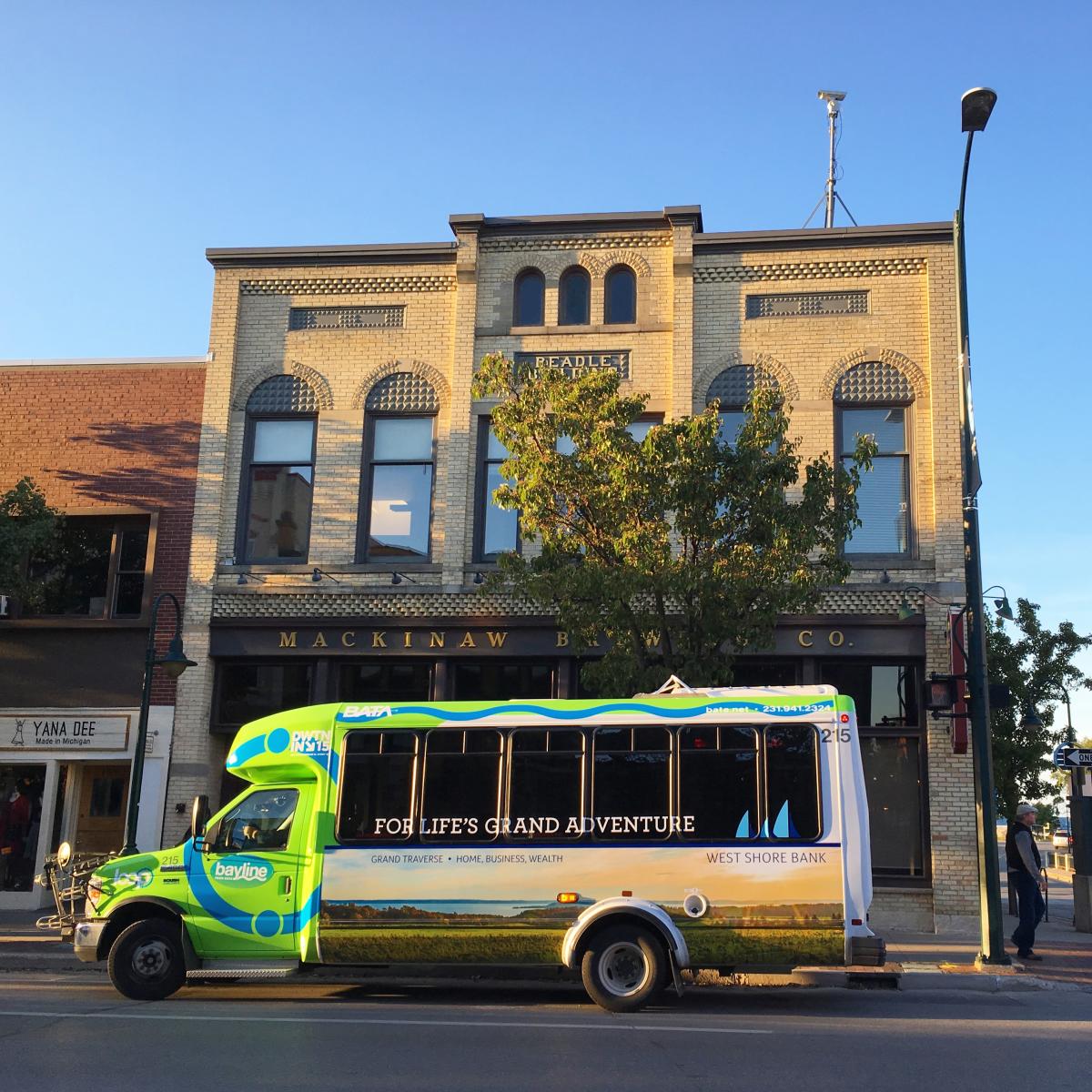 Cab Service
 
Grand Traverse Rides
Grand Traverse Rides gives personalized wine tours and transportation to and from the Cherry Capital, Grand Rapids, Detroit Metro, and Chicago O'Hare International Airports. This locally owned and operated cab service is a professional and dependable option for those who want to make their traveling experience less stressful than it needs to be.
Call or text (231) 620-4815 for more information.
Lyft & Uber
If you are looking for a quick, last-minute ride, Lyft or Uber are always great options. The national ride-sharing services are operated by their respective mobile apps, offering on-demand transportation based on a sliding fee scale in and around Traverse City.
However, the options for riding with Lyft or Uber in the Traverse City area are limited because the number of drivers has decreased since the pandemic. So, always be sure you have a backup or call ahead of time to see if a car will be available at the desired time.

Walking & Biking
If you are looking to save gas, get some exercise and explore Traverse City in an environmentally friendly way, here are some trails and bike tours that allow you to enjoy the natural beauty of Northern Michigan.
TART Trail
The Traverse Area Recreation Trail (TART) is a 10.5-mile-long paved trail that runs from Acme Township to Traverse City and is a great way to explore the area without dealing with the stress of driving.
Specifically, the TART in Town Trail allows walkers, runners, and bikers to explore downtown Traverse City as the path winds through Clinch Park and the Clinch Park Marina, Bryant Park, F&M Park, and the Village at Grand Traverse Commons.
Boardman Lake Trail
This 4-mile loop, completed in 2022, encircles Boardman Lake and is the perfect length for those who want to enjoy a 1–2-hour walk. While the path offers access to local businesses like Oryana, the Filling Station, and Right Brain Brewery, it also provides wonderful views of Boardman Lake and its wildlife and surrounding vegetation. The Boardman Lake Bridge is an especially frequented destination for birdwatchers as there is no shortage of waterfowl on Boardman Lake.
Parking is available just south of the Traverse Area District Library as well as in Logan's Landing off South Airport Road. It is also accessible from 8th Street near Copy Central, the Oryana Trailhead, Lake Street, or 14th Street if you are walking or biking to the trail.
Leelanau Trail & Grand Traverse Bike Tours
This trail connects directly off the TART trail and provides a 17-mile-long paved pathway through Traverse City up to Suttons Bay. The Leelanau Trail takes you through forests, lakes, vineyards, and recreational areas such as the DeYoung Natural Area. Parking is available at Cherry Bend Road, Fouch Road, Shady Lane, and 4th Street in Suttons Bay.
If you want to explore this trail by bike but don't have your own, Grand Traverse Bike Tours offers bike rentals and a way to plan your whole day. They make winery suggestions and provide lunch and these tours are self-guided so you can spend as much or as little time at one of the seven wineries along the trail as you want. So, go outside and smell the grapes.
Whether it be by bus, cab, walking, or biking, Traverse City provides many options to explore the region safely and affordably. Breathe the fresh air and feel the wind on your face as you explore the sights as you've never seen them before. These alternatives allow you to take a break from driving, slow down and enjoy the view.
 
You might also like: