Support a charity & sponsor an athlete
The Traverse City Tourism Foundation has awarded complimentary IRONMAN® 70.3 entries to five local charities. These charities will campaign for pledged dollars in completing the IRONMAN® 70.3 with all pledged dollars going directly back to the associated charity. The five local charities include Munson Manor Hospitality House, Friends of the Betsie Valley Trail, Paul Oliver Memorial Hospital, Frankfort Lighthouse, and Single MOMM.
Munson Manor - Justin Mortier, Travis Forfinski and Dan Spalla

Munson Manor Hospitality House provides a home away from home to patients and their families while receiving treatment at Munson Medical Center. To support this mission, Justin Mortier, Jeremy Crum, and Dan Spalla are participating in the upcoming competition. Justin knows the importance of having a safe, comfortable place to stay during an unexpected medical event. His son, Mac, was born with complications and required extensive treatment at a children's hospital. Justin and his wife stayed at a local hospitality house, which eliminated their need to travel and provided them with a space to relax after stressful days. This is why he's chosen to support Munson Manor - to ensure northern Michigan families will always have a place to stay while receiving medical care. 
Betsie Valley Trail - Frederik Stig-Nielsen
​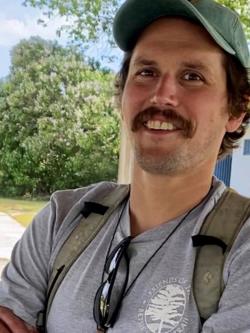 Local triathlete, Frederik Stig-Nielsen, will be representing the Friends of the Betsie Valley Trail in the September event.
"I've always wanted to do an IRONMAN competition and I couldn't miss the opportunity to do it here in our back yard", beamed Frederik. "I use the Betsie Valley Trail at least once, sometimes twice a day year-round, so when I was asked to represent the trail and help raise money for the Friends, I was elated."
Show Your Support for the Friends of the Betsie Valley Trail
Paul Oliver Memorial Hospital - Adrienne Stephen Jones, Dr. Nancy Smith & Michelle Russell
​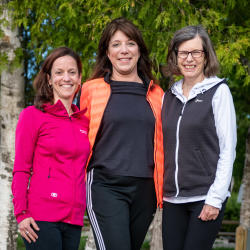 POMH Chief Medical Officer and Frankfort Medical Group primary care physician Dr. Nancy Smith will kick off the event by swimming 1.2 miles in the waters around beautiful downtown Frankfort. POMH Board Member Michelle Russell will follow Dr. Smith and cycle 56 miles throughout Benzie County and beyond. And Adrienne Stephen Jones, DPT and POMH Rehab Director, will perform the final leg of the event by running 13.1 miles around beautiful Betsie Bay. 
Frankfort Lighthouse - Ross Hammersley

Ross Hammersley is the City Attorney for the City of Frankfort, a husband and father of two, and an amateur triathlete that has been competing for over 15 years.  As a lover of both the history of the Great Lakes and the City of Frankfort, Ross is proud to take part in this year's race to raise funds to support the City's efforts to preserve and restore the iconic North Breakwater Light House in Frankfort.
The City of Frankfort obtained the North Breakwater Light in 2011 under the National Historic Lighthouse Preservation Act (NHLPA) program. The City is dedicated to the full preservation of this significant structure which stands as a symbolic tribute to our maritime heritage.
Single MOMM - Patrick McIntyre

Patrick McIntyre, born and raised in Traverse City, MI, has been competing in triathlons since 2012.  Starting with sprint distance events, working his way up to Ironman Lake Placid where he competed in 2017.  Ironman 70.3 Michigan will be Patrick's fourth 70.3 event and first since 2018.  Patrick is married with three children, and one on the way in late August 2021.  He owns and runs three businesses in northern Michigan and is passionate about supporting the more vulnerable members of his community.  In addition to training for and competing in triathlon events, Patrick enjoys traveling and spending time outdoors with his family.

Single MOMM guides families to healthy independence, ensuring stability of the families are long lasting by deeply investing in women that are hardworking, courageous, determined and willing to persevere.