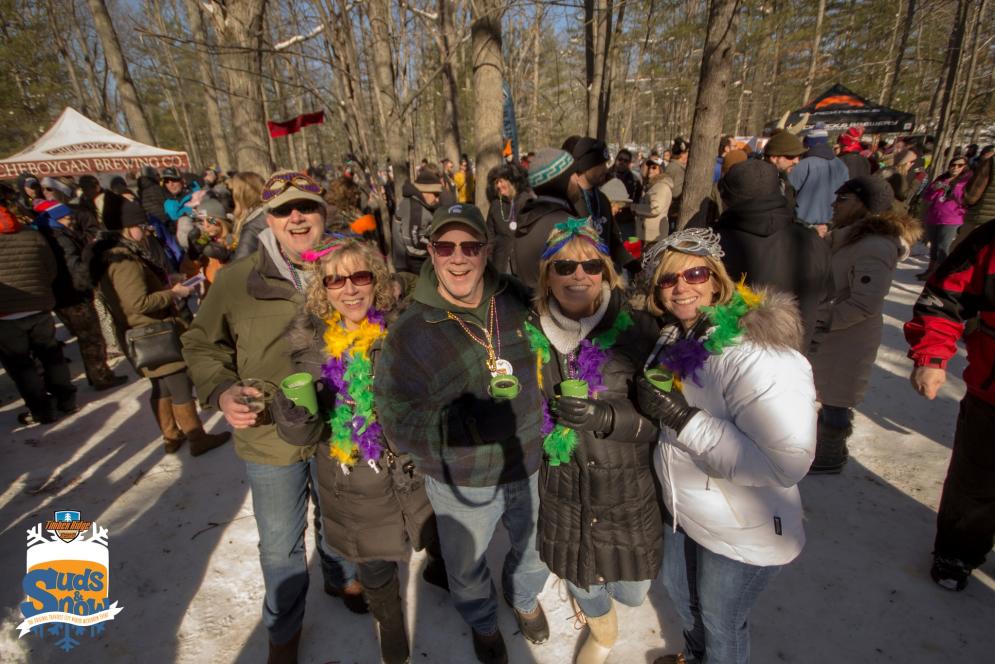 The 16th Annual Suds & Snow is BACK for an afternoon of some winter fun! After a 1/2 mile hike through the woods, you'll find two live-music stages featuring local musicians, 20 + craft vendors serving beer, wine, & cider, and local food trucks. 
Check out this Q&A that will be helpful when planning to attend the event: 
How did the festival come about?  
Suds & Snow started at Timber Ridge Resort in 2005 with 25 people attending the first event. 
Who was the brainchild behind this?
It was the brainchild of Gordan Wagner the owner of Timber Ridge who ran the event for nine years and considered closing the event in 2015 but instead passed on the management to Mike Moran, Troy Daily, and Jeremy Smith. Moran, a musician in the Traverse City area, performed at Suds & Snow on numerous occasions and expressed interest in taking over management of the event with Troy and Jeremy. It's been a joint venture partnership ever since. 
What date is it this year and where is held? 
The event is held at Timber Ridge Resort annually and this year it is going to be held the first Saturday of March 4th from 1 pm to 6 pm. This will be the 18th year of the event! It is unique because the event site is in the woods, about a mile hike from the resort lodge, which is why it is known as "the ultimate party in the woods." 
What can people look forward to from the venue?  
The event caps out at 3,500 attendees and includes 30 + craft beer, wine, cider, and non-alcoholic vendors pouring beverages for those who are enjoying live music, and 2BAYS DJS. Food trucks and yard games are spread throughout the event site.  
What is the best way for people to get to the festival grounds?
Every year we add more free shuttle buses running from the Old Town Parking Deck in downtown Traverse City between Lake and 8th Street. We release a tutorial video of the shuttle routes the week of the event. Timber Ridge does have paid parking on-site and most designated drivers have chosen to use that service
Do you have any recommendations on attire?
Every year the Suds & Snow team chooses a costume theme for the event. This year the theme will be Mardi Gras. Past themes included the '70s, '80s, Wild West, and Luau. We always want people to dress with the theme but underneath that, we recommend whatever keeps you warm. Firepits are always burning but layers are recommended!
How much are the tickets, and do they include any drink tokens?
Ticket prices range, on the website tcsudsandsnow.com, from $40 to $70. All Early Bird VIP tickets are currently sold out.
How many breweries are going to be there, and can attendees get a list of beers they will offer?
We're looking at 30 breweries, and Cider Houses. Bonobo Winery is our exclusive Winery for the event. In the past, we have offered a list of what's being served days before the event on the website and social media. We do like to offer brands that are rare and seasonal.
What beers are you most looking to sample?
That's a tough question because we know our vendors always bring the good stuff. One thing that we feel is an underrated part of our festival is that it's an opportunity to see a lot of the Northern Michigan Breweries side by side pouring their craft together. You won't see Lake Ann or Hop Lot at a lot of the other festivals but you'll see them here because they find Suds & Snow to be the right vibe for them. These breweries are friends and have grown up in the industry together. This is a party in the woods not a party in a parking lot, and we hear that all the time from our vendors. We put a lot of thought into who we select to pour at this event, they're kind people, they embrace the vibe and theme, and they don't want to pour all their offerings in the first two hours and skate. They put a lot of thought into what they want to pour at Suds & Snow. We trust our vendors and they trust us to plan a great party that celebrates the coming of spring.
What other offerings are planned for those that may want something different?
We always have non-alcoholic beverages set out for attendees for free, thanks to our sponsors 4Front Credit Union and MI Local Hops. Besides beer, Cider, Wine, and Seltzer are on the menu. Non-alcoholic hop water is omnipresent as well.