"I love looking out over this landscape in wintertime," said Liz Berger. "You can see the bones of the land."
Liz is general manager at the Chateau Chantal Winery. She said this to me one winter day as we stood at her office window, high above West Grand Traverse Bay, and peered down at a swirling panorama of snow-covered vineyards, pewter lakes and dim, distant hills that hovered faint and ghostly as mountains in a Japanese watercolor.
Yep. The bones of the land.
I'd almost forgotten that phrase, until I heard Liz repeat it a few weeks ago while explaining Traverse City winters to a visiting travel writer. What she meant, of course, is that winter strips away much of the visual clutter that conceals the wrinkles and contours of ridge, ravine, hill and hollow, allowing us to see into the landscape in ways that are denied us in summer, spring and fall.
Not everyone loves winter, which I suppose is why God invented Florida. But some of us do, because we find it has a beauty that resonates with us. And it is easier to see that beauty in a place like Traverse City, where the bones of the land are sweet and lovely.
Winter isn't a sleepy season here in Michigan's True North. The busy pace of summer and fall has subsided, but everything I love about Traverse City is still there: great restaurants, charming downtown boutiques, wine tasting on the Old Mission and Leelanau wine trails, and exhilarating outdoor recreation. And with fewer crowds and reasonable off-season pricing, winter is a particularly relaxed and economical time to experience it.
I'm pretty sure that's why Livability.com listed Traverse City as one of "America's 10 Hottest Cold Cities" – the nation's best winter vacation destinations. They said Traverse City had "all the ingredients for a great winter vacation – a quaint downtown with beautiful views of Lake Michigan, microbreweries, restaurants, shops, performance venues and lots of snow."
But let's be honest. There are two ways to enjoy winter, the Inside Way and the Outside Way, and the real winter attraction in Traverse City is Outside. Each winter this gently sculpted landscape (carved 15,000 years ago by the last retreating glaciers of the Ice Age) is transformed into a magnet for skiers, snowmobilers and snowshoe hikers who (like me) consider this one of the country's most beautiful winter destinations.
If you're a downhill skier or a snowboarder, the region's premiere full-service winter destination is undoubtedly Shanty Creek Resorts, a 4,500-acre recreational complex in the beautiful Chain of Lakes region about 30 miles northeast of Traverse City. Ski Magazine rated Shanty the Midwest's number-one destination in value, dining, lodging, weather and après ski activities.
Other skiers have discovered the fun of staying closer to town, taking advantage of low lodging rates and a broad choice of shopping, dining and entertainment options while skiing at Traverse City's two day ski areas, Mt. Holiday and Hickory Hills.
Still, Traverse City is best known for the quality of its winter "silent sports" -- snowshoeing and cross-country skiing -- thanks to its vast acreage of forest and parkland. Personally, I find myself doing more snowshoeing than cross-country skiing these days. It doesn't  take a lot of skill or training to use snowshoes. They're easy to slip on and off, and they're less likely to suddenly slide out from under you than skis.
Apparently, I'm not the only one; snowshoeing has become America's top snowsport choice. Last winter over 5 million Americans strapped on a pair of snowshoes and went for a winter hike, and the sport has grown by around 17 percent each year over the past decade.
Traverse City is full of great places for snowshoeing. Some of my favorites include the trail system at Mission Point at the tip of the Old Mission Peninsula, the Pelizzari Natural Area off Center Road, the Lost Lake Pathway near Interlochen, the 3,500-acre Sand Lakes Quiet Area near Williamsburg and the Vasa Pathway, one of the finest cross-country ski trails in the Midwest. Inside the city, the 300-acre Grand Traverse Commons features great snowshoeing in parklike grounds among century-old, European-style buildings and stands of old-growth pines.
Some of the best snowshoeing in the area, by the way, is at the Sleeping Bear Dunes National Lakeshore, which has eight marked trails, some leading up to panoramic overlooks high above the Lake Michigan.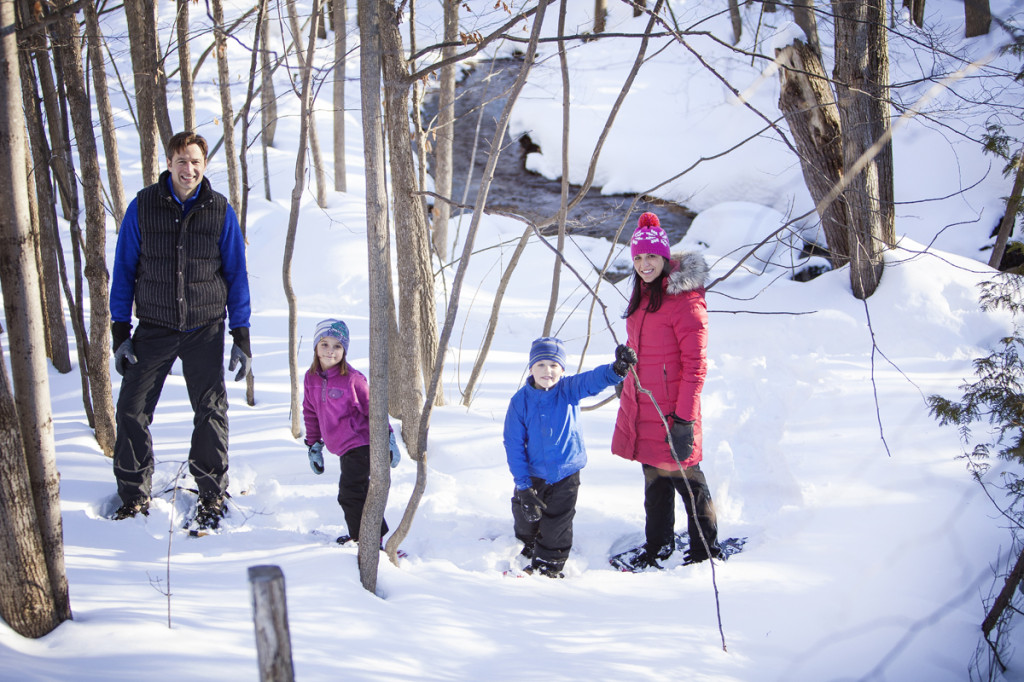 If you've never tried snowshoeing before, the National Lakeshore offers a great way to experience it as a first-timer. Park rangers hold regular guided snowshoe hikes every Saturday at 1 p.m. through March 7.  Just meet up at the park Visitor Center in Empire, where you'll get a crash course in snowshoeing before heading out to the trail — and if you don't have snowshoes, they'll loan you a pair at no charge.  You'll have to purchase a park entrance pass if you don't already have one, and you should make reservations since the hikes are limited to 30 participants.  Call 231-326-4700, ext. 5010 for details and to make reservations.