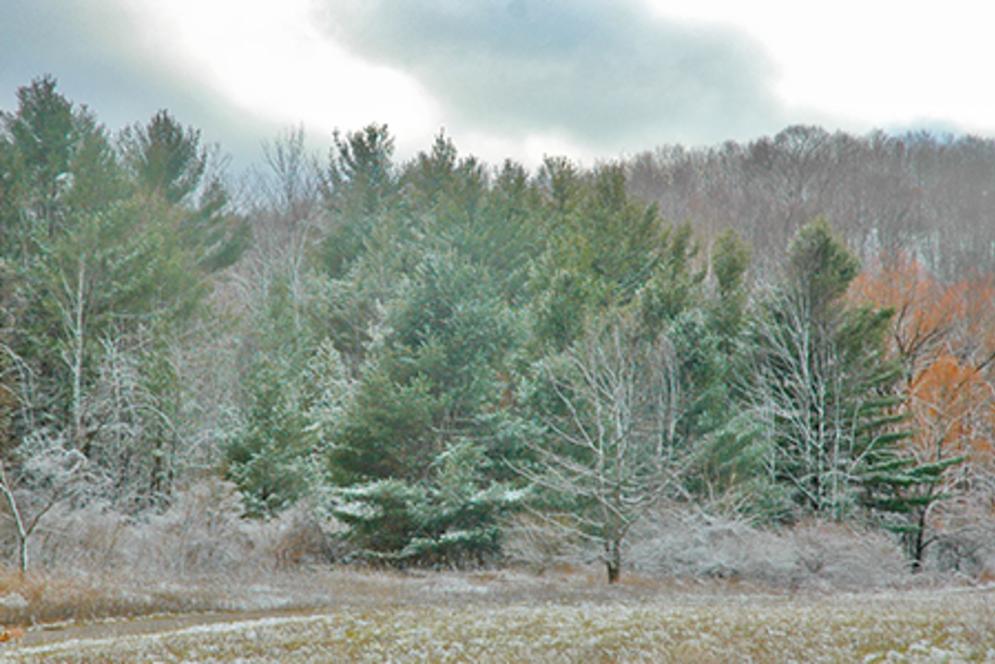 Strange as it may seem, winter can be an amazing time to take a hike in the beautiful outdoors of the Traverse City area. We asked Sandy Graham of Backcountry North to tell us about his favorite winter adventure. His idea? A night hike to the top of Pyramid Point at the Sleeping Bear Dunes National Lakeshore! (We hasten to add that it's also a pretty fine hike in the daytime. For a look at some less demanding winter walks and hikes in the Traverse City area, click here.)
Hiking in November, December or the rest of the winter? Well, why not? 
In fact, why not try it at night? That's the kind of thing that turns an outing into an adventure, and sometimes adventure is the point of the outing.
For us, there's not really a more breathtaking experience than climbing out to the top of Pyramid Point in the winter, at night. Walking out onto the windblown areas is dramatic -- you're in the woods, you're on top of the dunes, there's a little of everything. The views are expansive and vast, overlooking both the beauty of the Leelanau Peninsula and the vastness of Lake Michigan.  But it's the shoreline contrasted against the dark of night, with the stars and moon aglow, that is the most dramatic; it leaves a lasting impression with you. 
Going out at night in January or February feels like a mountaineering trip -- except you can do it right here. Nighttime conditions are also more consistent; there aren't nearly as many problems with overheating or back-slipping on the snow on your way up the trail.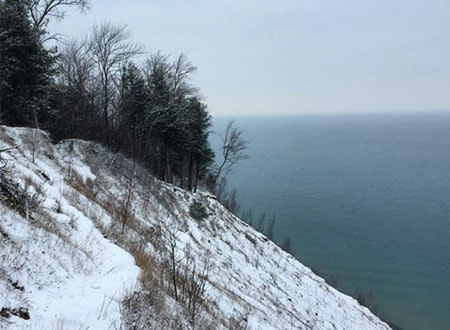 Photo provided by Northern Swag
Some assume a hike like Pyramid Point is way beyond their skill level. But really, it's a short walk and it's only a medium on the effort scale.  Besides, that's where that sense of adventure comes from: pushing yourself beyond what you thought you could achieve. 
In the everyday stresses and routines of life, most of us get ourselves wrapped a little too tightly and let things weigh down on us that aren't really that critical. We become so domesticated that we lose our sense of fight or flight. That's why it's a really powerful thing to go out and seek adventure. When you go into the wild and explore for yourself, you're challenged to find those skills and responses in yourself again.
It's always the most memorable when there's a whole lot of snow, it's colder than can be, and is blowing like stink.  Those are the things that REALLY make it an adventure -- they're the things we all like to brag about afterward.  What's the fun of bragging about a perfect day?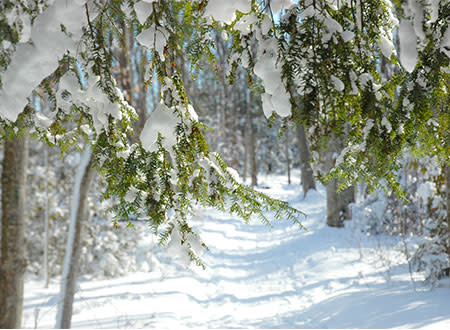 Be brave, not stupid -- dress for the conditions and take the right stuff, because you can't brag if you don't come back (click here to win $800 in Smartwool products).  But don't be afraid to seek that adventure, to do something that gives you a new way of seeing this vast and beautiful place, to seek that sense of adventure within you and discover it was there all along. If you don't make it happen, it's not going to get done.
The Pyramid Point Trailhead is in the Port Oneida area between Glen Arbor and Leland. Take Port Oneida Road to Basch Road, and you'll find the parking area and trailhead on your left. The trail itself is less than three miles in length and passes through three extremely different environments: maple-beech forest, high bluffs, and meadow.  To learn more about additional winter hiking areas in Traverse City area, click here.