By MIKE NORTON
When you live and work up here in Michigan's True North, you realize pretty quickly that winter requires you to make adaptations. And that's as true in the restaurant business as it is in anything else.
On the other hand, some adaptations can lead to serendipitous discoveries of awesomeness – like the new LTO (Limited Time Only) program at The Little Fleet on East Front Street. What started out as a sort of "indoor food truck" has quickly become an opportunity for aspiring restaurateurs to demonstrate what they can do – one month at a time.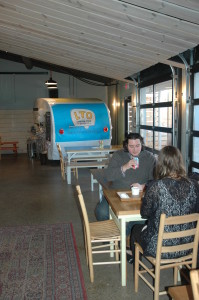 Two years ago, former New Yorkers Gary and Allison Jonas – who created the popular Brooklyn eateries Sycamore and The Farm on Adderly before moving to Traverse City – created The Little Fleet by turning the former Jack's Market into a full-service bar whose food service has been largely provided by the food trucks they invited to open up shop in their parking lot.
The Jonases had originally hoped to keep their popular street food scene going all year, using heat lamps and other amenities, but last year's harsh winter persuaded them that they needed to try a different strategy. They took one of their own food trucks (a cute little trailer that housed the EZ Cheesy restaurant last summer) and brought it inside the bar, where they're making it available each month to a different chef.
"The idea behind this place has always been to keep things new, fresh and exciting," says Gary. "I think people really like having a different style of food here each month – I know I do."
The arrangement allows The Little Fleet to provide lunch and dinner for their customers without having to get into the cooking end of things. And for the 30-day chefs, it provides even more.
"Some of these folks are hoping to start out on their own, and for them this is like a business incubator or a stepping stone," says Gary. "On the other hand, some vendors are just passionate about food."
The LTO experiment began in November with the introduction of KoKo's Café, a venture by husband and wife team Carlos Carcia and Korrie Chichester, who were able to try out their plan to create an organic, local plant-based café using the on-loan food truck. December's entry is White on Rice, from another husband and wife team: Eric and Amy Kolden, who are hoping to open their own sushi restaurant.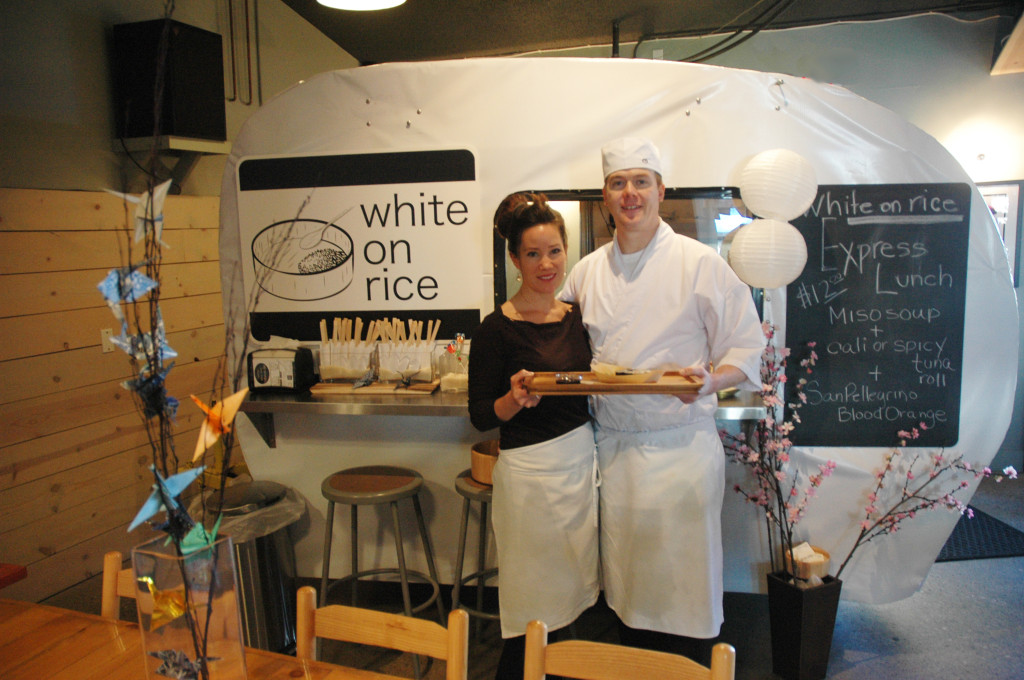 "It's awesome, because we don't have to take on more than we can handle," says Eric, who spend seven years with Red Ginger. "We've got five kids at home, and this is a fundraising project for us -- our aspiration is to get our own food truck this summer."
"We're getting wonderful feedback from customers and from other people in the business who are offering help and support," adds Amy. "Jen and Eric from the Cook's House have been wonderful, and the entire crew from Short's came by and asked if there was anything we need. It's been great!"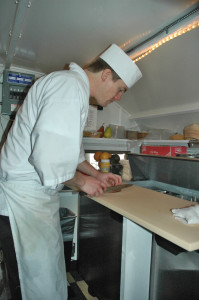 The January LTO will be Betty's Homestyle Soups, a venture by Jennifer Scott, whose seafood chowder recipe for Mahoney's won the popular Soup'R Bowl Competition at the 2014 Traverse City Winter Comedy Arts Festival.  "All of my soup recipes are original," she says. "They are designed to be comforting and fill people with happy memories."
For February, former Little Fleet bartender Fernando Meza is hoping to set up shop to introduce locals to some traditional Mexican recipes he got from his mother. And in March, barbecue chef Greg Hart will park his Cordwood BBQ  cooking operation in the little trailer.
"It's fun," says Gary. "We're just lucky that EZ Cheezy truck was small enough to fit inside.