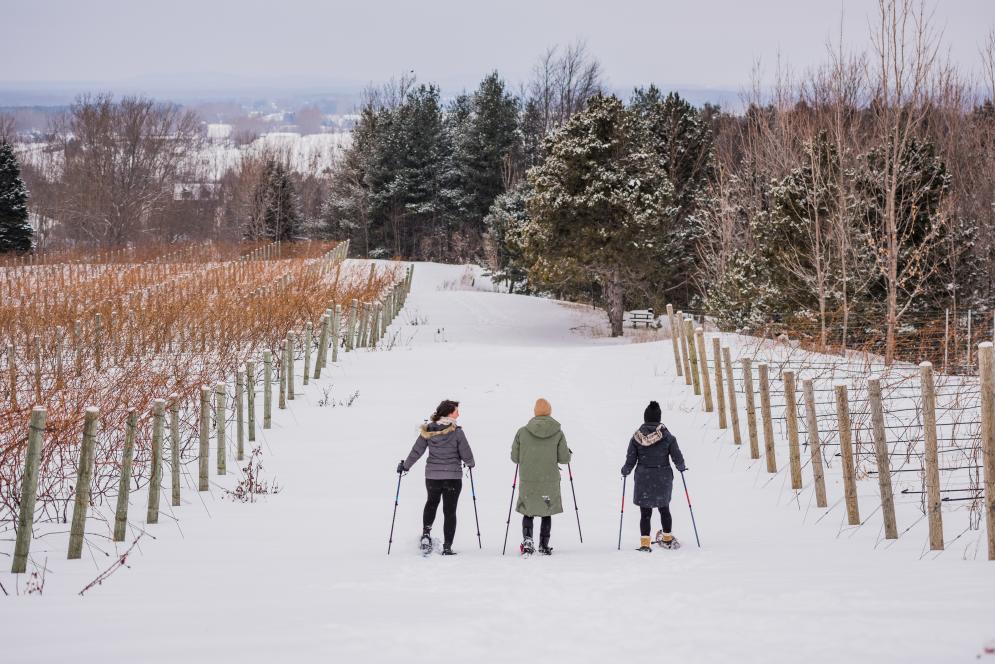 The gentle rolling hills around Traverse City, carved by receding glaciers some 10,000 years ago, take on a different feel when the first snows of winter start to fall. Those slopes hug the vines that are responsible for some of the best wines of the Midwest. The Traverse Wine Coast is home to nearly 50 wineries, but the region is known for much more than wine tasting. It's all about the experience. And in the winter that experience embraces exploration of vineyards along cross-country ski trails, snowshoe hikes, and fat tire biking.
Take a look at some of the Traverse Wine Coast experiences that welcome winter activities. 
45 North Vineyard & Winery
Vineyard trails around the property are free and open during regular business hours at 45 North Vineyard & Winery. They include 3-miles of groomed trails near the tasting room for both cross-country skiing and fat tire biking. Another 1.6 miles is open for snowshoes only. Stop by after to enjoy a mulled wine or cocoa, soups, and s'mores to roast over a fire!
Aurora Cellars 
Three loops that range from a half-mile to a mile are open at Aurora Cellars for some winter fun. Warm up after at one of their outdoor stoves or stop inside for a warm lunch basket. 
Bel Lago 
Look for guided snowshoeing through the vineyard at the Bel Lago North Farm location. After your adventure, stay awhile for dinner that is served at the restored farmhouse on the property. 

Black Star Farms, Suttons Bay 
Outdoor fire pits, a heated outdoor terrace, and hot mulled wine are available at the tasting room after a winter hike on their three miles of recreational trails through the forest at Black Star Farms. Snowshoe and walking stick rentals are available for all winery guests from Christmas week through February while Inn guests have complimentary access during their stay. 
Added bonus: you have access to the TART trail system for more exploring!
Bonobo Winery 
Bonobo has two miles of marked, groomed trails that wind through the vineyards where you can catch a winter look at Grand Traverse Bay at its finest.  
Brengman Brothers 
Regularly grooming 2.5k of trails around the vineyard, Brengman Brothers is the perfect stop for a family outing. Bring the kids and take advantage of a nearby sledding hill. Don't forget your furry friend at home because dogs are welcome along the trail, but they do need to remain outside of the tasting room and on a leash. 
Brys Estate
Two winter trails are available for snowshoeing and cross-country skiing that take guests from the tasting room, around the vineyard, the Secret Garden, and the farmhouse. Brys Estate has hot spiked apple cider available along with an outdoor fire pit. The trails are not groomed but bring your own gear and enjoy a wine winter experience. 
Chateau Chantal
Guests are encouraged to bring their snowshoes and enjoy the Founders' Trail which features a ¾ mile and half-mile loop. The trail at Chateau Chantal is open during regular business hours. After enjoying the trail relax at one of two interior fireplaces or several outdoor firepits, all while sipping a glass of wine or spiked hot cocoa.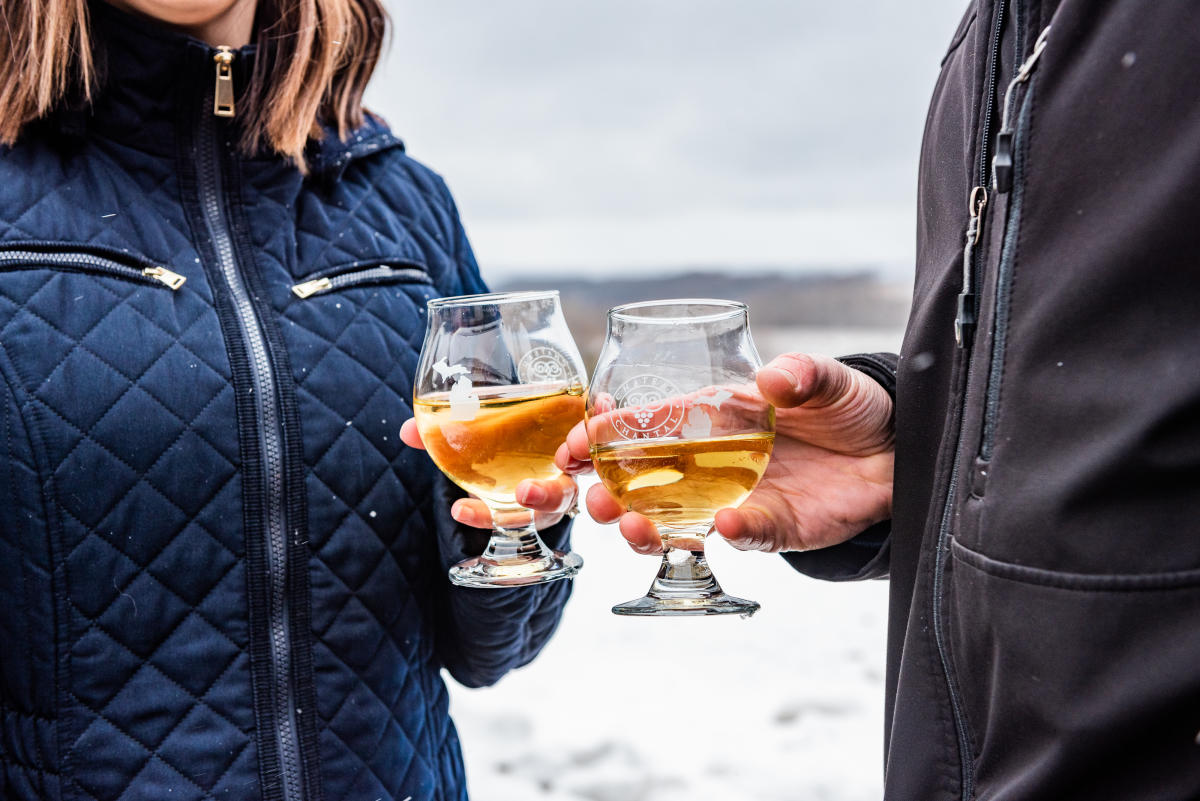 French Valley Vineyards
The winter adventure continues at French Valley Vineyards with 2.5 miles of groomed tracks for snowshoes or cross-country skiing. After the trail warm up in the tasting room with a drink and a bite to eat. Live music starts in January every Thursday!  
Rove Winery at the Gallagher Estate 
Self-guided vineyard trails are available at Rove Winery at the Gallagher Estate for cross-country skiing and snowshoeing. There are outdoor fire pits and mulled red wine sangria to be enjoyed after a fun-filled winter afternoon.   
Connecting trails for added winter fun include: 
Leelanau Wine Ski Trail 
Three Leelanau wineries are connected by a 7.5-mile groomed trail. Blustone Vineyards, Forty-Five North Vineyard & Winery, and Tandem Ciders winds through vineyards and countryside. Bike Rentals are available through Suttons Bay Bikes.  
Three Winery Snowshoe Trail 
Grand Traverse Bike Tours offers a private vineyard trail that connects Big Little Wines, Ciccone Vineyards, and Suttons Bay Ciders along a 5.5-mile winter experience. Choose from a loop tour or make it a point-to-point excursion with van service for the return. Both options include a warm, catered lunch.  
Brew Bus Tour 
Snowshoe Wine & Brew is a tour through the TC Brew Bus that includes wine, brew, or hard cider along the Old Mission Peninsula. The tour includes stops at Brys Estate, Bowers Harbor Vineyard, and Jolly Pumpkin. Weather permitting, the tours take place from January through March.