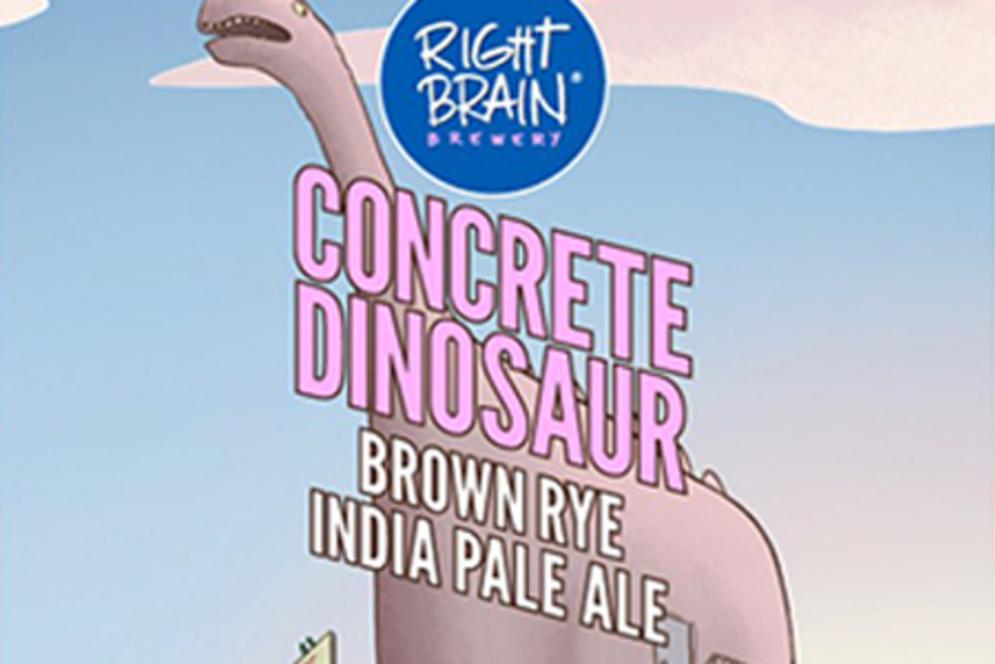 Traverse City Beer Week is nearly upon us. Once again, we'll be enjoying this week-long parade of tastings, dinners, games, workshops and lectures -- all devoted to our area's celebrated craft beer industry and its many microbreweries, brewpubs and craft beer taprooms. Now in its fourth season, it's scheduled for Nov. 11-17 this year.
And it got me thinking about the weird names some of our local beers have.
The first microbrew I ever tasted was at Pearl's in Elk Rapids. I was chowing down on a muffaletta and wanted "something local" to go with it, and what they brought me was the Huma Lupa Licious IPA from Short's Brewing. I'm not gonna lie; it rocked my world. What were these amazing aromas and flavors, this arrogant bitterness? It was a beer that demanded to know whether I was a grownup or a kid.
As any beer aficionado knows (I didn't) that crazy name comes from the scientific name for the hop plant, Humulus lupulus. And no wonder; it's brewed with five different hop varieties. (Brewer Joe Short originally wanted to call it Humulus Lupulus Maximus, which sounds more like a character from Gladiator; this is much more appropriate.
Traverse City's Right Brain Brewery has the same penchant for coming up with wacky names for its brews -- from original recipes like Spiny Norman IPA (the name comes from a giant imaginary hedgehog feared by British gangster Dinsdale Piranha in an early episode of Monty Python's Flying Circus) and Naughty Girl Stout ("like thin mints in a glass") to more recent entries like the cucumber/basil saison, Cool Hand Cuke.
But a lot of the stranger names at Right Brain were actually inspired by true events in the brewery's history, says RBB "libations liaison" David Springsteen. Dead Kettle was named after the fire under the brewery's kettle kept going out. Springsteen's favorite is Concrete Dinosaur, a rye IPA that won a silver medal at the 2015 Great American Beer Festival.
"When we were pouring concrete for this building we had a little spill out back, and it was kind of shaped like a brontosaurus," he says. "It's still back there, too."
A few blocks away, at Rare Bird Brewery, brewer Tina Schuett has a few favorite names of her own.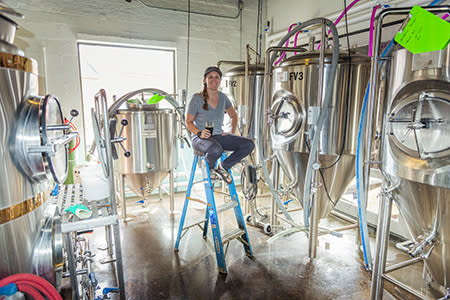 "I would have to say it would either be Pants Party Pale Ale, which is named after one of my favorite movies
-- Anchorman -- or VaJaHa Blonde," she says. "Lots of people think that's a dirty name, but it was just a way of shortening Vanilla Java Hazelnut Blonde."
It's interesting, how many beers have strange, cryptic or hilarious names compared to, say, wines. For years (centuries, actually) winemakers were content to settle for the vintage year, grape variety or style and perhaps a tasteful picture of their chateau on their varietals. Loosening up a little on some of their wines -- Chateau Chantal's red blends, Naughty and Nice, come to mind. But beers aren't nearly so serious.
"I think in general brewers and the brewing industry as a whole are a lot less serious than vintners," says Tina. "We like to have fun and it's seen as a more approachable beverage."
There may be another explanation. Mike Hall, master brewer at Northern United Brewing (North Peak, Jolly Pumpkin, and Old Mission Beer Co.) agrees that most microbrewers aren't formally trained -- unlike vintners -- and even those who don't take themselves very seriously. But the sheer number and ever-changing array of microbrews on the market also encourages brewers to experiment with catchy names.
"Beer is made faster," he says. "So you can keep throwing out names until something sticks."
"I've never thought our names too wacky," he says. "Baltic Global Warmer, our black heavy lager, was about the most unusual name I can think of. It was a strong black lager made with Finnish malt, hence the Baltic."
Well, I don't know -- I think Mike's Old Mission Beer Co. has had some great fun with names. Most have some connection with the names of roads or neighborhoods on the Old Mission Peninsula -- Devil's Dive black ale, Pyatt Lake White, Quaker Valley oatmeal stout -- but they also have a great pilsner (a tribute to the local Bohemian community) called Cross Czech.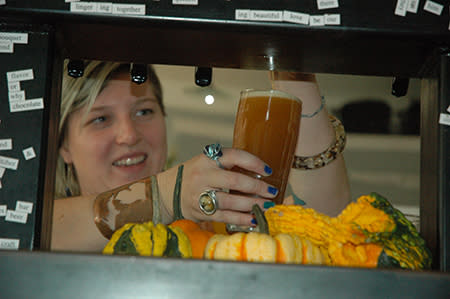 Some breweries do avoid weird or funny names for their flagship beers -- but then when they have a seasonal special of some kind, they sort of kick out the jams. Brewery Ferment, for instance, sticks with fairly staid nomenclature and then comes out with something like Torched Corpse -- a stout flavored with Trinidad scorpion peppers. (I REALLY have to try this!) But the one that makes co-owner Kirsten Jones giggle is called Big Busty B.A.R.B.
"It stands for Barrel-Aged Rye Barleywine," she says. "It was aged for a year in a whiskey barrel from Grand Traverse Distillery."
South of town at Brewery Terra Firma, they also come up with some creative names for their specialty beers: an IPA named Karma Palace and another called Soul Butter, a high-gravity bourbon-aged double brown ale called Bruno the Questionable, a brown called Fuzzy Brown Donkey and its high-energy cousin, Brown Donkey Smasher.  But the best pairing is probably Alice Unfettered, an IPA they made from hop plants that were allowed to escape from their usual trellises and scamper around the barnyard. Since that wasn't nearly crazy enough, they followed it up with a wet-hopped version called Alice Run Amok.
Still, for sheer naming exuberance, it's hard to beat the people at Short's. The winters must get long up in Bellaire. How else do you account for Sasquatch Named Codini, Neon Snowsuit, Electric Mullet, Aorta Ale, Evil Urges, Alien Einstein, Giggle Bush, Electric Mullet, Another Caucasian Gary, Gitchy Gitchy Ohh La La, Gone Commando, The Devil's Lettuce and Admiral Ashley G. Fugglicious?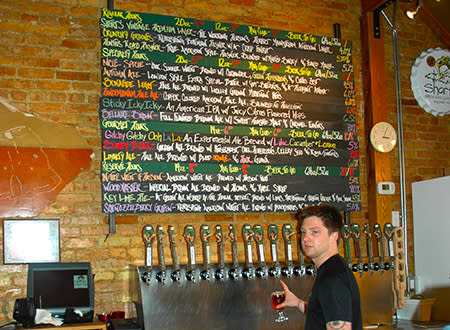 "I've always thought of the naming process as an additional element of creativity and personality for each brewery to differentiate themselves from others," says Head Brewer Tony Hansen. "I think the appeal of having a funny name is that it has the potential to add some laughs and good conversation between people while enjoying the beer. I believe that if we can make a great beer that has an interesting or funny name and label, it's the total package for a good time." 
His favorite beer name? At the moment, one of them is Melt My Brain, an experimental ale that's designed to taste like a gin and tonic -- it's brewed with coriander, juniper berries and limes and blended with tonic water.
"It has a pretty bright and intense flavor, and tastes just like the cocktail," he says.