Who's ready for sun and excitement? I sure am, but if you're not then you may want to stay home because the National Cherry Festival is back for its 90th year running! With it comes the annual cacophony of parades, rides, picnics, concerts, and some weird type of fruit that everyone seems to be going on about. If you're an avid Festival-goer, you probably know exactly which cacophony you're looking forward to; I, for one, am definitely not missing the Diaper Derby and Toddler Trot – I may not be a mother, but I do know that witnessing a bunch of little babies waddling around, bumping into each other and wondering what on Earth is happening while their parents aggressively cheer them on is not something I'm going to just ignore. It's genius.
But confused toddlers aren't the only thing the Festival has to offer, and if you don't visit every year you may end up a bit overwhelmed. It's hard not to be when you're surrounded by all the contests, tents, vendors, entertainment and other such merriment, all filling the air with the scent of that weird fruit again. To help simplify that annual cacophony of fruit merriment – cherries, if you didn't catch my drift – here are some ideas for however you're planning to experience the 90th National Cherry Festival.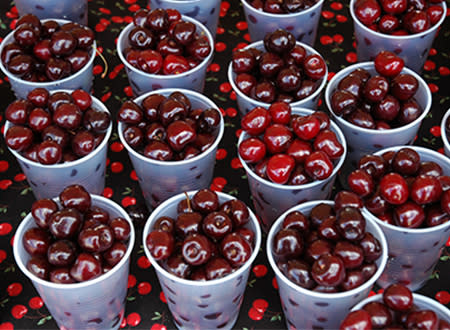 For dates. Festivals are, in my opinion, some of the best places to go on dates (not hinting at anything). The entire atmosphere is fun and exciting, and braving a roller coaster or watching the fireworks together is pretty special whether it's your first date or your fiftieth anniversary. And the Cherry Festival has not only a daily amusement park and two different firework shows (one on the 4th of July and one as the Festival's grand finale), but a multitude of other options for enjoying a day together. The first Saturday, for example, has a two-person beach volleyball tournament from 9 a.m. to 1 p.m., a great way to work together and get some exercise – provided no one gets too competitive. There's also the Cherry Pie Bike Ride on Sunday, July 3 from 9:30 a.m. to noon, which features a gorgeous ten-mile loop and even the chance to share a free slice of pie from the Grand Traverse Pie Company afterwards. For teens, there's Teen Movie Night: The Hunger Games: Mockingjay (Wednesday, July 6 from 9 p.m. to 11:20 p.m.) and Teen Disc Golf (Friday, July 8 from 5:30 to 9 p.m.). 

For families. While family vacations are a great way to destress and reconnect, even the best of us can throw a bit of a tantrum when we don't get our way sometimes (if you've ever skipped your morning coffee without pitching a fit, you're lying). Leading around just one little munchkin or a small pack of them can prove pretty difficult, especially if everyone is hot and overwhelmed. But don't worry, there are plenty of kids' events to explore every day. For starters, the Kids' Club takes place every day from 10 a.m. to 6 p.m. in Clinch Park, and it is a fun event for kids aged 2 to 12 featuring face painting, story time, craft projects, a magnetic ball wall, cherry picking games and more. There's also a Cherry Pit Spit Contest every other day starting Saturday, July 2 from 6 to 7 p.m. It's hard not to have a great time when the whole family is spitting out cherry pits. Not to mention the Kid's Cherry Town Fun Night (Wednesday, July 6 from 4 to 8 p.m.), which features many performers and hands-on activities that the whole family can enjoy together. And don't forget the many picnics, parades, pie-eating contests, and ice cream socials to stop by! Maybe afterwards the grownups will have time to sneak off to that beer tent. 
For seniors. Running around like maniacs and shoving as many cherries into our faces as possible is sometimes less preferred to nicer, quieter ways to enjoy the festival – not to say that the Bingo tournament can't get a little rowdy. But in addition to all the fruit-flavored mayhem are more relaxing events reserved for people 50 years and up: there's the Seniors' Pinochle Tournament (Tuesday, July 5 from 6:30 p.m. to 8:30 p.m.), the Shuffleboard Tournament (Wednesday, July 6 from 9 a.m. to 1 p.m.) and the Bingo (10:30 a.m. to 11:30 a.m.) and Euchre (7 p.m. to 11 p.m.) tournaments on Friday. If you have grandkids you can also attend the Intergenerational Picnic on Wednesday at noon, an event specifically for grandparent-grandchild bonding – and maybe just a little bit of face-stuffing.
For more events and things to do (yes, there's a lot more), you can visit the Cherry Festival's official website. Good luck on your date, your Cherry Pit Spit contest, or your Bingo tournament - and happy Cherry Festival!