The penchant for alcohol, in all its forms, continues to evolve in Traverse City. First, there were the wineries. Boutique, often family run endeavors that began in the 70s, they gained a reputation for their signature Chardonnays and Rieslings. Then came the breweries, riding the wave of the craft movement that started in the 80s on the West Coast. Today, "hop heads" can enjoy everything from a chocolatey Stout to a golden Saison in over 15 (and counting) breweries.
Which brings us to whiskey…perhaps the final frontier in the craft alcohol movement. And also, perhaps, the most interesting. There was a time, not long ago, that whiskey was seen as the drink of an older generation, particularly men, who paired their beverages with Maduro-wrapped cigars and idle banter. Not so anymore. 
Traverse City distilleries are catering to a new crowd…Millennials. These younger, yet no less sophisticated, drinkers are a discerning bunch whose tastes range widely.  They're enjoying whiskey neat, or on the rocks, as well as requesting the classics; The Old-Fashioned, Manhattan and not surprisingly, the Mint Julep. Not to mention a host of other more contemporary concoctions. They're enjoying these beverages in hip, new hangouts that emphasize atmosphere as much as alcohol. Here are the local distilleries that have turned into favorite hot spots…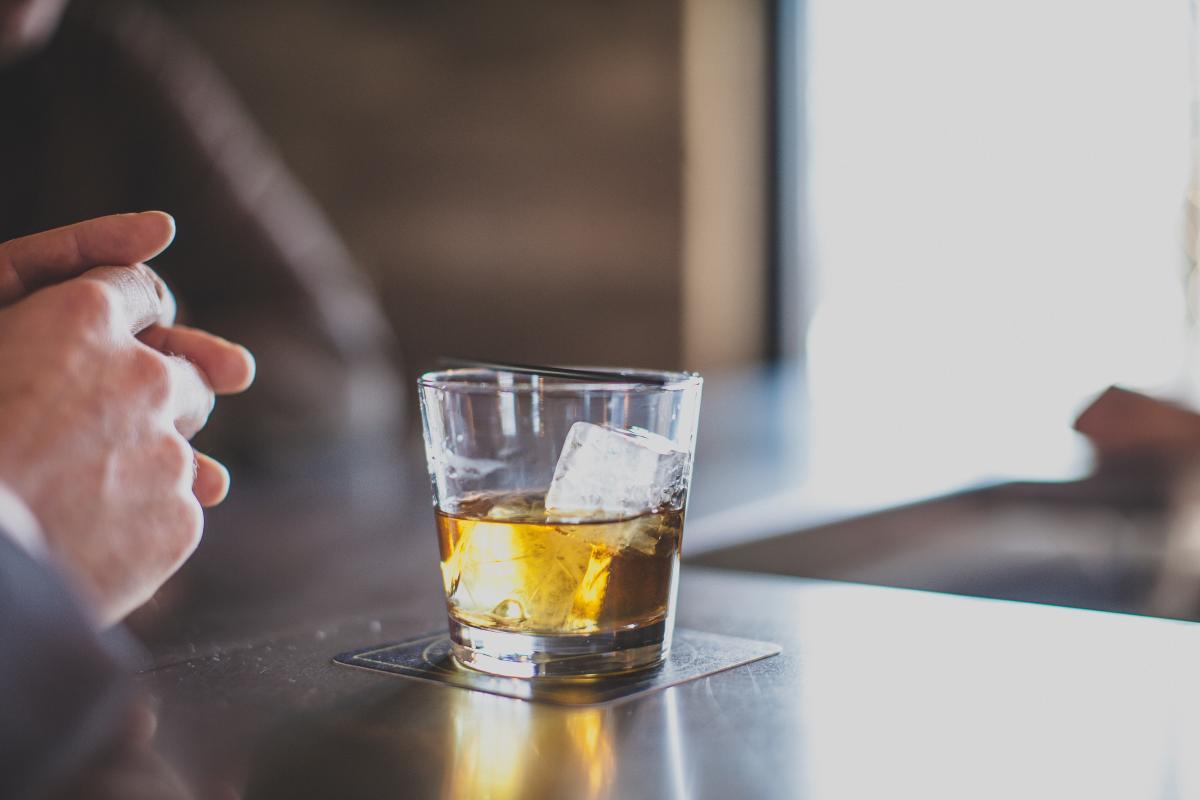 Mammoth Distillery – With a tasting room in Traverse City's popular Warehouse District, Mammoth Distillery has gained a sizable following in its few short years of existence. Founder Chad Munger takes great pride in Mammoth's "hand-hewn" spirits, many of which are crafted from ingredients sourced in Northern Michigan. "Our corn and rye is grown in Harbor Springs," he explains. "Which gives our whiskey a real local character."  Try a Central Lake Sour, made with their signature whiskey, which is first distilled and aged for five years in Kentucky. The whiskey is then finished in once-used Grand Cru Merlot barrels from Bonobo Winery on Old Mission Peninsula.
Grand Traverse Distillery – Founded in 2005 by the Rabish family, Grand Traverse Distillery is Traverse City's original craft distillery. It has tasting rooms across Michigan, with one in Leland and two in Traverse City, including one downtown on Front Street. Owner, Kent Rabish, is quick to point out that all 31 varieties of their spirits are crafted, aged and bottled right here in Traverse City. Many from ingredients grown locally too. "Our name is more than a label…it's a promise that you're getting a truly local product in every bottle." The many awards on their tasting room walls are a testament to the quality of their products. Get comfortable in one of their lounge chairs and order a glass of Ole George rye whiskey, neat. The name is an homage to Kent's grandfather, who used excess corn from the family farm to make homemade whiskey…an act that inspired Kent, many years later, to start the distillery. 
Traverse City Whiskey Company – Mention "Traverse City" and "whiskey" in the same sentence to any local and chances are you'll be directed to a beautifully renovated brick building on 14th Street on the outskirts of downtown.  It's easy to find…just look for the stacked whiskey barrels out front. Once inside, you'll enjoy a warm welcome and the chance to sample some of the finest whiskey in the area. Ask for a glass of their whiskey, infused with local cherries, on the rocks. It has a hint of cherry with a welcome smoothness…very refreshing.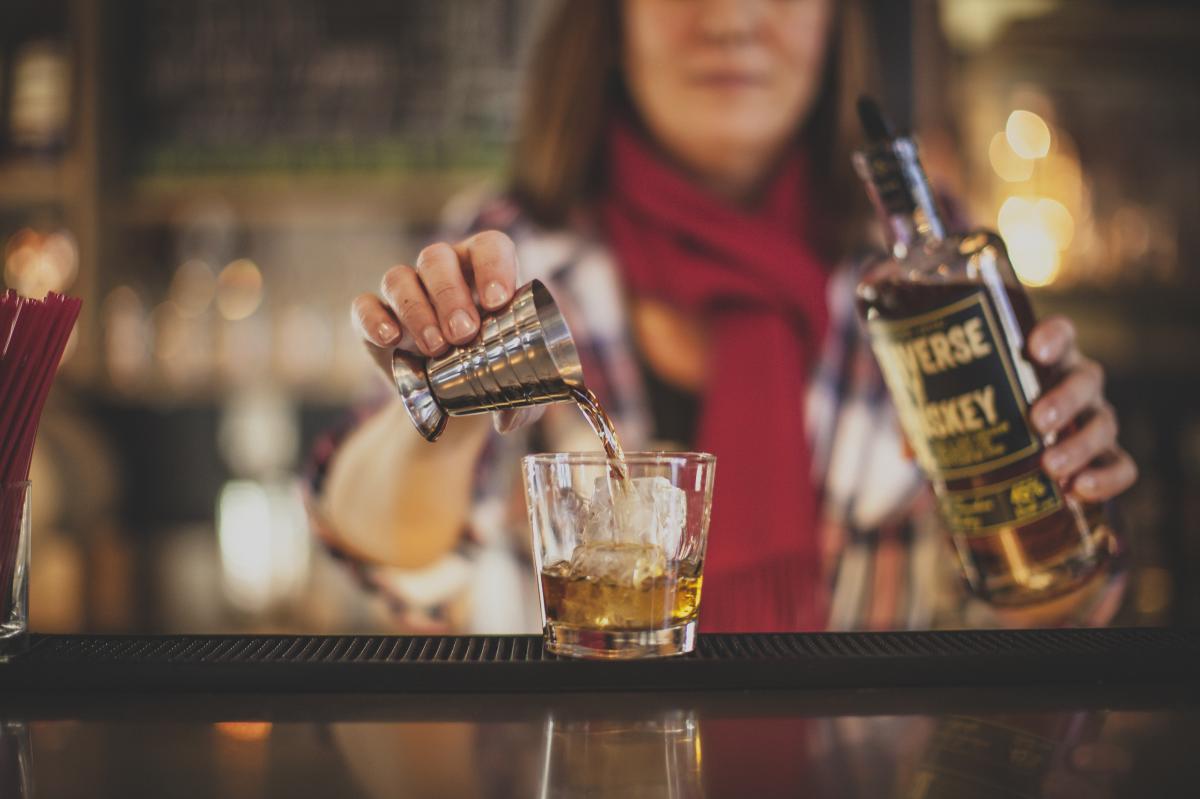 Iron Fish Distillery – You may need GPS coordinates to find it, but the trip to Iron Fish is definitely worth it. Tucked away on a farm in Thompsonville, which is also home to Crystal Mountain Resort, Iron Fish is Michigan's first working-farm distillery dedicated to the art of distilling small-batch craft spirits. Every step of the whisky making process—from growing and harvesting non GMO grain, to cultivating yeast, milling, mashing, fermenting, distilling, aging and bottling (whew!)—is done by hand here at the distillery. If that doesn't convince you of their commitment and quality, you need only grab a table on the patio—a warm summer evening is ideal—kick back with a Manistee Mule (in a copper mug, of course) and soak in the sounds of the house band and the fresh Northern Michigan air…pure bliss.
Northern Latitudes – Located at the "narrows" of Lake Leelanau, in the town of the same name, Northern Latitudes almost seems like a "happy accident" on your travels elsewhere. You didn't particularly plan on stopping here, but, boy, you're sure glad you did. Their signature straight bourbon whiskey, made from Michigan corn, wheat and barley, is a definite crowd pleaser. But, full disclosure, it's not their most celebrated spirit. That designation, in our book, belongs to their Limoncello di Leelanau. It's a heavenly concoction made from the most aromatic lemons, sugar and neutral spirits…simple ingredients that make the most amazing warm weather refreshment. It's reason enough to stop, forego your other plans, and enjoy a true taste of Northern summer.