The start of a New Year can be a profoundly welcome experience -- particularly here in the North Country, where it signals the slow, steady march toward longer days and shorter nights (at least as important for many of us as the chance to put the old year's mistakes and sorrows behind us).
And yet... there's something about that last night of the year that we can't quite let go of. So we gather together as people have done over the centuries for one last party, a little music and some fun with friends. And in Traverse City -- for the past six years, at least – that means coming downtown for the annual CherryT Ball Drop.
They say anywhere from 8,000 to 12,000 people -- the largest New Year's Eve crowd in Michigan -- turn out in the streets surrounding the intersection of Cass and Front to watch a huge illuminated cherry drop 115 feet to mark the end of one year and the beginning of the next. And in case you ever wondered about the name, "CherryT" (Charity) is just another way of saying "Party with a Purpose." Proceeds from the evening go to benefit local food pantries and other worthy causes. A donation of $3 or three non-perishable food items is suggested, and over the past four years, over 30,000 pounds of food have been donated to local food banks through the CherryT Ball Drop.

Live music and entertainment begin at 10:30 pm. But for those who want to start a bit earlier, the Ball Drop folks are presenting two shows at the City Opera House featuring Ben Whiting and his Real Magic show. Designed especially for the Opera House, the show will feature Whiting's unique brand of magic and mind reading combined with family-friendly stories in a festive holiday atmosphere. (All proceeds will benefit Michael's Place, which provides compassionate support programs for grieving children, teens, adults, and families in the region.) There are shows at 6:30 and 9 pm, and tickets cost $10, $20 or $30. 
A traditional bit of glitz and music can also be found just across the river at the West Bay Beach Resort, which is having its own New Year's Eve party in the View Nightclub, featuring music by The Bohemians and DJ Motaz with an hors d'oeuvres buffet and complimentary champagne toast at midnight -- all for $45 for singles and $60 per couple. (There's also an all-inclusive overnight package that includes the party, a room and a New Year's Day brunch for $199. Call 1-800-888-8020 for reservations.)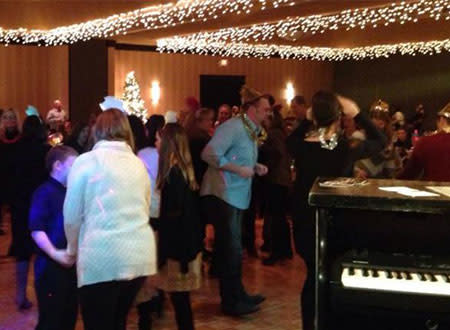 A little farther afield, near Bellaire, there's a lot going on as Shanty Creek Resorts ramps up its own New Year's Eve celebration. If you're a youngster, the festivities begin as early as 6 pm with Kids' Night Out in the Bellaire Room of the Lakeview Hotel and Conference Center, where kids from six to twelve years can enjoy a night of New Year's Eve fun all to themselves, featuring games, arts and crafts, dancing and snacks for $10 apiece. Meanwhile, partyers of all ages can enjoy the family-friendly festivities in the Lakeview's Grand Ballroom, where the doors open at 6:30 pm. Beginning at 8 pm there'll be music from Dueling Pianos, followed by New Year's fireworks over Summit Mountain. Admission for adults is $55; for seniors $53; for ages 6-12 $20 and five and under are free.
On the other side of the resort, there'll be an adults-only party gearing up at Ivan's Café starting at 9 pm with music from the Tommy K Rock Show, a Journey cover band. There's a $5 cover charge at the door, and no reservations are required.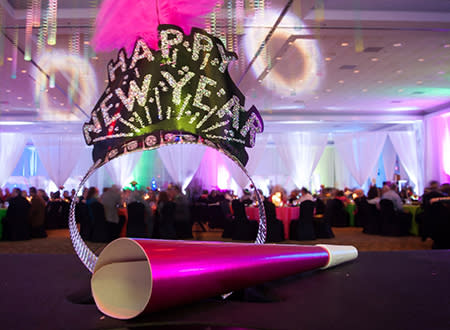 And there's a big celebration going on at the Grand Traverse Resort and Spa, which is also bringing in the New Year with three different parties. The main event will be a party in the Resort's huge Governors' Hall from 6 pm to 1 am, featuring a plated three-course dinner and live music from The Texas Gypsies. (This year's theme is "Vintage Hollywood," and they're warning guests to "get ready to celebrate in glamorous style!") Tickets include dinner, dancing and a champagne toast, and are $75 per person. There are other packages for those who want to stay the night.
More sedate pleasures will be taking place at a more elevated location -- the Aerie Restaurant on the 16th Floor of the Resort Tower -- which will be serving an elegantly romantic New Year's Eve Dinner for Two with live acoustic music from 9 pm to 1 am.
For the younger crowd (ages 6-12) there's a "kids only" party going on at the Health Club from 6 pm to 1 am with crafts, games, team-building activities, swimming and a pizza party. Cost is $35 per child for guests. Even the youngest can get in the act, in fact, because there's also a "party" for anyone under 6 at The Cub House, the Resort's licensed daycare facility, until 1 am. Cost is $8.50 an hour per child.