Guest Blog Story by Jennifer Hamilton from The Awesome Mitten It may be hard to believe, but New Year's Eve is quickly approaching. 2014 was a tremendous year for Traverse City and we should celebrate accordingly. Fortunately, there are lots of events in store that fit all ages and all budgets. Here are some ideas to help find the best way to ring in 2015.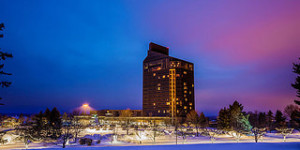 New Year's Eve Celebration at the Grand Traverse Resort and Spa Live music, an 80's theme, dancing, and a great meal all make up the key components of New Year's Eve spent at the Grand Traverse Resort and Spa. Cocktail hour starts at 6 pm, and a three-course plated meal starts at 7 pm. Live music featuring the Spazmatics begins at 9 pm. This entire extravaganza only costs $75 per person, but if you are just looking to party, you can skip the dinner and arrive later for dancing and toasting. Tickets for the party only are $25 per person. Additional deals are available if you want to spend the night. Call 800-236-1577 for tickets and more information. Tickets are also available for purchase at MyNorthTickets.com. Shanty Creek Resort This location is great for the entire family. Everyone can ski for free at Summit Mountain from 6:30 to 11 pm. After you've got your skiing fix in, there are three different parties to choose from. The adults only party at Ivan's Mountainside Grill has a small cover at the door and begins at 9 pm. The Lakeview Hotel and Conference Center is an event for the whole family to attend. Dueling pianos in the Grand Ballroom start at 8 pm, but the doors to the party open as early as 6:30 pm. Additionally, there is a "Kids' Night Out" in the Bellaire room, which is a party for just kids, ages six and up. This event will include games, dancing, arts, crafts, and snacks. At midnight, everyone can come together to enjoy fireworks over the slopes of Summit Mountain. This is truly a one-of-a-kind celebration that is full of different events spanning across the whole evening.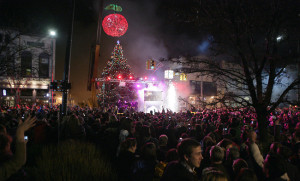 The Traverse City Cherry - T Ball Drop It's back! One of Traverse City's most popular and busiest events: The Traverse City Cherry - T Ball Drop. The huge, sparkling cherry will fall 115 feet at midnight at the intersection of Cass and Front Streets. Live music and entertainment begin at 10:30 pm. Proceeds go to benefit the Goodwill Food Pantry and other local charities. A donation of $3 or three non-perishable food items is suggested. Over the past four years, over 30,000 pounds of food have been donated to local food banks because of this event. So, bundle up and ring in 2015 with members of the community to benefit those in need! Top of the Park - Park Place Hotel If staying outdoors in the winter is not your ideal situation, you are in luck. You can still view the beautiful Cherry - T Drop from the Top of the Park at the Park Place Hotel with hors'd'oevres, beverages, dancing, and live entertainment. The cost for this event is $125 per person or $200 per couple, all of which also goes to benefit local charities.
About the Author: Jennifer Hamilton lives and works in Traverse City as a social worker and feature writer for The Awesome Mitten. Jennifer strongly believes that no city compares to Traverse City because each season brings a whole slew of new adventures; running paths become snowshoeing trails, lakes for swimming become speckled with ice fishing holes, and golf courses become snowboarding mountains. It simply does not get better than this! - Follow Jennifer on Twitter at @J_Hamlett