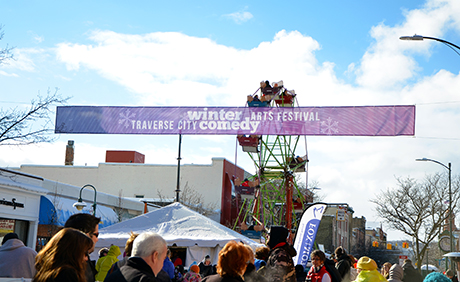 It's the middle of February and we've already had record snow fall this winter and colder temperatures than usual, so it only makes sense to sit back, relax, have some laughs – and keep playing outside! We're not talking about hitting the slopes or grabbing your snowshoes (although those are always great options for a winter weekend in the True North), we're talking about outdoor fun at a somewhat non-traditional venue – like the streets of Downtown Traverse City.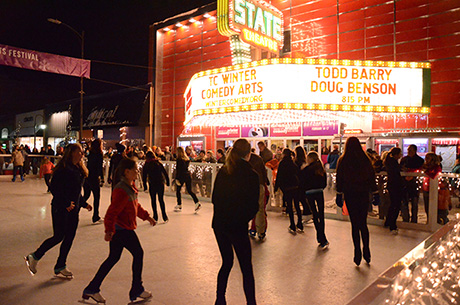 The 2014 Traverse City Winter Comedy Arts Festival kicks off tonight and will run all weekend in Downtown Traverse City and in addition to the talented comedic line-up for the weekend, one of the biggest highlights of the festival is the "Free on Front" activities for event-goers young and old.
This year the festival is expanding to take up the 100 block of Front St. which means that there is double the amount of space for new and exciting activities - and the event organizers have done a great job of making sure that extra space is filled up.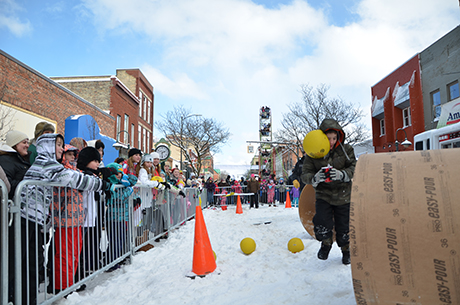 New this year is the double zip line that will soar above the 100 block of Front St. inviting people to race side-by-side against each other as they zip along taking in a bird's eye view of Traverse City's quaint downtown.
Ready to let your competitive side show? Test your short game on the frozen 9-hole mini golf course that has plenty of frozen challenges you'll have to work your way around or try the popular yard game Corn Hole that has it's own icy spin to it.
The Grand Traverse Pie Make & Bake takes place Saturday afternoon where kids can make, bake and take home their own cherry pie (because after all, we're the Cherry Capital of the World and it's National Cherry Month!) There's also the Snow Coloring Project where kids can turn their creative snow designs into colorful works of art for everyone to see.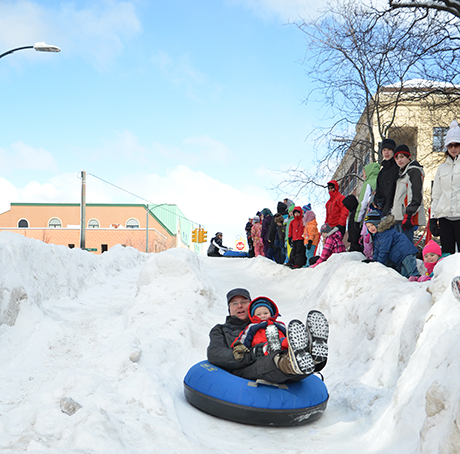 The event organizers didn't leave the adults out in the cold though when it came to festival additions. Just in time for the Sochi Olympic Winter Games the International Ice Bar will be set up inside the Polar Vortex tent serving up plenty of chilled beverages (including ice luge shots) while festival goers lounge around on a variety of frozen furniture carved from ice.
All of the crowd favorites are back too - including the ferris wheel, skating rink, Ice-Stravaganza, rowboat races, monster dog pulls and music tents just to name a few.
When you're heading down for the festival don't forget that there's plenty of free parking to go alongside all of the Free on Front fun! The Old Town and Hardy parking decks will be open for free after 5pm tonight and Friday and all day Saturday and Sunday while the Farmer's Market lot (between Union and Cass) will be open for free after 6pm tonight and Friday and all day Saturday and Sunday.
The most important thing to remember - have fun and dress warm! We'll see you Downtown!
For all of the festival details, including tickets and the full line-up of activities, make sure to check out the festival's website at www.wintercomedy.org!