By MIKE NORTON
It won't be long now! The National Cherry Festival, Traverse City's iconic summer celebration, is set for July 4-11. Soon we'll be burying our faces in pie and spitting cherry pits with a half-million of our closest friends.
Some of us love the Festival for its hallowed traditions -- the pit-spitting and pie-eating contests, the Cherry Royale Parade, the crowning of the Cherry Queen and our once-a year guilty hook-up with Gibby's Fries. But the folks at Festival headquarters are always working on new ideas, and each year they even try out a few of them. We asked executive director Trevor Tkach what the highlights of this year's celebration will be.
Here are his picks: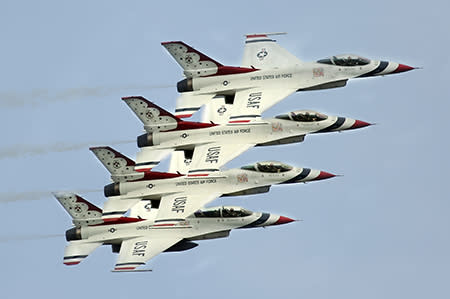 1. The return of the US Air Force Thunderbirds air team for the first time in 25 years. Each year the festival puts on a great air show, and in alternate years it's relied on the US Navy's fabulous Blue Angels -- who will be back in 2016.  The Thunderbirds are an official Air Combat Command unit that includes eight pilots (six are demonstration pilots), four support officers, four civilians and more than a hundred enlisted men and women.
In addition, this year's air show will feature solo pilot Kevin Copeland, our own local US Coast Guard, and The Screamin 'Sasquatch' -- a Taperwing Waco biplane with a jet engine. The Festival air show is FREE and will get under way at 1:45 p.m. each day, Saturday and Sunday.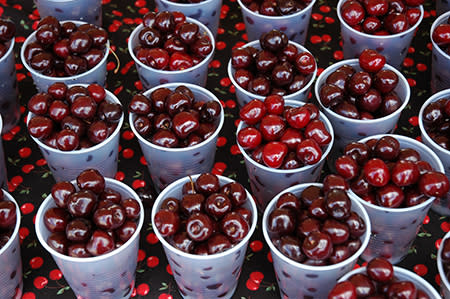 2.  A new "Farm to Festival" initiative in coordination with the group Taste the Local Difference, to use locally sourced fruits, veggies and meats in the Festival's various foodie events -- including a special  Farm to Festival Food Truck operated by Goodwill and sourced by Cherry Capital Food, serving up local food Wednesday evening at Open Space Park.
And in spite of the paltry cherry harvest that's expected this summer (thanks to a couple of really cold May frosts) festival leaders are anticipating lots of Michigan cherries on hand. How many? An estimated 40,000 pounds of them: tart cherries, sweet cherries, cherry pie, cherry wine, cherry juice, cherry soda, cherry beer, dried cherries, cherry butter, cherry candy, cherry smoothies, chocolate covered cherries, cherry pancakes. Well, you get the idea.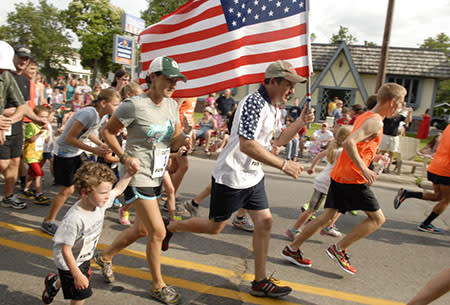 3.  An added new twist to one of the festival's classic race events: Thursday afternoon's Cherry Mile, sponsored by the Traverse City Track Club. Now, in addition to the mile-long races for elite and high school runners, there'll be an "open mile" for the first 200 members of the public who sign up.
The festival has long been a favorite for runners – especially the thousands who sign up for Saturday's Meijer Festival of Races: a 5K walk/run, a 10K, 15K and the Chateau Grand Traverse Half Marathon. Some years, as many as 50,000 runners crossed the finish line.
4. A "Depot Neighborhood Picnic" at noon Thursday in Hull Park, near the Traverse Area District Library, the Grand Traverse Children's Garden and the new Habitat for Humanity affordable housing neighborhood. There'll be lots of family activities, picnic food, entertainment and an actual "Raising of the Walls" for one of the new houses.
5. And, of course, an all-new lineup of acts on the festival stage – led by Gunnar & the Grizzly Boys with Joe Hertler & the Rainbow Seekers on Saturday and the Sunday night appearance of Weird Al Yankovic, who made this year's festival a stop on his current Mandatory World Tour. Toad the Wet Sprocket and Tonic will be there on Monday, followed by Here Come the Mummies on Tuesday and two great country bands -- Gloriana and the Charlie Daniels Band -- on Wednesday.
On Thursday, it'll be Joan Jett & the Blackhearts, followed by Foghat with Peter Rivera (formerly of Rare Earth) on Friday, and the Journey Tribute Band on Saturday. A big treat is also in store Monday through Friday for lunchtime concertgoers: local singer-songwriter Miriam Pico will be performing with guitarists Jerry and Ryan Younce from 11:30 to 1 pm. In all, I'm told, there'll be more than 50 musical artists performing at this year's Festival.  And speaking of performers, Trevor says there will be lots more buskers (street musicians) at this year's Festival -- at the Open Space and lots of other places!
That barely scratches the surface of Festival doings, of course. There are over 150 events and activities to choose from: Two fireworks shows, two parades, two air shows, week-long kids fun and games, intergenerational events, amusement rides and (naturally) those traditional cherry pie-eating and cherry pit-spitting competitions. Best of all, nearly 80 percent of them are free!