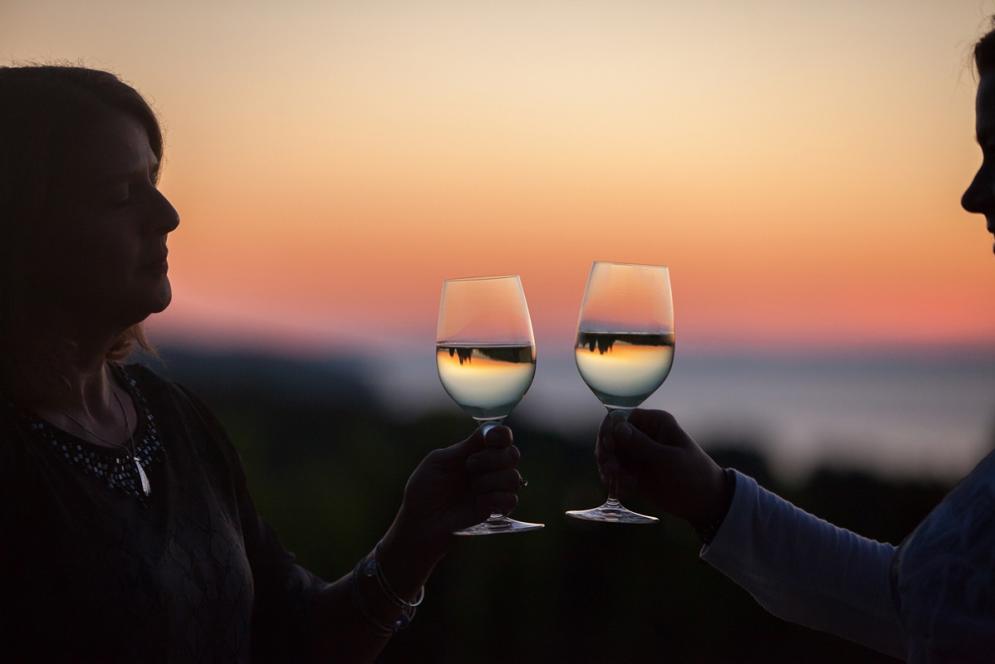 It's no secret that winery visits will look a little different for the summer of 2020. Tasting reservations, patio pick-ups, and outdoor experiences are headed our way, as are masks and enhanced sanitation procedures. We believe a glass of wine is best enjoyed with a side of safety and a whole lot of creativity, so here's a look at what to expect out on the Traverse Wine Coast in the coming weeks.
Reminder: If you have questions about a winery's hours or operations, please contact them directly.
Masks and Social Distancing
No matter where you go, wineries are asking that you wear a mask and practice social distancing during your visit. Tables and tasting areas will be spaced at least six feet apart so you won't be too cozy with other customers, and while you'll have to remove your mask to enjoy the wine, be sure to have one with you!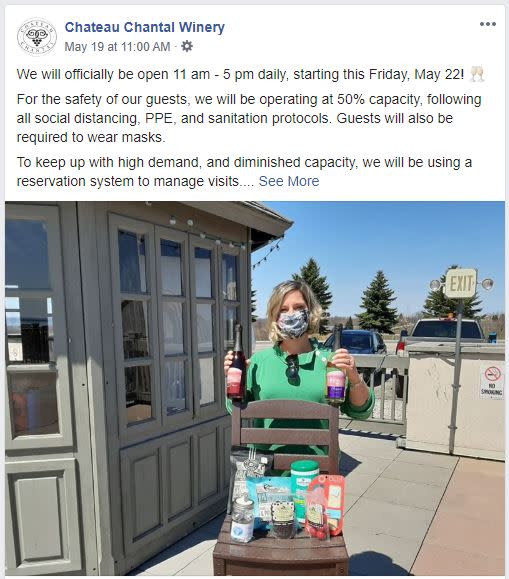 Reservation Only
As of the writing of this blog post, wineries in Traverse City can operate at a maximum of 50% occupancy. That's where reservations come into play, helping ensure you'll get a safe, private experience while on the wine trail. Be sure to check the websites or social media pages of the wineries you plan to visit to see if they are requiring reservations.
Vino al Fresco
The great outdoors and a great glass of wine is a winning combination. Many wineries are limiting or doing away with indoor seating and inviting people to enjoy the beautiful summer weather. For example, Rove Estate in Leelanau is making use of a tent used for weddings, and Brys Estate on Old Mission will be seating people at tables throughout their property. Just bring some sunscreen or a cute hat, and you'll be good to go for fun in the sun!
Picnic in the Vines
Speaking of fun…before you head out to go tasting, throw a blanket or a few lawn chairs in the back of the car. Some wineries—especially those with smaller tasting rooms—are encouraging customers to take a tasting flight or a glass of your favorite vintage into the vineyard. Yummy snacks and charcuterie boards will abound to enhance the experience.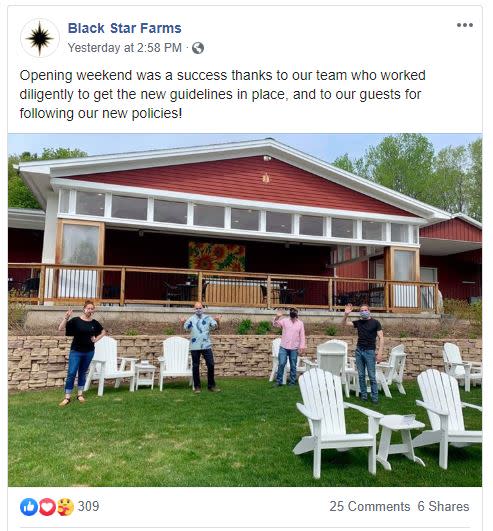 Flights Are In
You've likely enjoyed a beer flight at a brewery, but wine flights haven't been as common…until now. Rather than having a glass refilled at a tasting room bar, you're more likely to have a flight of glasses delivered to your table. Flights are more sanitary, and they can look pretty cool too!
Smaller Groups
Busloads of visitors will be on pause for the time being, with couples and small groups (think six or under) being the way to go. This not only helps with the 50% capacity rule, but also with keeping safe social distance and allowing the wineries to clean between parties.
Constant Cleaning
Cleaning procedures have gotten a total makeover to make sure your time at the winery is as safe as possible. From the tasting room bar to tables to glasses, wineries are stepping up their cleaning in a big way. 
Online Ordering
For those who aren't quite ready to be in the tasting room, online orders and curbside pick-ups will remain available. Places like Chateau Chantal will allow you pick up orders from their beautiful patio, giving you a safe and beautiful experience all in one. 
Patience, Patience, Patience
We know some of these changes can make exploring the Traverse Wine Coast a bit different than in years past. But we're proud of our wineries for putting the safety of guests and staff before the prospect of bigger sales. Please continue to practice patience and kindness during your visit. Together, we'll stay safe and stay open!