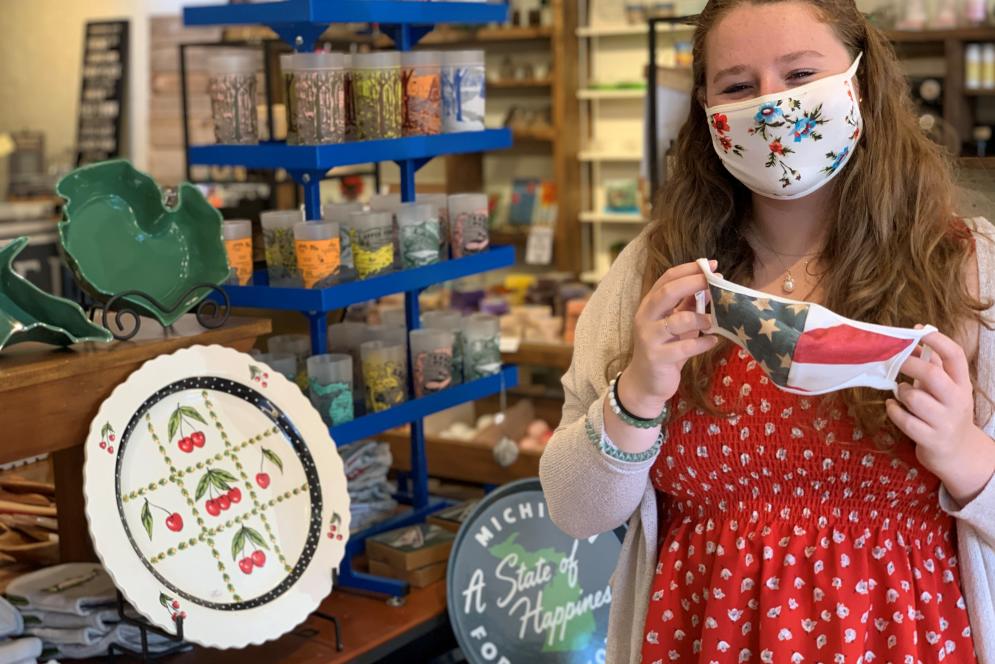 Welcome to the new downtown Traverse City! Several exciting changes are underway on Front Street and beyond, and we're bringing you the scoop.
Pedestrians Only
The biggest—and coolest—change takes place on Front Street between Park and Union. The Downtown District Authority (DDA) has closed two blocks to be pedestrian only, allowing for more space to explore the vibrant shopping and dining district (in effect until Sept.18, 2020). Take a look at the handy map above to see where you can drive, park, and walk, or visit the DDA website for more information.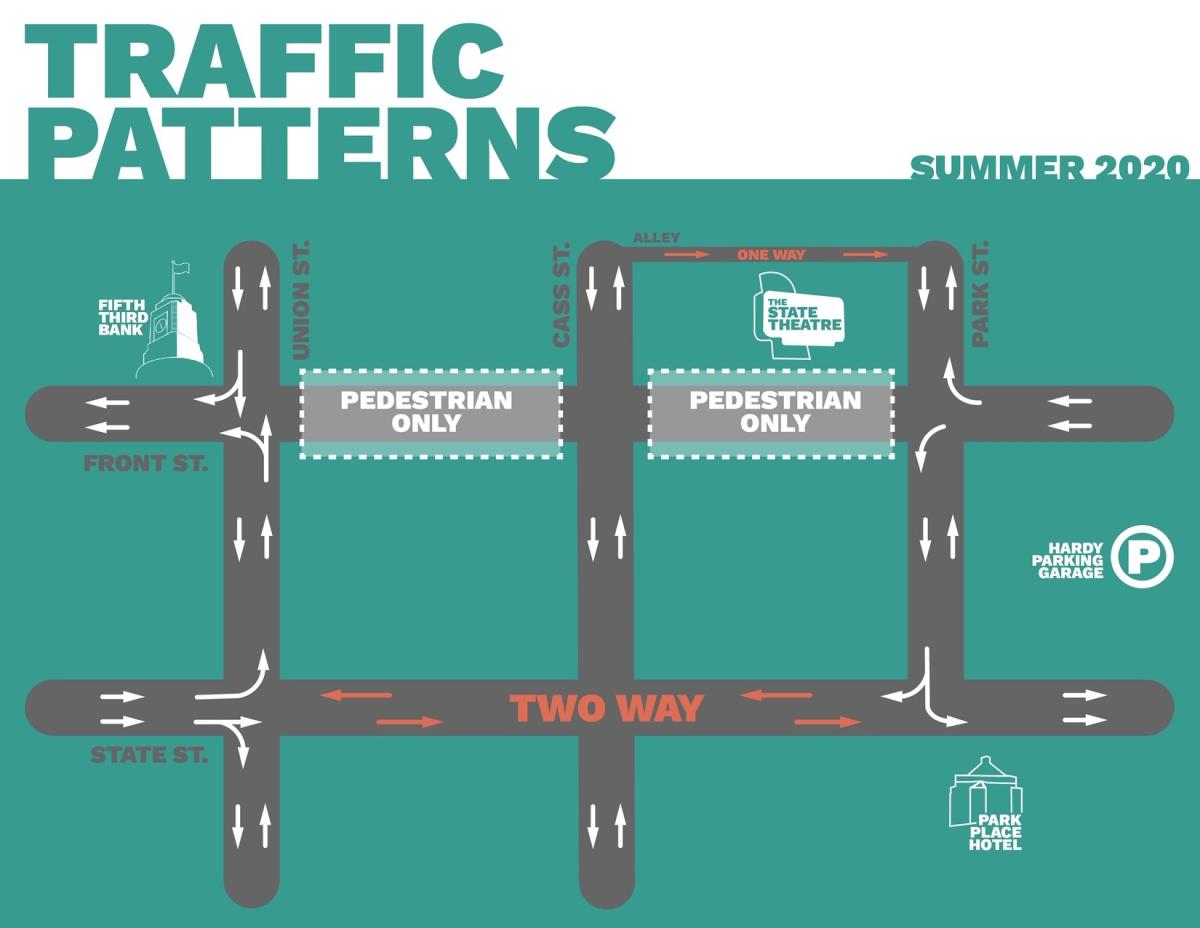 What's Open
In Traverse City, restaurants and retail stores can be open at a limited capacity (up to 50% for restaurants and 25% for retail) with masks and social distancing guidelines in place. You may have to wait to enter your favorite shop or make a reservation at a restaurant for lunch, so be sure to check out their website/social media or give them a call before heading downtown. 
Outdoor Dining
Speaking of dining downtown, it's now better than ever. With expanded space on the sidewalks and into Front Street itself, restaurants can now have additional outdoor seating for patrons. And downtown isn't the only place you can enjoy an al fresco meal: check out our list of outdoor dining spots in Grand Traverse, Benzie, Antrim, and Leelanau counties. And if you're still riding the take-out train, we have a list of to-go restaurants too!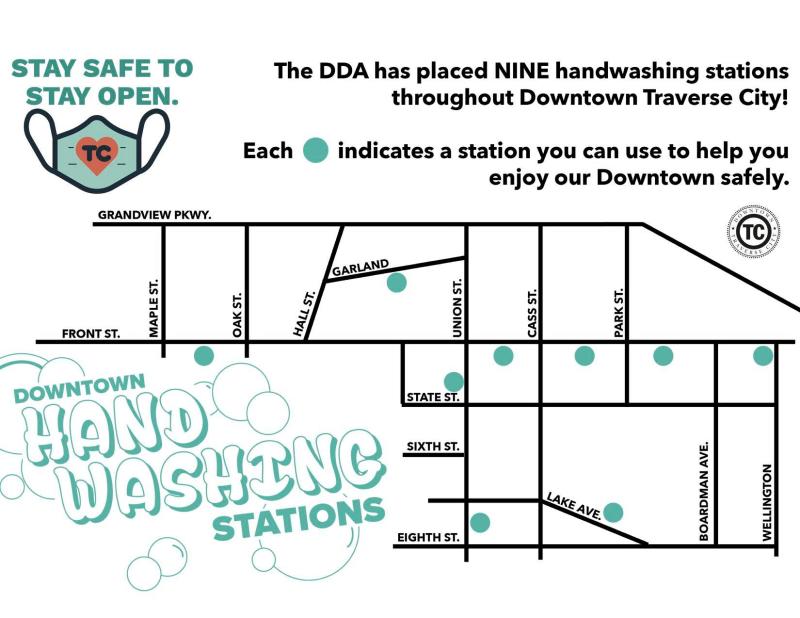 Clean Hands Rock!
The DDA stepped up the cleanliness game by installing nine hand washing stations throughout downtown Traverse City at the locations shown above. (We still recommend carrying hand sanitizer with you, especially if it comes from one of our awesome distilleries!)
Safety Procedures
We know the weather's warming up and downtown TC can be a busy place, but we're asking all locals and visitors to Stay Safe to Stay Open. Two great ways to stay safe include wearing your mask (especially indoors) and keeping six feet of distance from those outside your family or group. To learn more about safe reopening policies in Traverse City, visit our COVID-19 information page.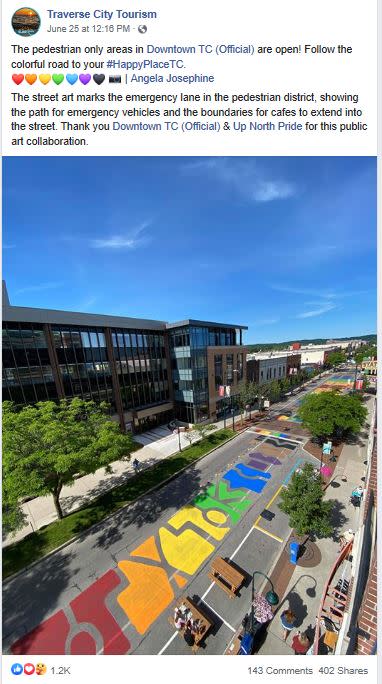 Art Everywhere
Last but not least, be sure to enjoy the gorgeous outdoor arts scene while you're in downtown. From Instagram-worthy murals to the gorgeous new street art installation on Front Street (pictured above!), there's so much to see and explore.