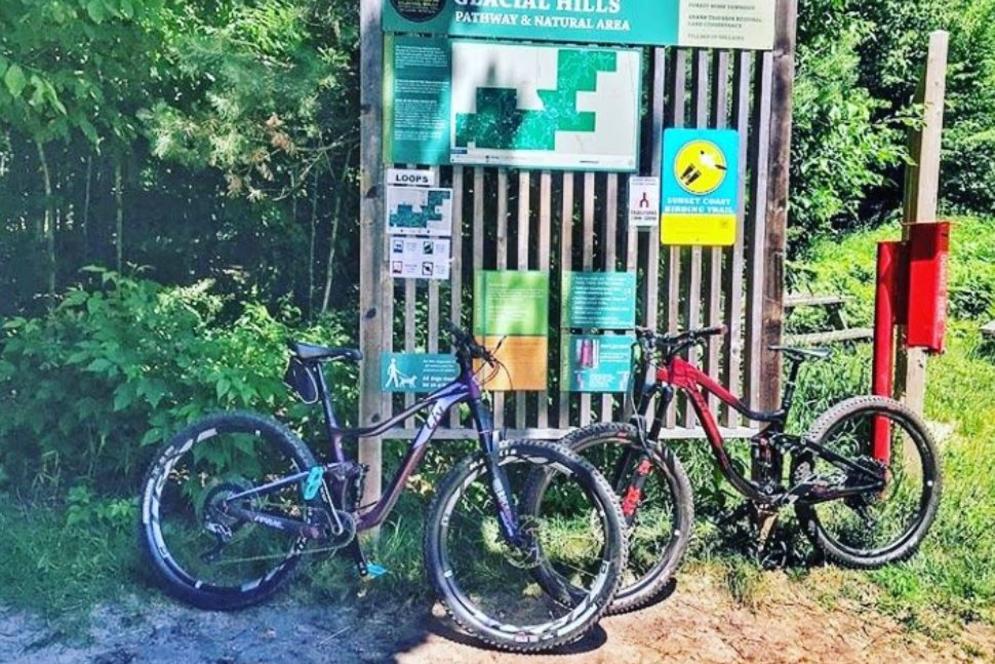 Photo: Glacial Hills Trails 
When you're seeking a day trip that gets you into the woods, and your idea of exploring is going for a spin or feeling the dirt beneath your feet, the Glacial Hills Pathway in Bellaire delivers.
This nearly 800-acre natural area is located just an hour northeast of Traverse City, near crystal-clear Torch Lake and the quaint village of Bellaire. Featuring 31.5 miles, Glacial Hills is a popular spot for mountain biking as well as hiking and running. And, novice and experienced trail users alike will feel comfortable -- and challenged, if that's what you're going for -- on these trails that are co-managed by local government agencies, the Grand Traverse Regional Land Conservancy and the Northern Michigan Mountain Bike Association.
Glacial Hills Pathway is accessible via three trailheads: Eckhardt Road, Vandermark Road and Orchard Hill Road. Here are a few favorite picks for hiking/running and biking. (Keep reading, too, for our suggestions for post-excursion refueling in Bellaire.)
The Lake Bellaire Overlook Trail

Perhaps the most popular of the hiking trails given the stellar views and moderate distance, this trail includes the Lake Bellaire overlook and bench spur trail. With frequent elevation changes, this loop may feel a little longer than the measured 1.6 miles, but it is all downhill from just beyond marker 8 to the parking lot. Estimated hike duration: about an hour.
The Bear Den Trail

Trail runners will like the frequent, relatively gentle elevation changes and striking views of the Bear Valley. The longest of the suggested loops is just over 4 miles, and it can be shortened to 3.5 miles by taking the cut-off at marker 31. Plan for about 90-120 minutes.
Family/Warm-up Loop

This is the flattest of the Glacial Hills trails, providing a great introduction to mountain biking for novices. It also serves as a nice warm-up loop for bikers entering the trail system from the Eckhardt parking lot. The shortest loop totals about .4 miles with relatively straight and wide trails. Adding the .35 mile long B-C loop adds two small hills and a few tighter curves to help new bikers practice shifting and bike control.
The Outside Loop

If you're seeking long climbs, fast descents and tight trails, follow the Outside Loop. From any parking lot, consistently stay left or right (depending on direction of travel) at each intersection. Distances vary from 12 miles to almost 20 depending on whether you choose to head east of Orchard Hill Road.
Afterward, treat yourself (and re-hash the fun you just had) in Bellaire with food and drink. Short's Brewing Company offers flights of northern Michigan craft beer along with shared plates, pizza, salads and kid-friendly food. Check out Terrain Restaurant on Bridge Street for new American fare that celebrates "the flavors of our region." Looking for a cup o' joe or something sweet? Stop by Ruthanne's Gourmet Bakery.
Learn more about Glacial Hills, including how to help support the not-for-profit Friends of Glacial Hills, here. Donations support trail bed maintenance, tree clearing and events, hikes and fundraisers.