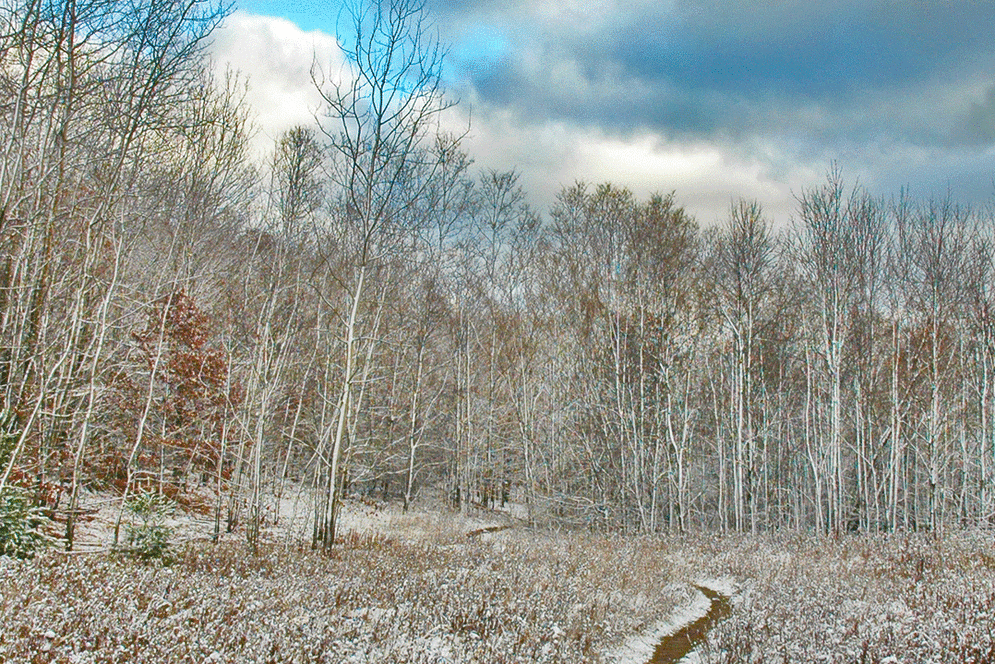 Sometimes you want to get out and enjoy the winter (or at least get some exercise) but the conditions aren't really right for skiing or snowshoeing, and you don't want to deal with a lot of special gear anyway. Not to worry -- you can always take a winter walk! All you'll need are mittens, a hat, a warm coat and a good pair of boots!
Here are four  winter walks for people who want to enjoy the beauty of winter:
City Sidewalks, Pretty Sidewalks:
Front Street and the Boardman Neighborhood
This "urban walk" is a good introduction to Traverse City's historic downtown shopping district and one of its oldest residential neighborhoods: the splendid 19th-century homes along tree-lined Washington Street. It's a particularly fine walk on a calm winter evening, when the lights in the downtown trees and the turn-of-the-century streetlamps along Washington give the night a magical glow.
Directions: Starting at the corner of Union and Front, walk east for four blocks to Wellington Avenue. Turn right and go up two blocks to Washington Street, then go left and stroll as far as you like. (The street with its fine Victorian homes extends for six blocks, past charming F&M Park to Garfield Avenue.) To return, simply cross the street and go back the way you came.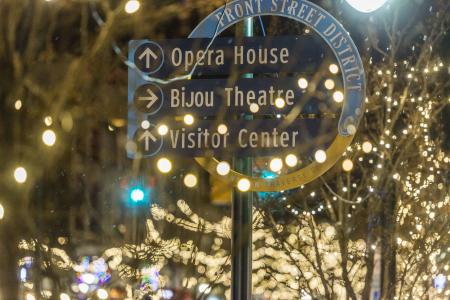 A Stroll Along the Bay:
Old Mission Point
At the tip of the Old Mission Peninsula, which separates Grand Traverse Bay into its east and west arms, you can stand precisely halfway between the equator and the North Pole and feel as though you're in the last place on earth. There's a cozy 19th-century lighthouse, a picnic area and a series of walking trails that wander through deep evergreen forest, along rock-strewn beaches and up to a highland plateau where you can look out over the bay to the distant shores beyond.
Directions: Take M-37 (Center Road) north from Traverse City. At its very end is Lighthouse Park, where there's a parking lot and the trailhead for the lowland Old Mission trails. High country trailheads are located on Murray Road, at the north end of Brinkman, and at the end of Ridgewood Road. Maps are posted at regular intervals on all the trails.
An Enchanted Forest:
The Seven Bridges
About 20 miles east of Traverse City, in the hills of western Kalkaska County, the fast little Rapid River pauses on its way down a steep valley. Here in a forest of quiet cedars the river briefly divides into several branches that go wandering through the trees, crossed by a series of footbridges. It's an enchanted, intimate place for a walk, and it's at its very best when there's a light snow falling.
Directions: Drive east on M-72 past Acme and Williamsburg to Valley Road, about a mile west of Kalkaska. Turn left and follow the road, which winds through a beautiful valley and past scenic Rugg Pond. After three miles, keep an eye open for the Seven Bridges parking area, on the right-hand side of the road. After your walk, continue west on Valley Road to the village of Rapid City or retrace your route to the top of the valley.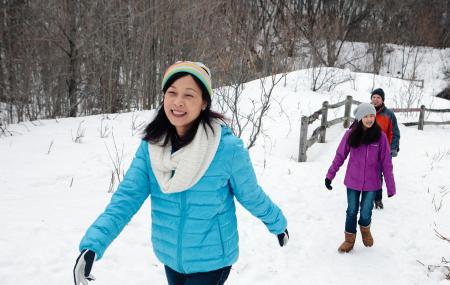 Traverse City's Central Park:
The Grand Traverse Commons
Behind the creamy brick castles of the former Traverse City Psychiatric Hospital (now being transformed into the swanky Grand Traverse Commons development) is a network of wonderful public walking trails. Some wander through deep woods and across open meadows; other climb high into the western hills above the city, providing splendid views of the surrounding area.
Directions: There are several trailheads within the Commons campus, but the easiest way to access the trail system is to take Front Street west out of town and follow it uphill. About a half-mile past Cedar Run Road, look for a turn-off on the left; it will lead to a small parking lot and trailhead kiosk.